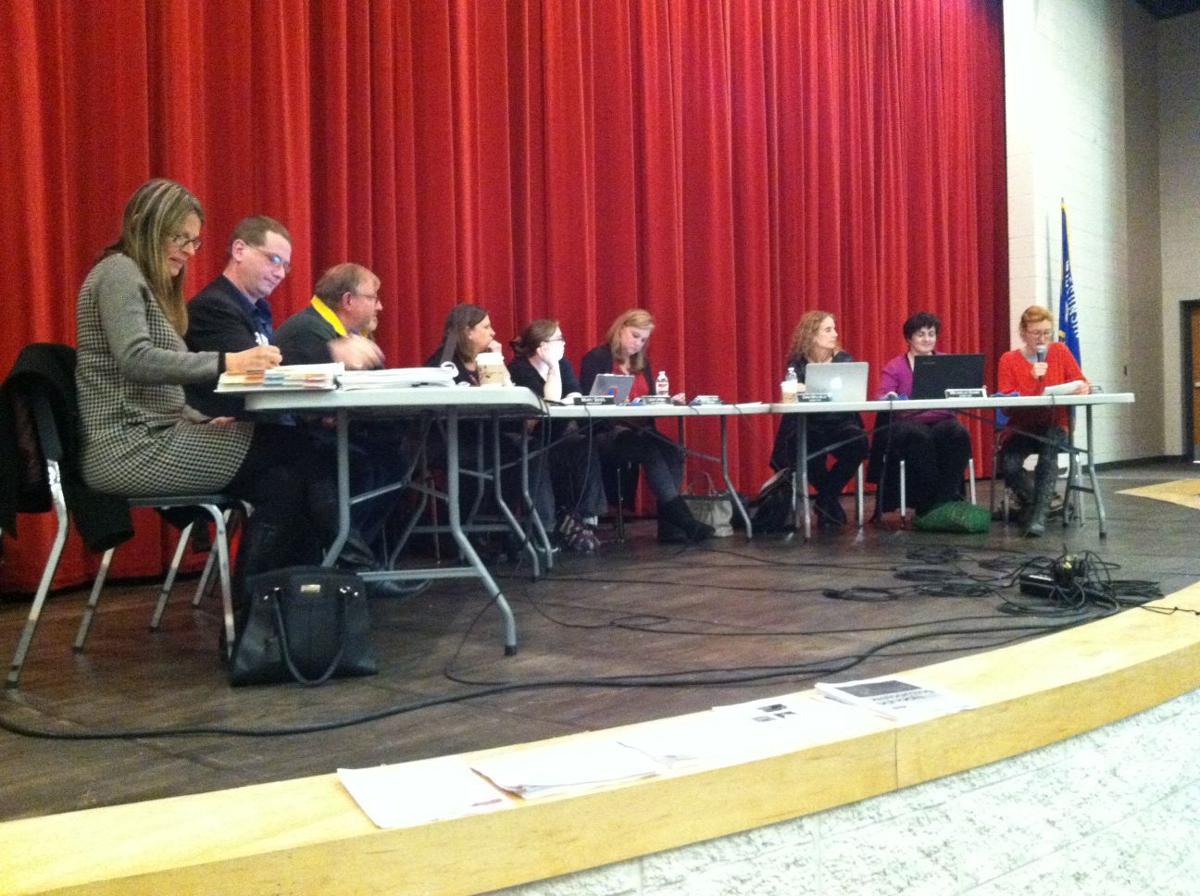 MOUNT HOREB -- In a matter of minutes and with little comment, Mount Horeb School Board members late Monday unanimously approved new measures to accommodate transgender students, quickly dispensing with a controversial issue that has consumed the community for more than two weeks.
The new measures grant transgender students access to the restrooms and locker rooms that correspond to their new gender identities. Additionally, the students will be permitted to participate in physical education classes and intramural sports "in a manner consistent with" their gender identities.
The board also added "transgender status" to the district's nondiscrimination policy as a protected category.
Earlier in the meeting, community members on both sides of the debate addressed the board. Fourteen spoke in favor of the measures or in support of transgender students; five spoke against the measures. About 80 people total were in the audience.
The issue surfaced late last month when staff members at a district elementary school scheduled a reading of "I Am Jazz," a children's book about a transgender child. The staff members said they sought to support a 6-year-old student who had just transitioned from a boy to a girl, and to help the girl's classmates better understand what was happening.
The reading on Nov. 23 was canceled after Liberty Counsel, a Florida-based religious liberty law firm, threatened legal action, saying it was acting on behalf of concerned parents. The law firm said the planned discussion violated parents' constitutional right "to direct the upbringing of their children" and what it called their First Amendment right to refer to a person by his or her biological gender.
From there, the issue snowballed. Last Wednesday, about 200 people attended an early-morning, student-initiated reading of "I Am Jazz" outside Mount Horeb High School. That evening, nearly 600 people filled the village's public library for a reading of the book by co-author Jessica Herthel, who flew in from California to support the family.
Monday, those opposed to the reading of the book or with concerns about transgender issues were heard from publicly for the first time. One of them, Steve Hufton of Mount Horeb, said he has two grandchildren who attend district schools.
"My concerns are from an egalitarian point of view, that the rights of all the children should be carefully considered," he said. "I believe that little girls have the right to privacy when using the restroom, and I don't think, in my opinion, they should be exposed to an anatomically correct -- an anatomical -- male, because that would violate their right to privacy."
Another opponent, Nathaniel Johnson of Mount Horeb, a father of four young children, described himself as a Christian attorney. He said he has heard from many families who believe as he does that gender and sex are fixed at birth and "assigned by God."
You have free articles remaining.
The Rev. Travis Beck of Life Church in Mount Horeb said everyone is worthy of respect and has intrinsic value, but that he did not believe that "all behaviors or all choices or all feelings necessarily lend themselves to credibility -- or health and wellness if we look to the future of such decisions."
He objected to the overall tone of "I Am Jazz," saying it presents a one-sided view and that kids could come away thinking that "if you don't embrace the lifestyle, then you're a bully and a bigot," he said.
But others said the district should go forward with reading the book and supporting transgender students, arguing that educators must make learning environments safe for all children. One proponent, Elise Taft of Mount Horeb, specifically rebutted the religious opposition, saying Christian views are not monolithic on the issue. She was heading to her church after the meeting to help prepare a nativity display for Christmas, she said.
The only board member who spoke prior to passing the new policy was Peter Strube, who said diversity is essential to life and should be cherished and honored. He ended on a forceful note that brought cheers from many in the crowd.
"Let the word go forth here and now that this board will stand united and we will not be intimidated and we will teach tolerance and will be accepting to everyone," he said.
The board then voted 7-0 to approve the new measures.
Shortly thereafter, the mother of the 6-year-old girl at the center of the controversy told the board she had not been planning to speak but felt compelled to thank them. She did not offer her full name to the audience. The State Journal is not naming her because of her request for privacy.
"This has been the most difficult thing my family has ever had to deal with," she said. "I am so glad we are part of this school district going through something like this. ... This isn't just about our child, this is about all the other children, too."
After the meeting, Board President Mary Seidl said she could not predict whether "I Am Jazz" will be read to students. That is a curriculum decision to be made by administrators, not an issue of board policy, she said.
The new measures approved by the board leave room for discretion by district administrators. Any requests from transgender students related to the use of facilities such as restrooms, locker rooms and changing areas "will be assessed on a case-by-case basis, taking into account all relevant interests of the students, the school district, and other students affected by the request," the new policy reads.
Addressing concerns that a student could casually flip back and forth between genders, the policy states that the new measures apply to a transgender student who "has held the belief deeply, followed the belief consistently over a period of time, is supported by the student's parent or guardian" and has sought "guidance and counseling in coming to the decision."
Brian Juchems, senior director of education and policy at the Madison-based advocacy group GSAFE, said Mount Horeb now joins a relatively few number of school districts in the state that have put clear guidelines in place for the use of facilities by transgender students.