Educators and staff from schools across the Madison School District took part in an organized "teach-out" Thursday to draw attention to what they see as a rushed and dangerous return to in-classroom learning scheduled to start next week.
Also Thursday, the district announced a partnership with SSM Health to provide 1,200 COVID-19 vaccines to district staff prioritized by the district, including those who have been working in-person throughout the pandemic. The vaccination clinic would be held March 12 and April 9.
And Public Health Madison and Dane County announced prioritization of educators to receive the Johnson & Johnson vaccine, which was recently approved by the federal Food and Drug Administration, starting Tuesday at the Alliant Energy Center.
Local teachers union Madison Teachers Inc. has called for the district to halt its reopening plan until all district staff have had the opportunity to receive the COVID-19 vaccine. The district's current plan will bring students and staff in kindergarten back into school buildings Tuesday and grades 1-2 and 4K back in subsequent weeks. No dates have been set for grades 3-12.
About a dozen teachers and staff members sat outside of East High School in 30-degree weather Thursday morning, conducting their classes online at socially distanced card tables and behind signs that expressed their disagreement with the district's decision to reopen as well as their support for fellow staff members.
High school counselor Sarah Elmore said she's concerned about the mental health of her students as they prepare to navigate the potential return to classrooms, without one of their classmates who succumbed to the virus in November.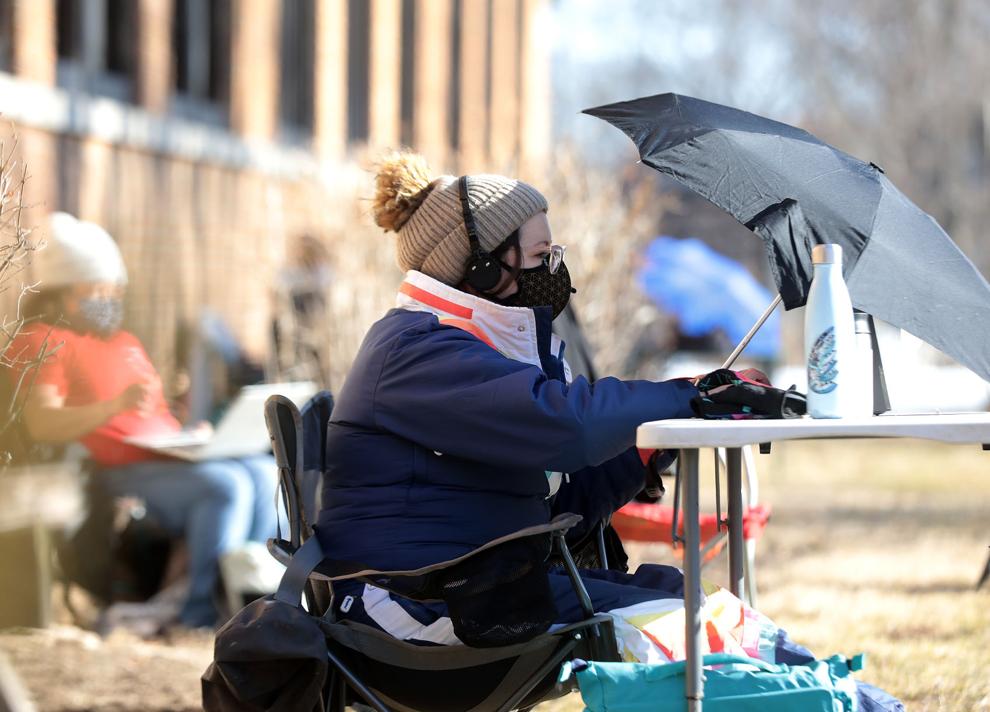 "Are we really preparing to welcome students back in a healthy way? Are we just going to throw everyone back at the end of the year and cause chaos?" she asked.
The death of Isai Morocho, an East student who died due to COVID-19-related illness, has weighed heavily on the minds of the students and staff, she said.
"A lot of students that I've talked to, they don't plan to come back," she said. "They're worried about being in the building."
Amanda Pustz, a social studies teacher at East, said she and her colleagues took part in the protest to show their solidarity with staff in elementary schools as they prepare to return to classrooms.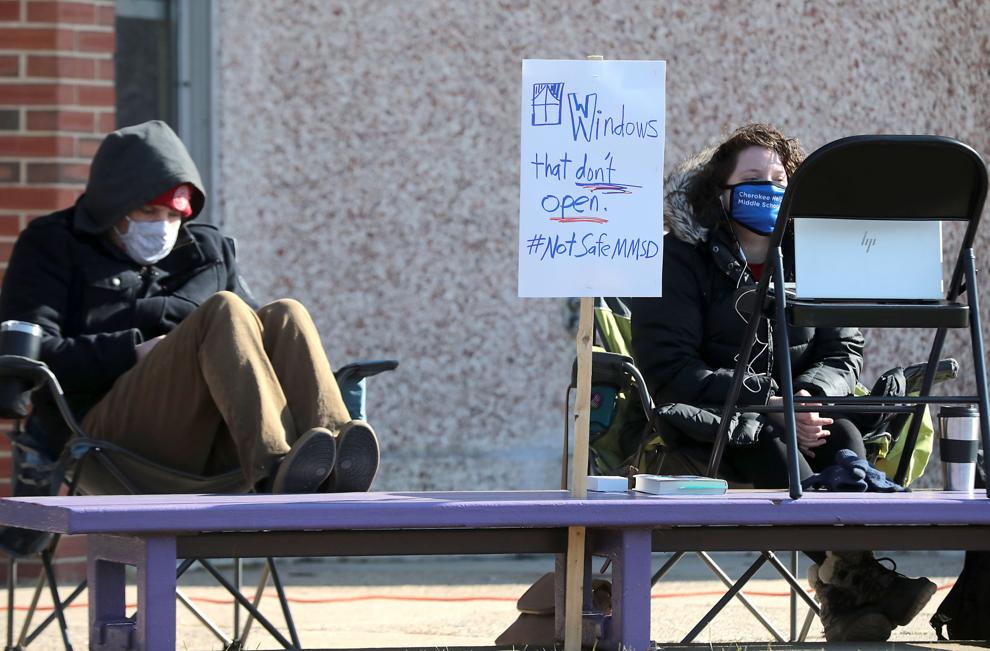 "All of us here have concerns, we all want to go back but we all want to go back with guaranteed safety," she said. "One thing that would help would be vaccinations."
Schools from across the district participated in the demonstration, with the number of protesters ranging from a handful to a few dozen depending on the location.
About 30 teachers sat outside Muir Elementary School on the West Side, bundled up in hats, gloves, winter coats and blankets while teaching on their laptops.
Elementary school teachers were joined by staff and teachers from Memorial High School, who said they wanted to support the educators who are scheduled to be the first to return to their classrooms.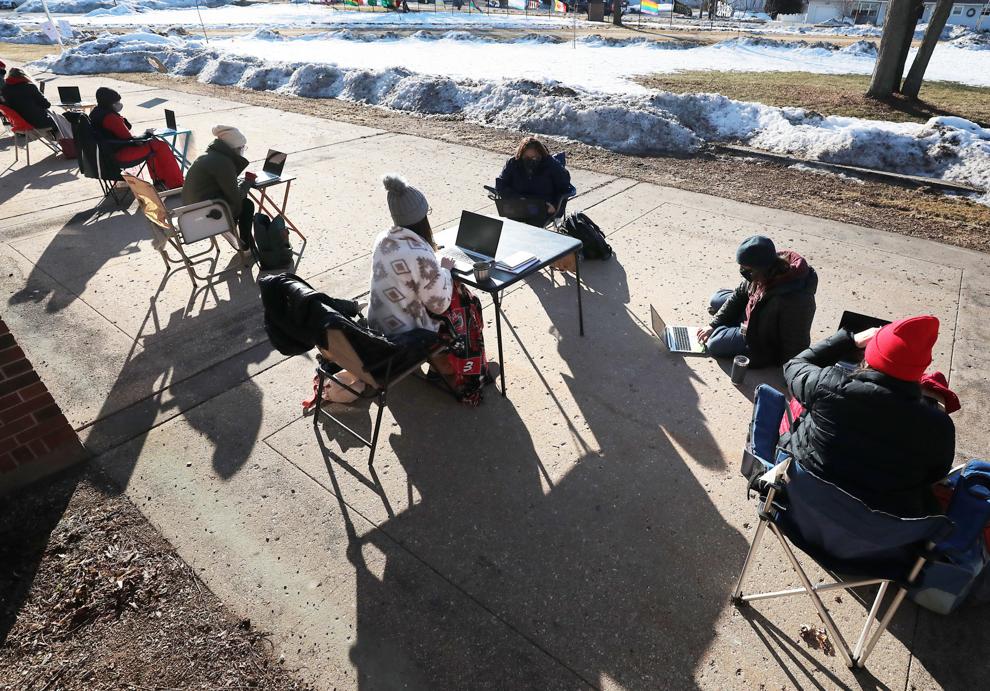 Kathy Rezac, a special-education assistant at Memorial, said it's "common sense" to wait until teachers are vaccinated before reopening and teaching large groups of students inside.
"Why would you gather in large numbers when the vaccine is so close?" she said.
Across town, Valerie Erdman, a special-education teacher at Mendota Elementary School, said she's looking forward to seeing students and returning to the classroom but still has concerns she said haven't been addressed by the district.
"I'm having a hard time picturing the kids (maintaining social distance) and what it's going to look like for them to take walking breaks and recess and trying to have them stick with protocol," she said.
Only a few teachers sat outside Hamilton Middle School, but the group also set up empty chairs to represent those who supported the protest but could not participate because of health reasons. Teachers from West High School sat in camping chairs or on the steps at the entrance of their school.
Lyman Elliott, a social studies teacher at West, said the demonstration was not only to show solidarity with the elementary schools, but to make sure their opposition to the school reopening was heard.
"Most of us have been teaching at home," Elliott said. "We've been invisible to families and students because we're not in the open. We wanted to increase our visibility and make sure that we were seen."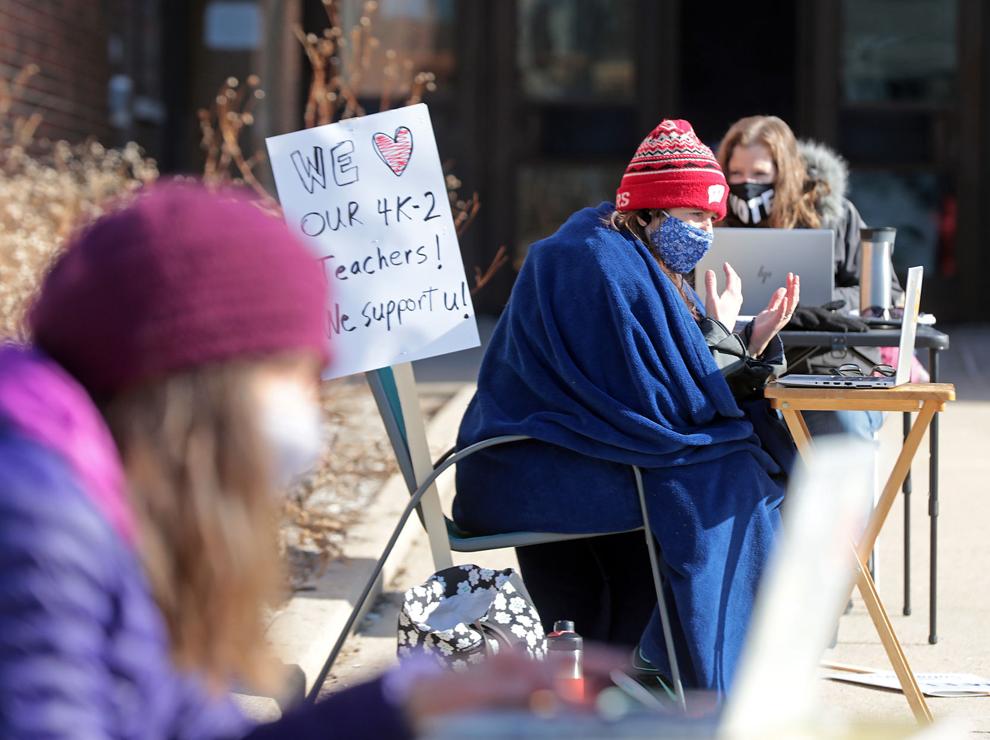 District responds
In a statement the district called the "teach-out" a "thoughtful approach ... to make staff voices heard in a way that does not disrupt the continuity of education for our students."
"We are very proud of the great work of our teachers and staff throughout the pandemic," the statement said. "We also recognize the importance of hearing their voices as we face these unprecedented challenges together."
The district also enlisted the help of a construction and engineering company that specializes in developing safe environments for the health care industry, ahead of reopening. The company, McKinstry, found the measures the district has taken meet or exceed those at 14 other local school districts it studied.
Parents and teachers remain divided on the question of when to come back, however.
In a learning preference survey filled out by 98% of district families in February, 65% of families with kindergarten students said they plan to send their children back to classrooms on March 9.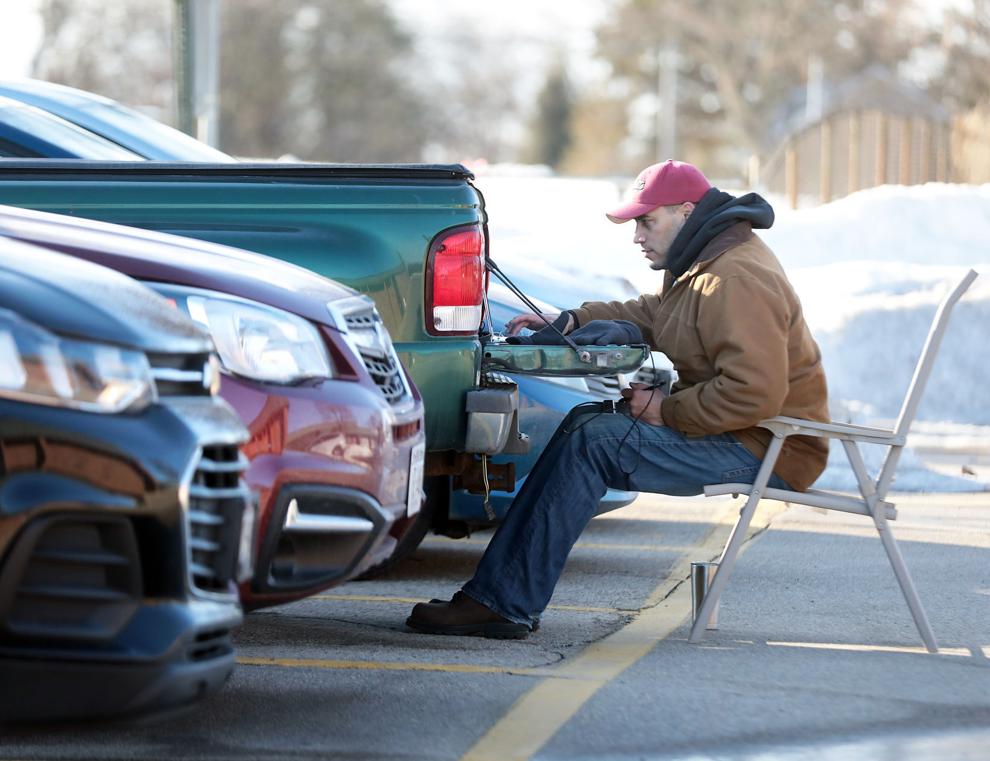 Shots for teachers
SSM Health plans to vaccinate certain Madison teachers and staff next week on March 12 at La Follette High School, with a second dose on April 9.
"We are excited about our partnership with SSM Health, and very grateful for their support of our school community," Superintendent Carlton Jenkins said in a statement. "We have been working hard to advocate for our staff to be prioritized for vaccination, and this is an important step forward to making vaccines available to all staff."
Staff members who will be given priority to be vaccinated include all Madison School & Community Recreation (MSCR) Cares child care staff. The district said child care services for students in grades 3-5 and after-school programming will be canceled on March 12 and April 9.
Dane County educators will be prioritized at the Alliant Energy Center mass vaccination clinic starting Tuesday, Public Health Madison and Dane County announced Thursday.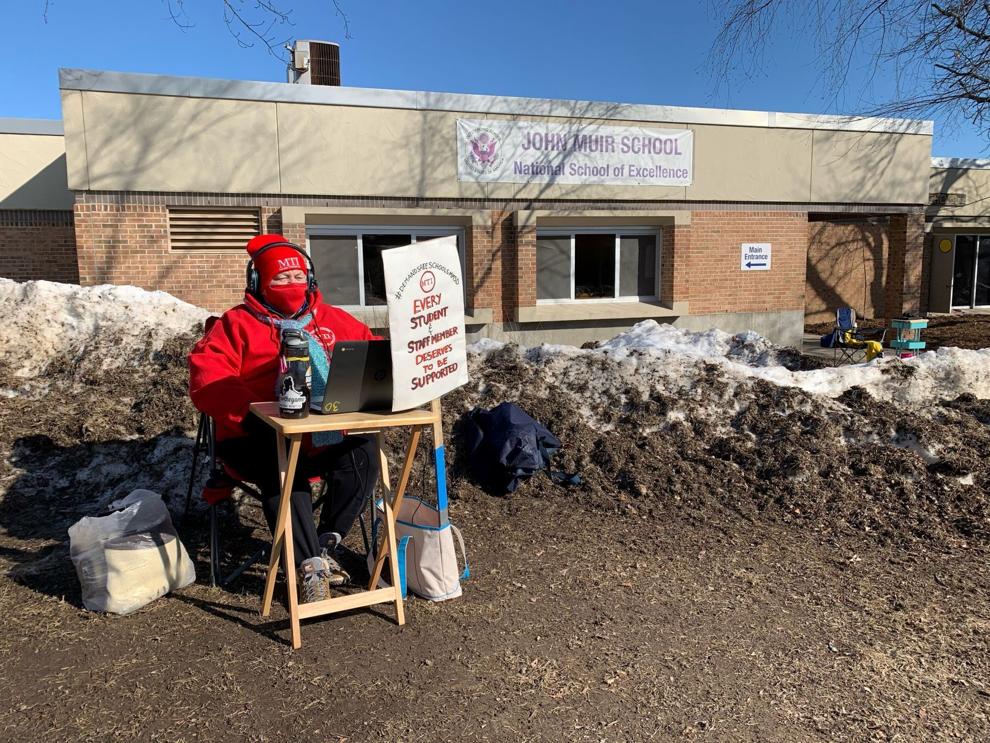 The city-county health department postponed the vaccination effort last week due to supply challenges. But approval of Johnson and Johnson's one-shot vaccine and the subsequent shipment of 47,000 doses of the vaccine to Wisconsin reopened the pipeline. Dane County will receive at least 7,900 doses of the one-shot vaccine and will prioritize educators in their distribution.
"We are thrilled that we will be able to vaccinate school and child care staff sooner," Janel Heinrich, director of Public Health Madison and Dane County, said in a statement.
Vaccine allocation for March 15 has not yet been determined, but a public health spokesperson said the agency hopes to have all educators in the county vaccinated by March 21.
To date, 18.5% of Dane County residents and 68% of those who are 65 years old or older have been vaccinated in the last two months.
State Journal reporter Emily Hamer contributed to this report.
The Great Divide: The legacy of Wisconsin's Act 10
A decade after the debate and protests over the anti-union law known as Act 10 convulsed the state, Wisconsin remains firmly divided on the law.