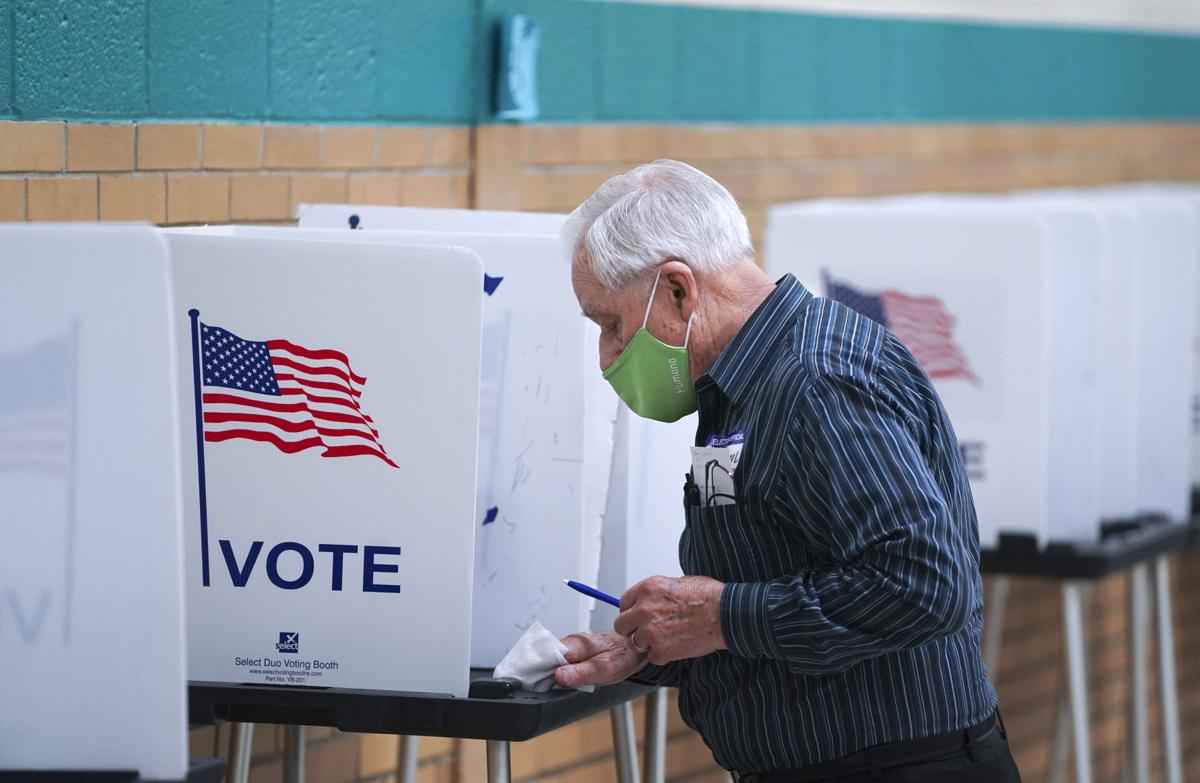 Despite the COVID-19 pandemic creating economic uncertainty, the Madison School District had no trouble getting passed Tuesday a pair of referendums on the presidential election ballot worth $350 million.
District voters widely backed a $317 million capital referendum — largely targeted at renovating the aging high schools — and a $33 million operating referendum that would permanently increase the district's operating budget.
"I can't say thank you enough to our community," Madison School District Superintendent Carlton Jenkins said during an online news conference. "This type of support is unprecedented, during an unprecedented time ... Thank you for investing your time and investing in our children."
With all precincts reporting shortly after midnight, voters supported both referendum questions by more than 50 percentage points, with slightly more support for the capital referendum.
Melinda Heinritz, the executive director of the Foundation for Madison's Public Schools, which championed support for the referendums through its advocacy arm's Vote Yes to Invest campaign, expressed gratitude to the voters for supporting the referendums.
Voters "were willing to take a leap of faith that these investments are critical to our district now and over the course of time," Heinritz said. "Our district colleagues have been working for literally years toward this moment."
"It starts with our community members as voters stepping up and giving our district the resources it needs to prepare our kids for great futures."
The operating referendum will permanently raise state-imposed revenue limits, allowing the district to collect more money in property taxes.
It will phase in over four years: $6 million in 2020-21; $8 million more in 2021-22; $9 million more in 2022-23; and $10 million more in 2023-24, resulting in up to $33 million more in permanent spending.
The capital referendum will direct $280 million to revitalize the four main high schools. East, La Follette, Memorial and West will each receive $70 million for additions and renovations, such as updating science labs, replacing decades-old mechanical systems and upgrading athletic facilities.
It will also result in a new elementary school in the Moorland-Rimrock neighborhood south of the Beltline for a cost of $25 million to $30 million and consolidate the alternative Capital High into a renovated Hoyt School building on the Near West Side for $6 million.
Madison came out strongly in support of building the new elementary school on the city's South Side, Jenkins said. The effort will bolster the education of young learners in the community and allow them to learn closer to home rather than commuting nearly an hour to school each day, he said.
The referendums are estimated to increase taxes on an average-value home of $311,000 by $470 annually by the 2023-24 school year.
In recent years, Madison voters have largely supported referendums, with the last four before this year passing by at least 2:1 margins. The last time a referendum failed was in 2005.
Major construction and renovation is slated to begin in the summer of 2022, after a year of planning and community input, with a goal of wrapping up all the capital referendum projects before the start of the 2024-25 school year.
"This certainly has been a difficult year for us all," School Board President Gloria Reyes said. "The unwavering support from our community in the form of a successful referendum has left us all humbled, grateful and so moved by the love and support for our students."
Suburban results
Outside of Madison, four other Dane County school districts also saw success on the ballot.
The Wisconsin Heights School District got passed its $27 million capital referendum.
The proposal will result in a new elementary school being built on land next to the existing middle and high school building, which will also receive renovations. The two existing elementary schools are scheduled to be shuttered.
Three school districts — Deerfield, Monona Grove and Waunakee — received taxpayer support for operating referendums, all of which have sunset dates.
Voters widely approved the Deerfield School District's operating referendum to raise spending by $500,000 a year for the next five years. In the Monona Grove School District, an operating referendum to levy $3.7 million in each of the next four years also passed by a large margin.
Voters in Waunakee handily passed a referendum to raise an additional $2.1 million in operating funds each year over the next five years.