Less than a week before public schools are scheduled to welcome students back to the classroom and with COVID-19 resurging, Madison Superintendent Carlton Jenkins backed a vaccine requirement for teachers and staff on Friday.
"We want to do everything we can first of all to make sure that our children are safe, our staff is safe and that we're being responsible to our community," Jenkins said. "I am recommending that we move forward with a mandate for vaccination. ... I don't do this lightly."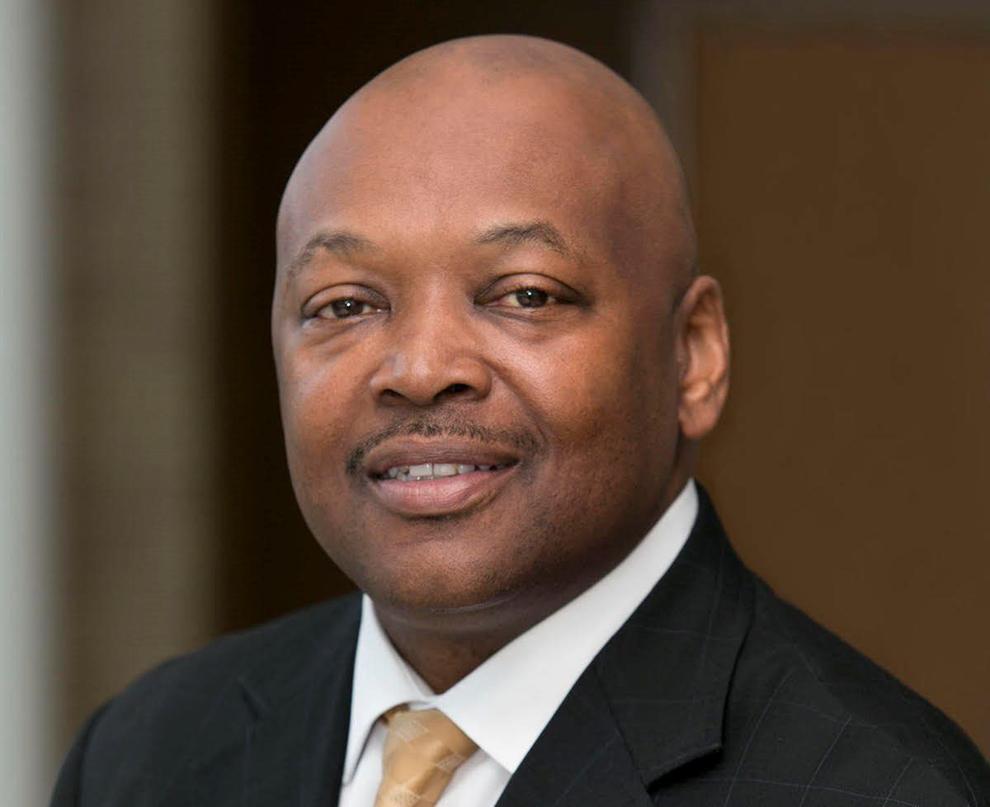 Jenkins said his position on the requirement developed through a collaborative effort and discussions between the district, local health experts and Madison Teachers Inc., and after watching discussions on vaccination requirements for staff roll out in school districts across the country. No school district in Wisconsin currently has a vaccine requirement in place for teachers or staff.
"We're going to work together on the plan so we can do it, as we have in the past, in the best interest of all of our students, our staff and our community," he said.
The Madison School Board is expected to take up the resolution, during a special meeting on Monday. The resolution will call for the administration to present a vaccine requirement plan to the board's Operations Work Group by Sept. 20. The board will then vote on the plan during its Sept. 27 meeting.
Three of the district's seven board members — Nicki Vander Meulen, Savion Castro and Maia Pearson — have expressed support for the resolution so far. The others have not stated a position.
Teachers overwhelmingly back the idea, with 85.5% of those surveyed in favor of requiring vaccinations, according to a survey conducted by MTI. One in 10 said they still want to learn more about a possible vaccine requirement, while 4.5% said they did not support it.
"I think that 10% can easily be moved to the 85.5%, should the resolution pass," MTI president Michael Jones said. "From the staff side, we see vaccinations as an extremely important part of making sure our kids and families and staff are safe, and everyone's safe in the building, but it's not the only (mitigation effort available). It goes hand in hand with masking, it goes hand in hand with making sure we're enforcing and following all of the guidelines our public health experts are advising us to follow."
The district had been reluctant to consider the move until the Pfizer vaccine received full approval by the Food and Drug Administration, which happened Monday. That approval "certainly helped" move the discussion forward, district spokesperson Tim LeMonds said.
Milwaukee Public Schools, the state's largest school district, recently announced it is fast-tracking consideration of vaccine requirements for teachers and staff after 100 students and teachers tested positive for the virus in seven days. Roughly a quarter of that district's students began their semester on Aug. 16 and, in the first week, 42 students and 14 staff tested positive, the Milwaukee Journal Sentinel reported. As of Thursday, 101 students and staff reported testing positive.
Mitigation steps
As students ready to return to classrooms full time, for the first time in 18 months amid a surge in COVID-19 cases fueled by the more transmissible delta variant, parents are preparing for the worst but hoping for the best as Dane County school leaders attempt to shore up staff with mitigation protocols. A week before school is scheduled to start in Madison, most of the district's schools reported about 95% enrollment, which means buildings will be close to full.
"What we know now, we can be in school," Jenkins said. "We can continue to implement mitigation strategies and remain safely in school."
District officials don't have specific metrics in place, regarding a districtwide pivot to online-only learning should a widespread outbreak occur in a building or in the community, but instead plan to address students and staff who become COVID-positive on a case-by-case basis.
Dr. Gregory DeMuri, a member of the district's health safety advisory team, a physician with UW Health and professor at UW-Madison in the Department of Pediatrics, said his department conducted a study last year that concluded schools that had an "absolute metric" in place to pivot to online learning did not see lower case rates.
"That's something that doesn't have scientific backing. What's more important is looking at the overall picture and having discussions with public health to see what the transmission rate is within school," he said. "One of the things that we did learn last year is that in-person learning, even during periods of high community activity, is possible."
DeMuri said that the district's testing plan for symptomatic students and staff paired with mandatory masking and other mitigation protocols can provide as safe an environment as possible for students, teachers and staff.
School health offices will track cases that occur in buildings and conduct contact tracing to determine if there are cases that have been transmitted within the school. That data will be available on the district's COVID dashboard. Parents will also be notified individually if a positive COVID case pops up in their child's classroom.
"It's our goal to not have to have teachers do concurrent (teaching)," said Marvin Pryor, the district's chief academic officer.
Teachers will work with individual students who are required to quarantine to determine the best way to keep them up to speed with their school work. If an entire classroom is required to quarantine, a teacher can pivot to online-only learning with tools and skills developed during the 2020-21 school year.
"We're going to have to be nimble and we don't know how this is going to progress, even with the delta-2 variant, but for the most part we want to get our students in and give them the best experience possible," Jenkins said.
Regardless of mitigation strategies in place, parents are worried for the safety of their children.
"I can tell you that my COVID nightmares have returned," said Jen Streit, parent of a daughter in the district who is not yet eligible to be inoculated. "I am very scared about our community — especially our young, unvaccinated students — and the delta variant."
Around the state
All Dane County school districts plan to implement masking requirements for students and staff inside of school buildings, regardless of their vaccination status — policy that is in line with CDC recommendations and a recent emergency order handed down by Public Health Madison and Dane County. Outside of Dane County, however, masking policies have been less uniform, with some smaller, more rural districts opting for a mask-optional stance.
Markesan, located in rural Green Lake County, has a student population of roughly 800 and has been open since September 2020, but not without challenges, interim district administrator and elementary principal Jason Breaker told the State Journal in the spring.
The district's former superintendent, Duane Bark, died of COVID-19 in 2020, and the district experienced a number of close contacts to COVID cases which resulted in large-scale quarantining and the eventual shutdown of schools for a week last fall. The district wasn't able to conduct online learning due to lack of internet and broadband access.
Markesan implemented changes to mitigate spread including increased focus on social distancing, stricter mask protocols and more frequent cleaning in school buildings during the 2020-21 school year with positive results. But as students prepare to return to classrooms, Breaker said students and staff will have the option to wear masks.
"The (mask) mandate ended in June and we had a successful summer school and early start to fall athletics with regards to COVID-19," Breaker said. "We are not naïve and know COVID is out there. We will monitor the situation closely and do what is best for Markesan."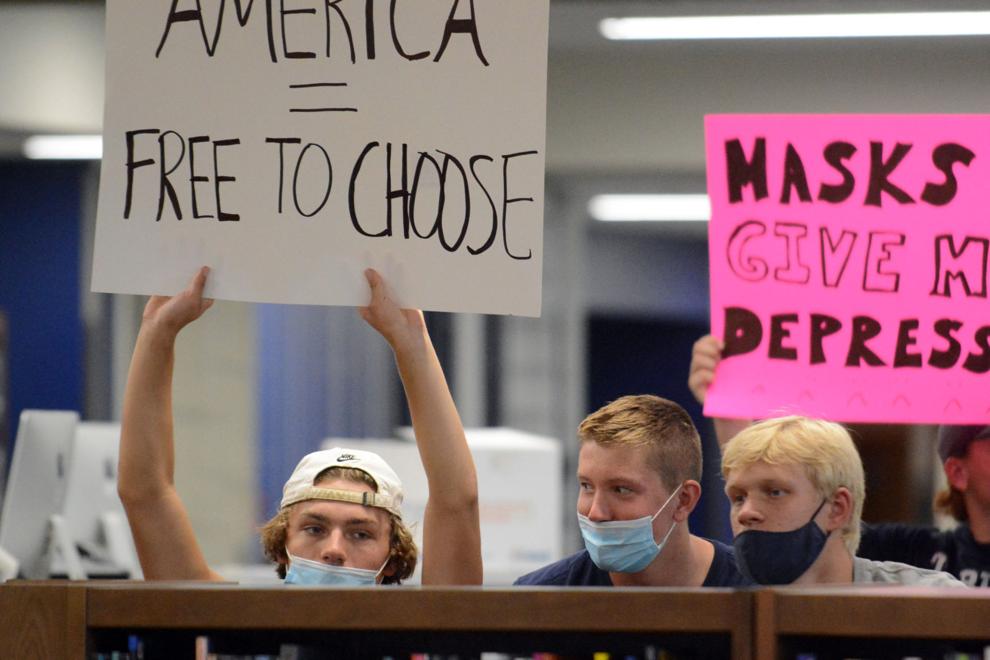 The Baraboo School District reversed course and announced a mask mandate one week after its School Board voted the requirement down at the beginning of August, amid a series of school board meetings that became long and heated.
Students will be required to wear a mask upon entering school buildings on the first day of school but district administration is preparing a response to potential mask protests by students, including a pivot to online schooling for students who refuse to comply, according to the Baraboo News Republic.
Oshkosh Area School District officials had to postpone a school board meeting on Wednesday due to a group of 20-30 protesters who stormed the room and refused to wear masks, after the district implemented a mandatory mask policy the previous Monday.
The Portage and La Crosse school districts will also maintain mask requirements for the inside of all school buildings.
Other voices
Gordon Allen, an East High School student representative on the Madison School Board, said he is both excited and concerned about returning to classrooms on Thursday. The spread of the more transmissible delta variant is worrisome but, he said, he believes the district is doing everything they can to protect all students.
"I think that's the right call," he said about the resolution to move forward with vaccine requirements for teachers and staff.
Philosophy Walker, parent of a son who is entering kindergarten at Madison's Orchard Ridge Elementary and is not yet eligible to be inoculated, said she hopes the vaccine requirement is implemented.
"That, plus the masking mandate plus the distancing that I know they're trying to do in the schools, that would make me feel a lot better, not just about my kid's safety but about the likelihood that my child will be able to continue going in person and not have to quarantine," she said.
Walker, whose son was in 4K schools at one of the district's learning centers during the 2020-21 school year, said supporting her son's learning at home while working full time last year was a struggle.
"We got through it but I would rather we didn't have to do it again," she said.
"What we know now, we can be in school. We can continue to implement mitigation strategies and remain safely in school."

Carlton Jenkins, superintendent for Madison public schools