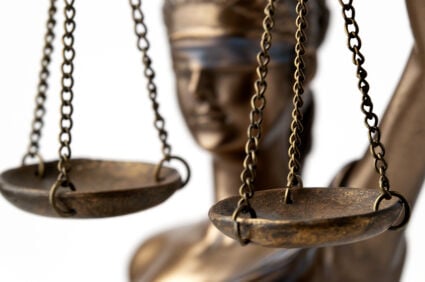 A conservative law firm sued the Madison School District Tuesday on behalf of a group of anonymous parents over an administrative policy it says denies their rights by allowing students to transition genders at school without their permission.
The Wisconsin Institute for Law & Liberty, or WILL, is representing 14 unnamed parents with children in Madison schools in a lawsuit filed Tuesday in Dane County Circuit Court.
It claims the guide violates parental and religious freedom rights protected under the state constitution.
But the School District held firm in response to WILL's call to alter the administrative policy.
"While some may not agree that we should address students by their affirmed name and pronouns, the reality is that we support *ALL* of our students and staff no matter who they are and no matter how they identify," Sherry Terrell-Webb, the district's interim legal counsel, wrote in a letter to WILL last month.
In a statement Tuesday, district spokesman Tim LeMonds said the district prioritizes the safety and well-being of every student. He said the district had yet to be served with the lawsuit by late morning Tuesday.
"It is with this focus, the district stands by its guidance document on transgender and nonbinary students, and recognizes its tremendous responsibility to uphold the right of every child to be educated in a safe, all-inclusive and nondiscriminatory learning environment," he said.
The administration has developed a guide for transgender and nonbinary students, who don't identify as exclusively male or female. The guide covers topics such as restroom use, protections under state and federal laws, and suggestions of gender-related terms for teachers to use in classrooms. It is not an official School Board-adopted policy.
District staff have previously said the guide is a student-centered approach meant to maintain confidentiality — particularly for transgender and nonbinary students whose parents might not be accepting of the transition — and the goal is to have family members involved with a student's transition.
But WILL and the group of parents are challenging portions of the document that allow for a child to transition genders at school without permission from parents, along with a part requiring staff to communicate with parents using the name and gender of a student in the district's student information and records system.
Students who are transitioning genders can have their names and genders changed in the system, but parental permission is required.
According to the lawsuit, the plaintiffs are suing the district anonymously "to protect their privacy and the privacy of their minor children, and to prevent retaliation against them for raising this sensitive issue."
The lawsuit states the identities of the parents "are not relevant to the legal issues in this case."
One of the main claims in the lawsuit is that transgender people can experience gender dysphoria — a condition where someone can feel deep distress and discomfort about the sex they are born with — and the district's stance could bar parents from finding out or seeking medical help.
According to the lawsuit, most of the plaintiffs say if their children began to experience gender dysphoria, they would "pursue a treatment approach to help them identify and address the underlying causes of the dysphoria and learn to embrace their biological sex."
Additionally, a majority of the parents represented by WILL are Christians who believe "the two sexes are a core part of God's intended design for humanity and that the sex each of us is born with is a gift, not an arbitrary imposition," the lawsuit states.
The lawsuit asks the court to bar the district from facilitating a student's transition without consent from parents and to allow staff to speak with parents if they believe a student is experiencing gender dysphoria, regardless of student permission.