In a striking demonstration of youth angst and advocacy, an estimated 3,000 Madison-area students left their classes Wednesday to march down East Washington Avenue to the state Capitol, where they rallied in support of stricter gun laws and improved school safety as part of a nationwide school walkout in response to gun violence.
One month after 17 people were killed in a mass shooting by a lone assailant at a South Florida high school — and less than a week since Florida Gov. Rick Scott, a Republican, signed into law an array of new gun limits sought by the mobilized student survivors at Marjory Stoneman Douglas High — the local demonstrators joined their peers across the country for a part memorial-part protest/social action.
"By protesting here today, we are making a difference," said Tess McGlenn, a seventh-grader at O'Keeffe Middle School. "We're showing we're not going to take it anymore."
With chants of "Are we next?" and "I don't want to die in school," hundreds of the students occupied the Capitol rotunda, while others rallied a large crowd outside. Some moved on to Gov. Scott Walker's office in an effort to talk to him, but he was at an event in Florence County.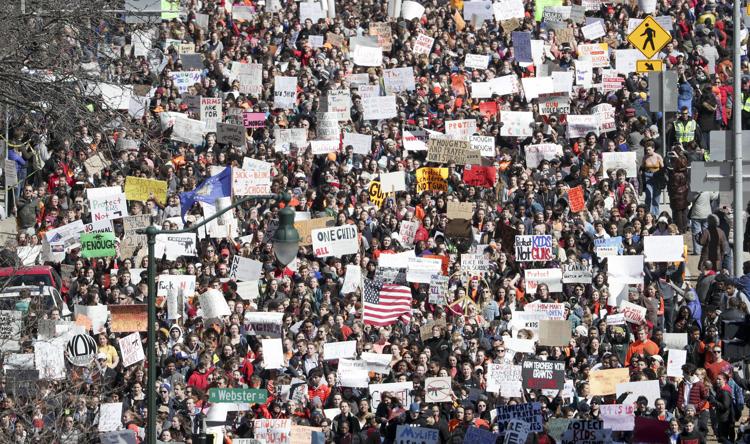 Ten organizers of the event from Madison's four main high schools — La Follette, East, West and Memorial — took a letter with the students' demands to Walker's office as planned anyway, leaving it with an office assistant.
"We did manage to get hundreds of signatures from students who supported the letter, and hope it will result in actual change in legislation," said Dija Manly, a La Follette High School junior and one of the organizers.
Much like their peers in Parkland, Florida, the Madison-area students want the following changes to gun laws: an increase in the minimum age to buy all firearms to 21; a ban on bump stocks, which make guns fire faster; limits on magazine capacity; more accessible gun safety training; and universal background checks that would apply to all gun sales, including those by private sellers.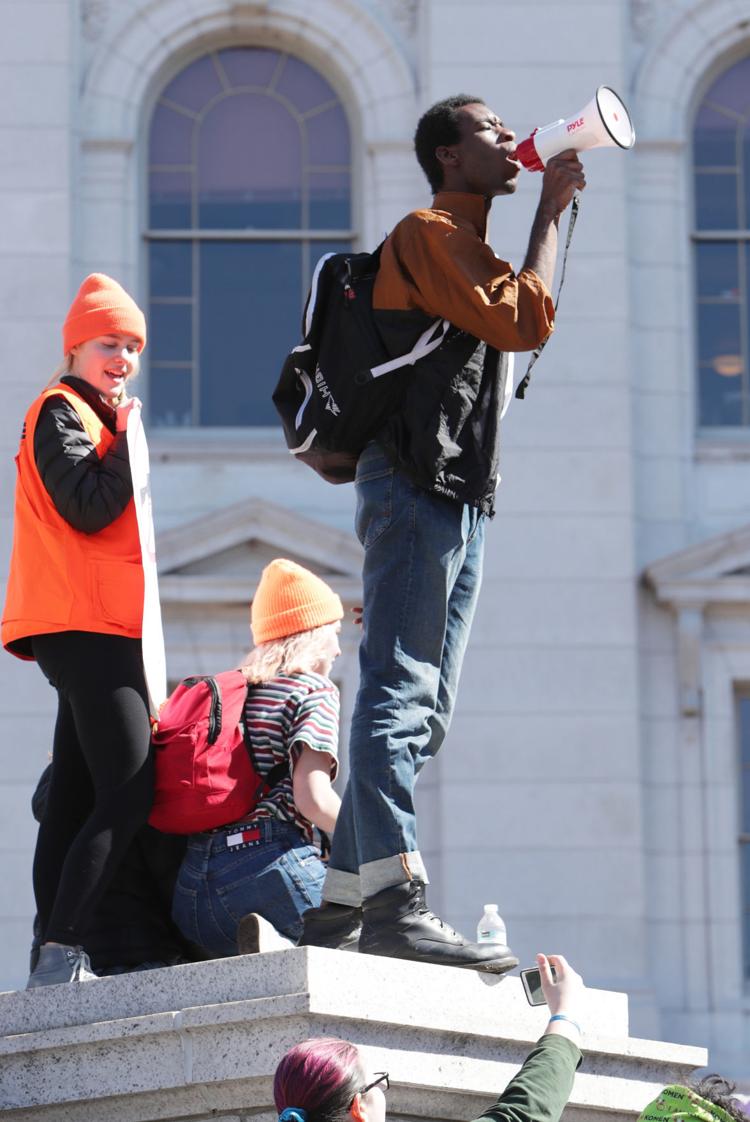 Chloe Baumbach, a senior at Memorial and one of the main event organizers, said she was motivated to seek changes in the law by the needs of "future generations."
"They should not have to go to school with the worry that (a shooting) would happen to them," Baumbach said. "Education should be the most important part of school."
The midday march and Capitol rally also included high school students from other Dane County communities and the Milwaukee area, younger Madison students, some parents, a few school staffers and UW-Madison students. Transportation was a major riddle in event preparations.
West High organizer Allison Leyer said six buses took students from her school to East to join the march, with other buses bringing students from La Follette and Memorial. Some 300 students came from O'Keeffe.
Walker's office said he plans to introduce a school safety proposal before the state Senate convenes on Tuesday.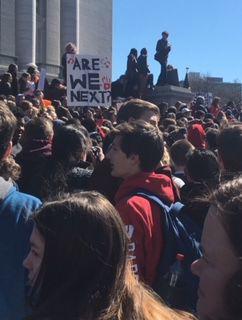 'Bipartisan issue'
Many marchers expressed hope that Wisconsin lawmakers will take action, like their colleagues in Florida, despite a polarization on gun issues that has often been paralyzing.
But students said the Parkland shooting — and the groundswell of vocal student activism it helped generate — was starting to change the ideological dynamics.
"The issue of school safety is often one publicized as partisan, but it actually is a bipartisan issue," argued Lauren Dahler, a junior from Middleton High School.
"Guns do not know party lines. School shootings affect everyone regardless of political affiliation," Dahler noted. "People on both sides of the aisle are tired of it."
Greyson Baldwin, a La Follette freshman, held a sign that read, "No more. End violence." Baldwin said reading the names and stories of the Parkland school victims was a personal turning point.
"(Families) had to bury seniors, people who were going to be someone," Baldwin said. "It made me sad and angry."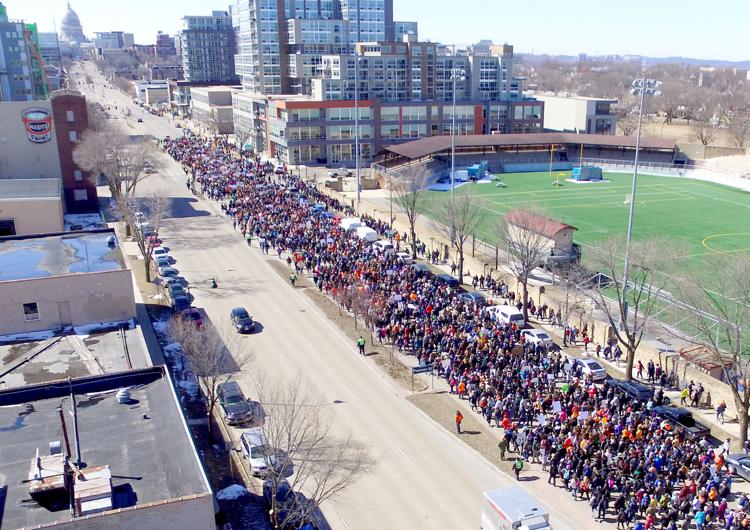 Eve Palmer, a student at Belleville High School, said she helped organized carpools for about 30 students from her school some 20 miles southwest of Madison. Palmer said she and the other Belleville supporters of stricter gun controls were a small but passionate minority at her school.
You have free articles remaining.
Register for more free articles
Stay logged in to skip the surveys
"We really think this is a big deal, and we have felt this way for a long time," Palmer said.
Counter-protesters also peacefully demonstrated inside the Capitol, carrying signs with pro-gun rights messages, including one that read "Guns don't kill people, people do."
At midday, Madison police tweeted that the protesters were "energized and peaceful." After it was over, around 3 p.m., Lt. Mindy Winter said there had been a "few scuffles" between a few groups of students away from the actual event, but no arrests there or during the event.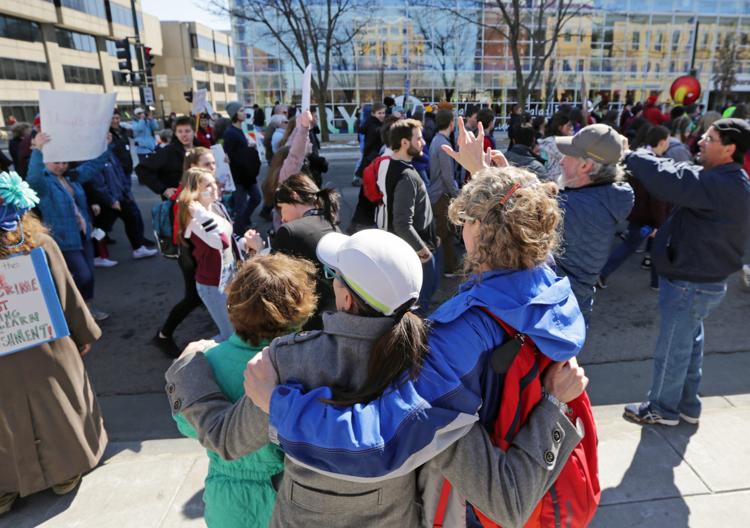 Remembering the victims
Elsewhere in the Madison area, many schools held short walkouts at 10 a.m., followed by 17 minutes of silence to remember each of the Parkland fatalities, in ceremonies that many schools across the nation also held.
On the Near East Side, more than half of O'Keeffe's 480 students walked out to the school's basketball courts, where 17 students stood in a circle as hundreds more gathered around them. They stood completely silent, with heads bowed, the only sound an occasional shuffle of feet.
O'Keeffe eighth-grade teacher Tracy Hamm Warnecke said the school's 10 a.m. walkout was planned by a small committee of students over the past two days.
"Middle schools are very aware of what's going on in the world around them, especially eighth-graders," Hamm Warnecke said. "They're already terrified about entering high school and (making) that transition, and to think about that school shootings happen in this humongous building that they're about to enter — they're scared."
In Middleton, about 400 high school and middle school students met at Fireman's Park for a rally and moment of silence before several joined other students at the Capitol.
At Fireman's Park, the students called for additional gun control and school safety measures, while current and former state legislators from both parties at the event said they should be listening to student voices more.
"We will not stop until the issue is solved," said Middleton High School junior Brandon Dunk at the park, "until we never have to hear the words 'school shooting' again."
Fellow Middleton High student Dahler noted she and other students have sat through active-shooter drills and presentations on school security that she said made her learning environment come to seem "reactive, not proactive."
"Students must take action; this generation is the future, and we have the power to implement change," she said. "We will be the ones who end school massacres. Through the power of our united voices and action, the youth can ensure mass shootings will be a product of the past, and there will be no more names added to the lists of victims."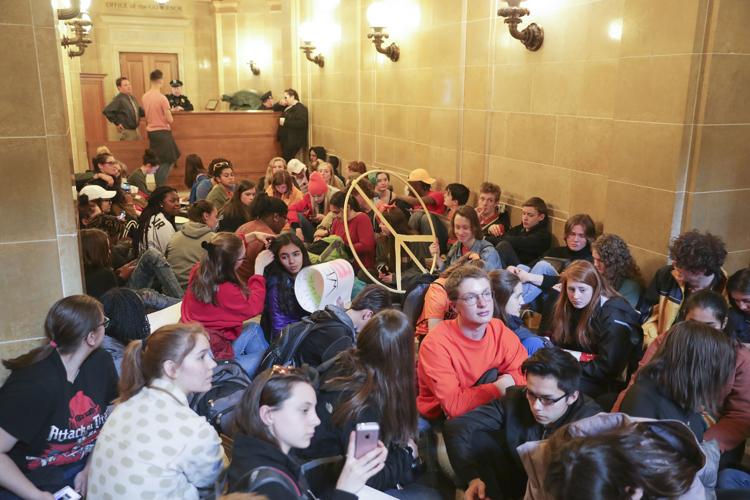 How they did it
Madison School District students who attended Wednesday's march and rally needed a note from their parents to receive an excused absence for the half-day event. Any district teachers or other staff who attended had to use accrued time off, while all area schools pledged adequate staff would remain to hold regular classes.
Extensive use of social media by student organizers helped speed planning of Wednesday's action.
Using a GoFundMe account, the Madison high school organizers raised the money and planned the logistics for Wednesday's action, providing bus passes and setting up car pools to get students to and from the Capitol.
Manly and the other organizers felt Wednesday's event was a success, aside from minor problems such as an imperfect public address system that sometimes made speeches outside hard to hear from a distance.
"Some things didn't go exactly as we wanted ... but that's to be expected with a march that's this wide-scale," she said. "The other student leaders and I were super happy about the turnout."
Another protest will be held in Madison and other cities around the country on March 24, when the Parkland students plan to demonstrate for gun limits in Washington, D.C. In Wisconsin, following rallies in Madison, Milwaukee, Green Bay, West Allis and Appleton, students from across the state are to walk 50 miles over four days from Madison to House Speaker Paul Ryan's Janesville office, sleeping in high schools along the route.
State Journal reporters Shelley K. Mesch, Chris Aadland and Matthew DeFour contributed to this report.