Fourth-grader Hannah Knudson has been attending Hawthorne Elementary School in Madison since kindergarten, so she's something of an expert on the place.
"I've been here forever," the 9-year-old said.
She's always loved the school's food — the chicken teriyaki is to die for, she says — but she didn't always love the school's cafeteria.
"It was loud and cramped, with everyone blabbing all the time and bumping into you," she said. "You couldn't really eat."
So Hannah and many of her classmates were greatly relieved in fall 2014 when the school ditched its cafeteria. Students still get their trays of food from an area that once was part of the cafeteria, but now they head back to their classrooms and eat there.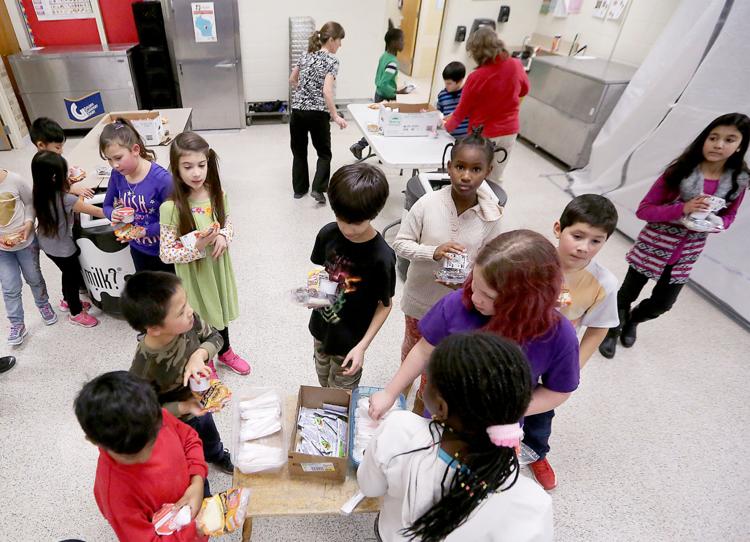 Students describe their noon meal now as calmer, quieter and less rushed. Teachers say the children are better behaved and they eat more.
"I'm hearing nothing but good things," said Dawn Cunningham, president of Hawthorne's PTA. "It's way less chaotic."
School cafeterias have always been easy targets for criticism, whether it's the less-than-five-star food or the inherent bedlam of 120 children simultaneously trying to open syrup packets. Principal Beth Lehman said that while Hawthorne's cafeteria was by no means a nightmare, aspects of it were not ideal.
"You had all these children crowded in there like sardines," she said. "They were excited to see each other, so they'd be whooping it up and talking instead of eating."
At least two other Madison elementary schools — Sandburg and Huegel — also have eliminated their cafeterias for all or most of their students.
"Cafeterias can feel like symbols of a factory-style approach in education. The goal is to feed as many kids as possible as fast as possible in a designated area," said Sandburg Principal Brett Wilfrid. "Eating in classrooms matches our values more; it feels like a family meal."
All three schools made a concurrent schedule change that philosophically aligned with the move away from cafeterias. They combined two 15-minute recesses into one 30-minute recess and moved the recess before lunch.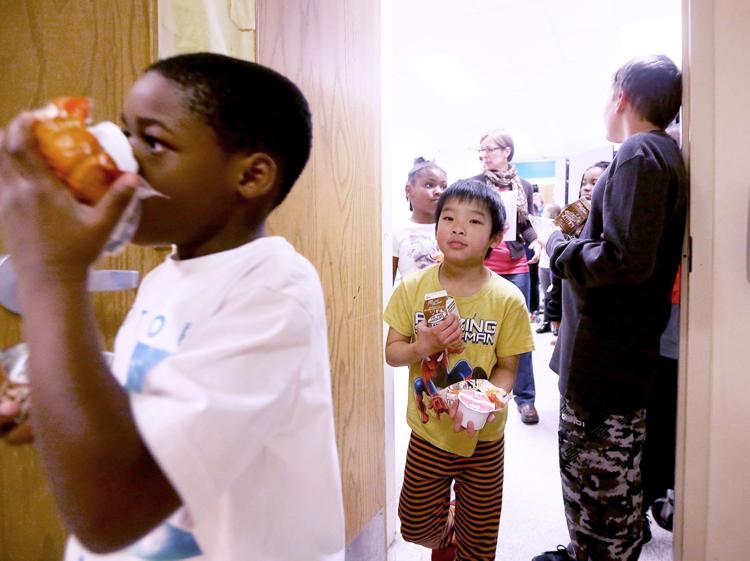 Students are taking more time to eat now because they no longer are racing to get outside, Lehman said, and any disputes that arise on the playground can be addressed during lunch, instead of expecting children to transition immediately from kickball to math.
You have free articles remaining.
Thanks for visiting our newly updated site!
njoy unlimited articles FREE for a limited time by signing up or logging in. No credit card required.
Even though the length of the lunch period at Hawthorne technically did not change — it's still about 20 minutes — children can take a little more time if they need to because there's more flexibility in the schedule, Lehman said. By combining recesses, kids put on and take off their coats and hats and boots just once during the school day, cutting in half a laborious task that can devour a sizable chunk of school time.
Also, now that recess precedes lunch, students no longer have to take their winter gear to the cafeteria and eat in their snow pants.
"We routinely challenge ourselves regarding the experience of children, asking if we would do the same to, or expect the same of, adults," Wilfrid said. "It just feels right to allow children to be in comfortable clothes when eating."
At all three schools, a space crunch played a key role in the decision, with the cafeteria needed for other uses. But the new approach has been such a hit that all three plan to keep it, even though additions at Hawthorne and Sandburg this year will alleviate the space pressures.
Huegel Principal Abby Potter-Davis said behavior problems during the lunch period have all but dried up, and teachers report much less food waste.
Hawthorne teacher Rosa Burdulis said she likes getting to spend time with her fifth-grade students during a non-academic portion of the school day, which has led to more "community-building opportunities." Her 15 students created a playlist of songs they enjoy listening to while they eat.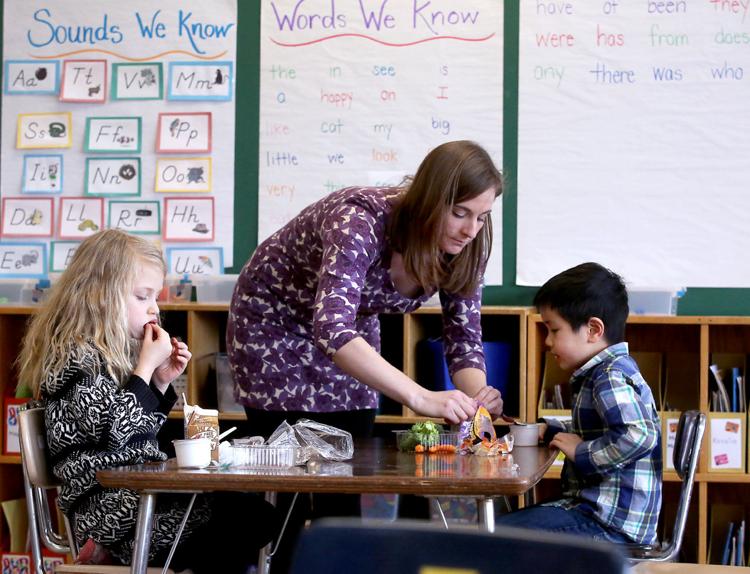 Student manners have improved, said Hawthorne kindergarten teacher Abby Miller. She's able to talk with children about things like chewing with their mouths closed, and the students have learned to take responsibility for the messes they create.
"If they don't clean up after themselves, they end up sitting in their own taco meat the rest of the day," she said.
Custodians place large garbage cans in the hallway at lunchtime, and teachers sanitize classroom tables afterward. Hawthorne teachers still get a 30-minute, duty-free lunch, accomplished through a rotation in which staff members take turns overseeing recess.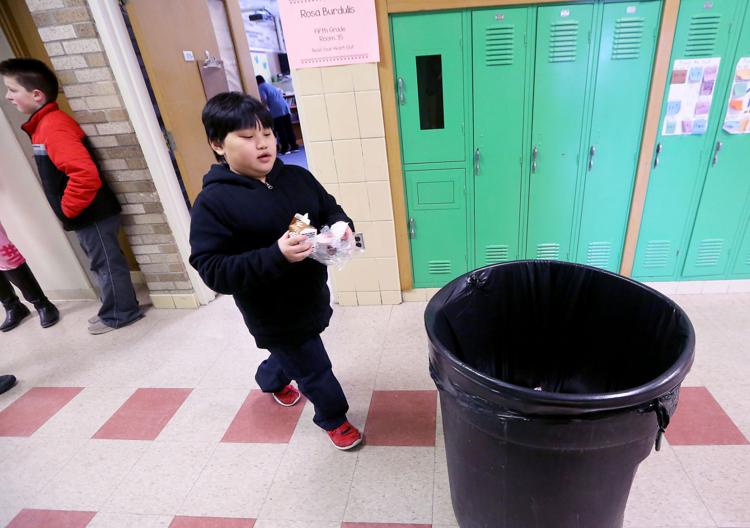 Other schools in the district are trying the concept on a limited basis — Emerson kindergartners eat in their classrooms — or have adopted parts of the approach, such as consolidating recesses and lengthening lunch periods, to make the dining experience more humane.
At Lapham Elementary, where all students go to recess before lunch, the school offers a more free-flowing approach to its cafeteria. Upon returning from recess, students can drop off their coats and head to the cafeteria on their own time, instead of being made to wait in a line for everyone to be ready at once. That's alleviated congestion, and the less-rigid approach has reduced behavior problems like pushing, said Principal Tammy Thompson Kapp.
Lapham also employs the ever-reliable tactic of friendly competition among classrooms. At each grade level each week, a classroom can be singled out for being particularly tidy or well-behaved in the cafeteria. It's called the Golden Tray Award.
'We routinely challenge ourselves regarding the experience of children, asking if we would do the same to, or expect the same of, adults.' BRETT WILFRID
Sandburg Elementary principal