Timely text messages in the summer about key dates and must-do tasks help ensure more high school graduates make it to their chosen colleges in the fall, the Madison School District has learned in a three-year study funded by a Madison-based nonprofit here and in two other cities.
The program, which backers say helped increase enrollment in two-year colleges by 3 to 9 percentage points, essentially works by keeping high school counselors active in the lives of their former students during the three months after they've graduated.
"We do a hand-off (to colleges), more so than a (drop) and we're done," said Jen Wegner, the Madison district's director for personalized pathways and career/technical education.
Students from Madison's four main high schools and high schools in Janesville and Stevens Point were part of the pilot study, which also yielded insights into the best ways to design, launch and run a texting program.
The study, funded by Great Lakes Higher Education Guaranty Corp., addressed a longstanding problem with follow-through in college admissions referred to by education researchers nationally as "summer melt."
"As many as 40 percent of college-bound high school graduates from under-served communities leave high school with college acceptance letters in hand yet fail to show up for classes in the fall," said University of Virginia researcher Ben Castleman, a leading scholar on the issue who was hired by Great Lakes to help the three districts in the pilot study start their programs.
The information provided by text is meant to help students clear financial and procedural hurdles, from finalizing financial aid to registering for an orientation to confirming campus housing and other key tasks that typically have to be completed in the summer months.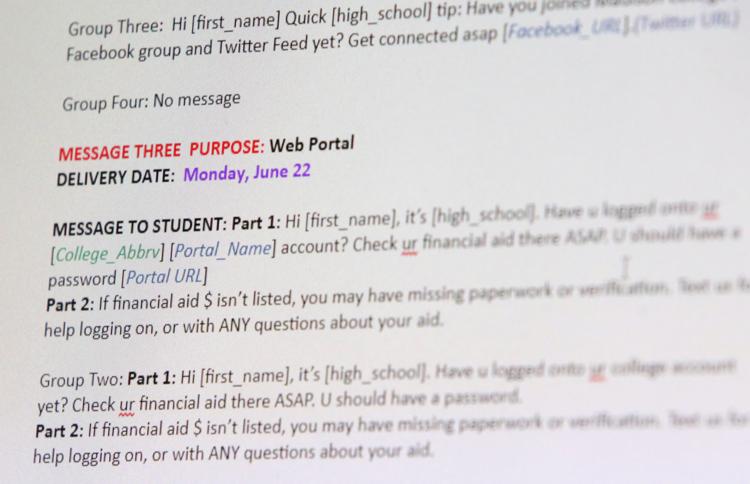 For example, students may fill out the federal financial aid application known as the FAFSA with the help of high school staff during the school year. But the financial award letters come during the summer, and can be confusing.
"It's easy to think that students should just know they have to do all these things," Great Lakes spokeswoman Melissa Gloudeman said, but that's not always realistic.
"If we can just get students over the hurdle of these three months, we see that students can be very successful," she said.
Especially for students of color, students from low-income families and students who will be the first in their families to attend college, a little help during the bridge period between high school and college is key.
"It's so needed," said Robin Murphy, an East High School counselor who's been part of the texting program for the entire three-year pilot and is planning to do it this summer, too. "We help students with everything under the sun."
Murphy, a Madison native, feels a bond with the students she assists. After graduating from West High School, Murphy was the first in her family to go to college.
She managed it, graduating with her bachelor's degree from UW-Madison in the late 1990s, but it wasn't easy.
"I did not have somebody at home who could help me make decisions," Murphy said. "There's a lot of support that's needed. A lot of kids are dealing with so much. They don't always know what to do for some of this stuff."
How the texts work
The texts students receive in the program are personalized and results-oriented, with links to take immediate action and invitations to text back if more help is needed. Counselors also make themselves available by phone or through meetings with students and parents.
"It's really filled a gap for a lot of students, not just the first-generation students," Wegner said. "Kids in some cases don't always know what some of the milestones are. The program really is that reminder so they don't forget to turn in X, Y or Z. Even some of our kids that are going to Ivy League schools, sometimes they have questions."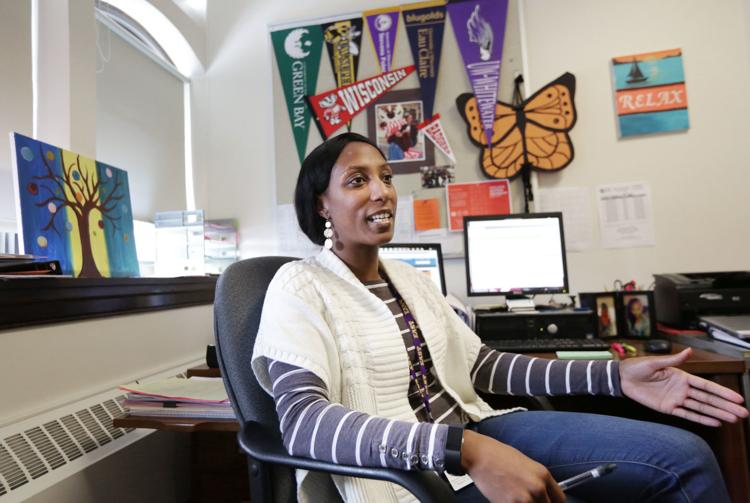 And if counselors find they can't answer a question, they get the student in touch by phone or email with someone at their college campus who can. Local counselors will begin building the database needed to send this summer's text messages in April, Murphy said, after researching the dates and connections needed for each college.
"Summer time is that crucial period," Murphy said, noting the workload in the program tends to be busiest at the start of summer, then ebbs and flows as problems pop up. It's hard to predict how any given summer will go, she said, noting it depends partly on what goes wrong.
"Life happens," Murphy said. "Maybe transcripts get mishandled or lost by a college, or a deadline is missed by a student. Financial aid is huge."
Continuing program
Great Lakes provided a total of $99,000 to the three districts to launch their own programs in 2015, covering costs such as text messaging software and funding for counselors to work over the summer helping students.
With the study now finished, the Madison district is paying for this summer's program on its own — choosing to continue the effort even as grant dollars wind down.
"I absolutely believe we're sold on it," Wegner said. "We're seeing statistically significant increases with regard to our student population, and most specifically with our African-American and Hispanic populations."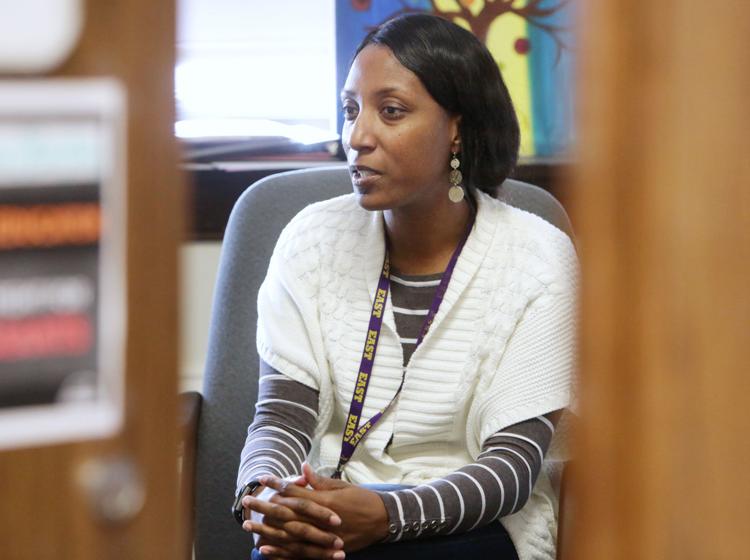 Wegner said participation in Madison's program is growing, too, from 357 students the first summer to 533 in summer 2016 to about 575 students last summer.
Students can self-select into the program when they complete their senior surveys, on which they have the option of reporting where they're attending college in the fall and signing up for the texting program by providing a cellphone number. Each summer, three or four counselors have worked the program in Madison, Wegner said.
Benefits of the program may be felt statewide as well. Results of the study were shared widely by Great Lakes starting last fall, including a 10-point tip sheet made available to districts looking to launch their own programs, and through the Wisconsin Department of Public Instruction and the state School Counselor Association.