Spreading kindness at Glenn Stephens Elementary School this year started with a rock garden and was capped off with a play to encourage the idea to grow.
Students painted rocks that were placed in the garden and then put on a play — all based on the book "Sally the Stone and Friends: Spread Kindness and Joy," which author Sally Schnarr distributes to schools and other places through individual and corporate sponsors.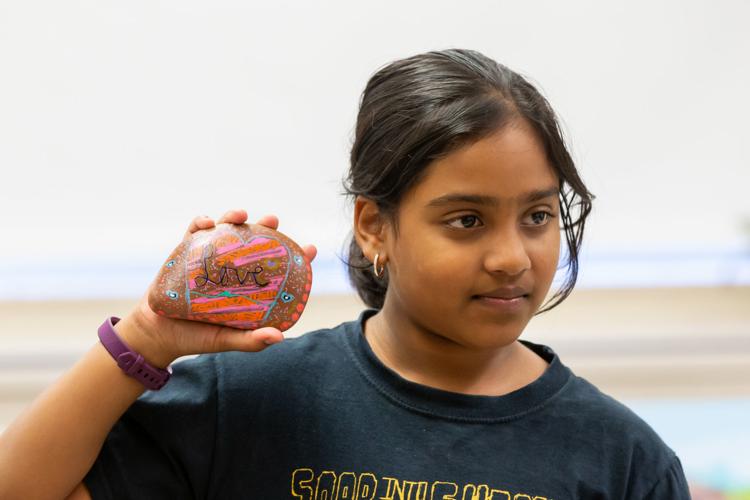 "I'm hoping when (people) watch the play they will be inspired to spread kindness, whether it's through stones or through their mouths," fourth-grader Meha Dasgupta said.
This children's storybook follows the journey of one small stone picked up by a child who washed and painted it and then hid it for another child to find. Finding the stone brings such joy to a little boy that he gathers his friends to paint other stones to hide at various animal exhibits at the local zoo. While hiding these newly painted stones, the children learn about kindness, sharing and friendship, and then learn how these acts of kindness and sharing come full circle.
Students created the rock garden in the front of the school in the fall. Then to top off the year, some students performed a play based on the book by Schnarr, a local author. It was especially meaningful for Schnarr to have the play performed at Glenn Stephens, where her mother was a longtime first-grade teacher and where her son went to school. The book also is set at a local zoo and some of the illustrations were inspired by the Vilas Zoo, where Schnarr spent many hours exploring with her son.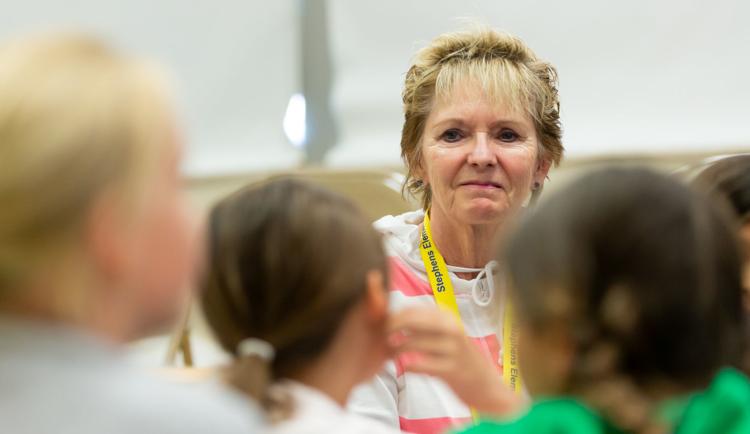 "When I saw my book come to life in a garden, it gave me an idea of how else I can bring it to life," said Schnarr, whose play based on her book was completed at the end of December. "It's exceeded my expectations."
Under the direction of Assistant Principal Kristi Kloos, fourth- and fifth-grade student council members performed the play for each grade level at the school Tuesday and Wednesday. A video of the play will be available on the school's website.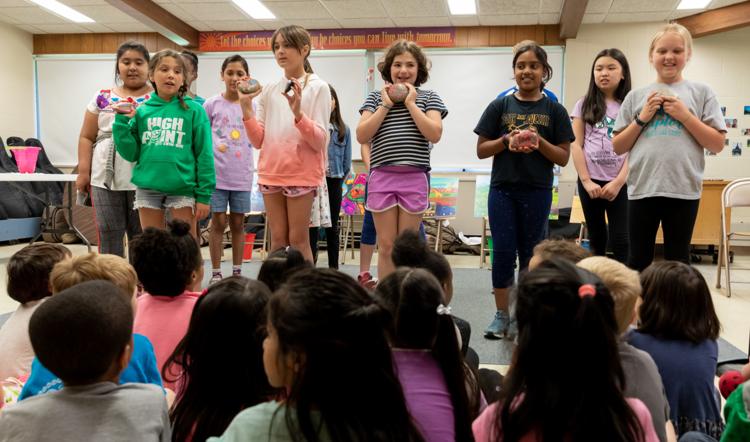 You have free articles remaining.
"It's kind of cool to see all the kinds of behind the scenes in the play," fourth-grader Nevaeh Weismer said. "I have never been in a play before."
Tracy Gallo, an art teacher at Glenn Stephens, was inspired by Schnarr's book, which was published in March 2018, and undertook the creation of the rock garden because she thought it would be a perfect all-school community builder, Kloos said.
"We're very intentional about kindness and being an ally," said Kloos, whose school spent the year looking at more ways to spread kindness.
She said that having students teaching other students is the "most powerful way to learn."
"It makes us want to be kind," fourth-grader Emily Martin said about putting on the play.
Each student painted a rock to represent themselves and placed them together to form a curvy design. The stones are designed to bring joy to people who see them and be a visual reminder of the concept of kindness rocks placed for others to find them.
"It was neat to see how people expressed themselves with the artwork on the rocks," said fifth-grader Simon Sellwood.
Fifth-grader Sofia Ketarkus painted a polar bear on her rock because she wants to bring attention to the endangered animal.
"I thought it was really touching that everyone contributed a stone, even people who came later in the year," fifth-grader Avery Haworth said.