Biblical messages were replaced with chanting and yelling as growing turbulence over weekly "Jesus Lunch" events held near Middleton High School spilled over to the luncheon itself.
Hundreds of students congregated Tuesday in Fireman's Park either to partake in the faith-based luncheon or to spar with fellow students over what some perceive as an encroachment of religion into public schools.
Chants of "Jesus Lunch, Jesus Lunch" and "Separation of church and state" emerged from a mass of teenagers, who fought the latest round in a dispute over the religious luncheon's relation to the high school.
Since 2014, the luncheons have been organized by a group of parents and held in a park next to the high school, but swelling attendance piqued interest from students, parents and secular groups, prompting school district administrators to call for an end to the lunches in the park last week.
Fireman's Park, however, is owned by the city and used by the district through a non-exclusive lease agreement. That arrangement has created disagreement among lunch organizers, their opponents, and city and school district officials about whether the district's policies apply in the park during school hours.
Adhering to the opinion of the city attorney, Middleton officials granted organizers of Jesus Lunch an event permit, but Tuesday's luncheon was far from typical, attracting a sizable student protest backed by the secular advocacy group, Freedom From Religion Foundation.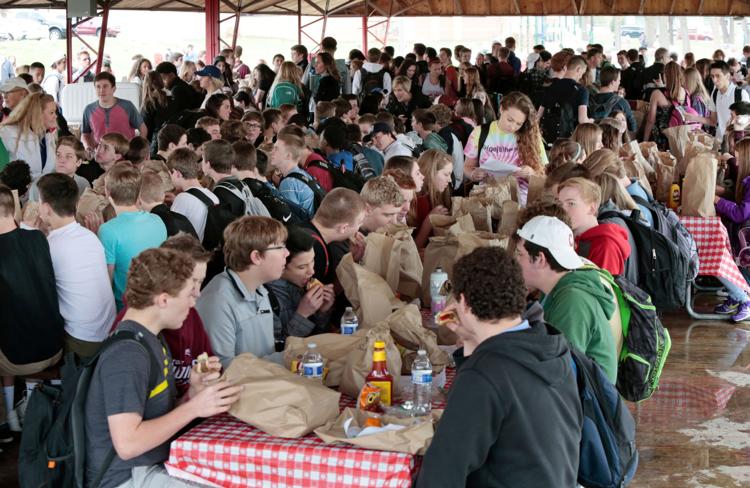 Amid the somewhat chaotic scene, Jesus Lunch organizers quickly scrapped the traditional three to five minutes of "biblical truths" that usually accompany the brown bag event.
The vast majority of students ate alongside friends inside the park's pavilion, but at any given time throughout Middleton's two lunch periods, as much as a third of the people at the event gathered around the foundation's array of cookies and cupcakes at the south end of the pavilion, where a handful of protesters took turns speaking atop a picnic table.
Among the protesters was Joshua Biatch, an 18-year-old senior, who identifies ethnically as Jewish but considers himself atheist.
"I hear people saying it's bringing the community together; it clearly isn't," Biatch said. "This event is designed purely for Christian students and that creates divisions between Christians and every other student.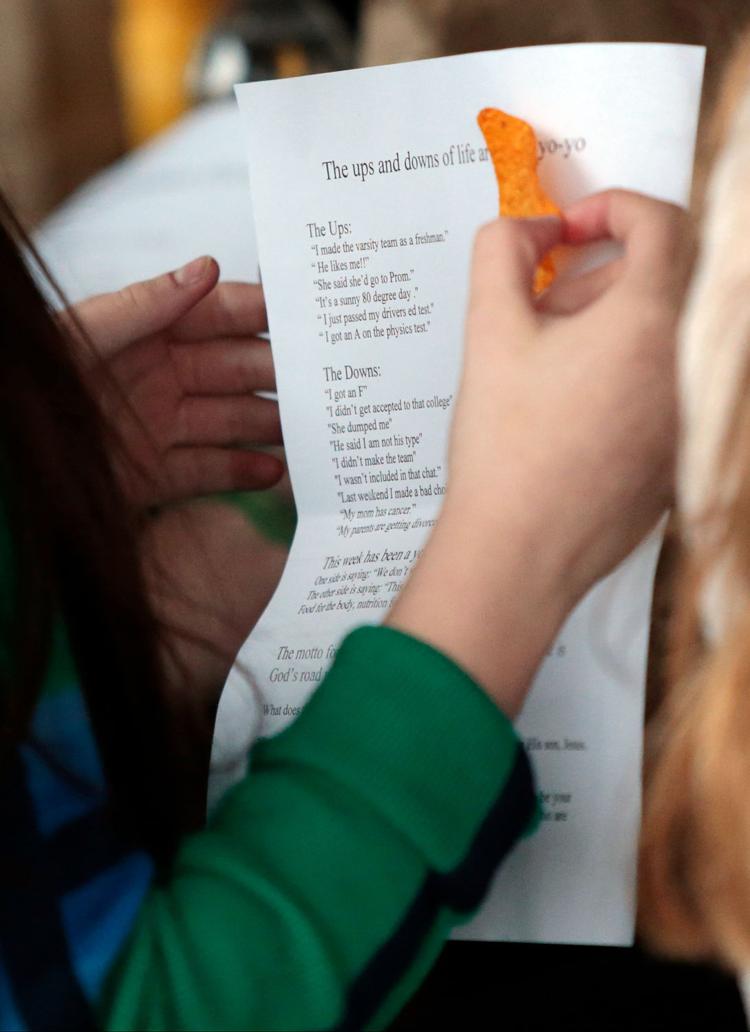 "People keep saying, "Oh, this isn't a big deal. It's been blown out of proportion.' They are always white, Christian people. … I have had to defend myself and explain myself so many times this week. People don't get it because people don't think beyond themselves."
As Biatch and others spoke, a scrum that included both protesters and supporters of Jesus Lunch reacted with a variety of cheers and jeers. A few clementines from lunches flew through the air, and there was a brief shoving incident that quickly dispersed amid calls to "remain peaceful." It was unclear who instigated the pushing.
Middleton Police Chief Charles Foulke said he did not see the shoving incident but said the event went well overall.
You have free articles remaining.
Register for more free articles
Stay logged in to skip the surveys
Sophomore Jarrett Horst, 16, stood with a couple of friends near the back of a counter-protest. A self-identifying Christian and member of Blackhawk Church, Horst said he regularly attends the luncheon and views it as a chance to relax, enjoy a nice meal and hear an uplifting message.
Horst and other regulars at Jesus Lunch agreed with protesters that the meal has become a divisive topic at school, but he disputed the notion that proselytizing is a primary goal of the luncheon.
"They only teach a passage about God for about five minutes and we just go back to eating," Horst said. "I don't see anything wrong with it. They allow anybody to come. Anybody can just come here and eat food. You don't have to learn about the Bible. Obviously, this is getting kind of out of hand."
Junior Camilla Vellon, 17, said she wasn't initially alarmed by Jesus Lunch because it started as a group of children and their own parents. The growth of the free lunch changed her mind and on Tuesday, Vellon was excused by her mother to attend the protest during both lunch periods.
"It's a very isolated situation that can make other groups feel uncomfortable, whether it's atheists, Muslims or Budhists," Vellon said.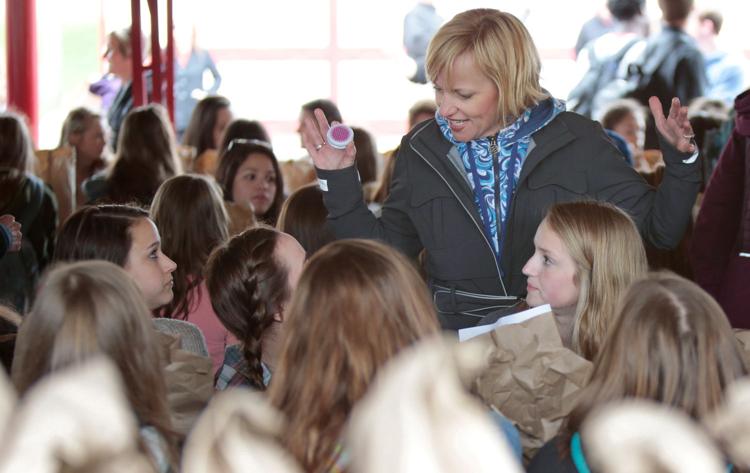 The meal is typically attended by about 400 students. In light of the heightened attention to Jesus Lunch, organizer Melissa Helbach said parents prepared for as many as 1,000 people, but she did not know how many lunches were distributed Tuesday.
The group will have to discuss how to proceed if protests persist, Helbach said.
"Up until this week, the Jesus Lunch has not been a contentious point within the school walls. Have there been some kids that have been opposed to it? Absolutely. But it hasn't been a focal point," she said. "What you saw here today is something we're going to contemplate and think over."
School district spokesman Perry Hibner said administrators stayed inside during the luncheon and planned to intervene only if things got out of hand.
In an email to parents last week, Superintendent Donald Johnson and high school Principal Stephen Plank wrote that they believed religious or political events have no place in schools or on campuses, except when sponsored by a student group. Because the district leases that area of Fireman's Park, they believed those policies extended to that area during school hours.
The city and school district have interpreted the lease differently, so Hibner said the district is anticipating Jesus Lunches will continue through the remainder of the school year.
"We're trying to make this a teachable moment for our kids, helping them understand there are times when people are going to be at opposing viewpoints," Hibner said. "It doesn't mean you have to agree with them, but you do have to be respectful of them."