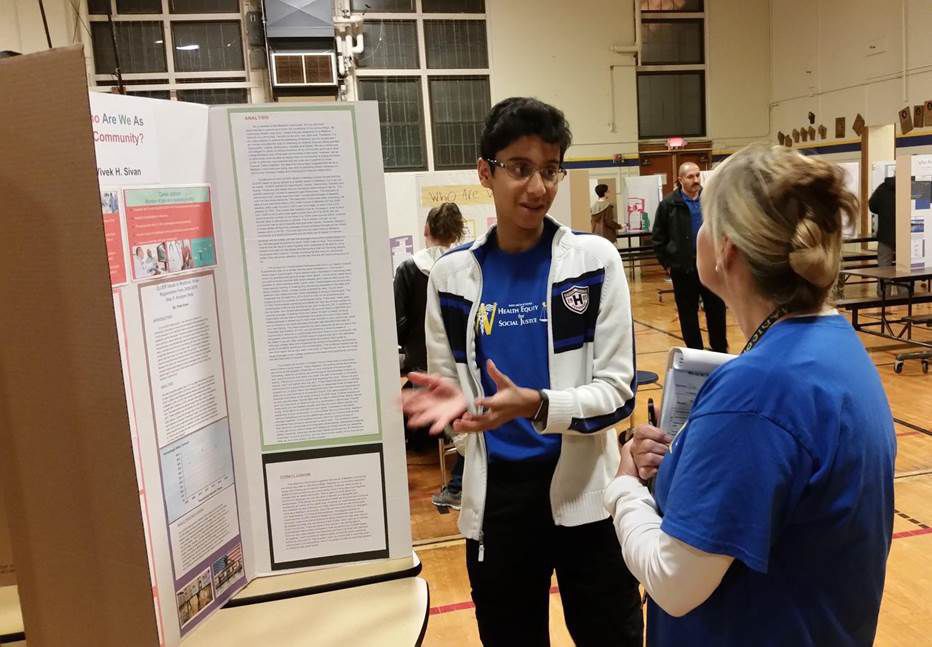 A new initiative billed as bringing real-world context to high school learning is generating solid interest from eighth-graders in the Madison School District looking to join the program's second year as freshmen next fall.
Through Thursday, 482 students had applied to be in the second cohort of the Personalized Pathways program, which is finishing its first semester Friday with 423 ninth-graders across all four main high schools.
Of the new applicants, 125 plan to attend East High School, 148 at La Follette, 124 at Memorial and 85 at West. Those numbers could change over the coming months, but interest appears to be similar to last January, when 518 initially applied, or about 24 percent to 34 percent of each school's projected freshman class at that time.
Pathways is billed as offering a rigorous, interconnected curriculum across students' core classes, plus one elective tied directly to the pathway theme, currently health services. Additional pathways with different themes originally were to be offered starting in fall 2018, but officials indefinitely delayed any new themes to spend more time studying how implementation of the first one plays out.
The health services pathway, meanwhile, continues to move forward across all four high schools. This school year's ninth-grade participants will be 10th-graders in the program next school year, as a new cohort of Pathways freshmen gets started, all using the lens of health services to inform classwork.
In addition to interconnected coursework, the four other key elements of Pathways include academic and career planning, small learning communities, individualized student support such as counseling and special education, and "experiential learning," including field trips, guest speakers, college visits, mentors and mock interviews, officials said.
"It's really the integrated experiences that drive this program forward," said Sean Storch, principal of La Follette High School. "It's the small learning community, the relationships that we build between our students and teachers, the rich, critical thinking and the problem-solving that happens when kids come together around real-world applications of their knowledge."
Parents weigh pros, cons
For Pathways parent Dawn Cunningham, whose son is a freshman at East, the main draw was the way she said Pathways teachers build strong bonds with students and the student diversity in the program, which tends to be less white and more low-income than both the district and its high schools overall.
"It's really nice that this program is less segregated than the rest of the school," she said. "People want to hire people not just because they're smart but because they know how to collaborate and work with different people."
But some remain concerned, including district parent Michelle Monton, who at the school board's December meeting questioned whether minority and low-income students were being served well.

"That (demographic) data only reinforces widespread concern that Pathways is really a form of tracking or job training in disguise," said Monton, who also raised concerns about the program's cost and whether it would improve student scores. She urged the district to slow implementation until more is known.
Fellow Pathways parent Fay-Marie Filipiak, who also spoke at the board meeting, was more positive.
Rather than pigeon-holing students into certain careers, Filipiak said the program offered job possibilities that students could take or leave while still being held to the same academic standards as any other student.
"We went into this with our daughter (at La Follette) with the idea that this is going to open her eyes to the health field area," Filipiak said. "If she likes it, great. If not, great. She's taking the same courses and getting the same information as all the other students, but they're bringing in the extra information with the health (services) piece of it."
District officials said a ninth-grader's schedule in Pathways includes the same core courses any freshman takes — English, science, social studies and math, plus physical education and three electives, one of which must be used for a special half-credit Pathways elective.
That means Pathways students still have two electives open to take advanced-placement classes, band, foreign languages or other courses that interest them, with students outside Pathways. Teachers in the Pathways program, meanwhile, meet and plan together twice a week to share notes on students and figure out how to weave the health services theme through the students' core courses.
Cindy Green, who oversees the program, said staff recommendations about when and whether Pathways should be expanded — and whether it should always be optional rather than eventually be required for all high school students as originally planned — would be provided in April, and both she and district Superintendent Jen Cheatham said it was too soon to judge whether specific academic measures were improving because of it.
"It's been an amazing collaborative effort underway to get Pathways off the ground," Cheatham said. "It's pretty special that we're actually talking here about it happening. We're out of the planning phase."
Green said district officials aren't concerned about the program's demographics and said the program is designed to restructure learning in ways that benefit both students who might otherwise struggle to graduate and students likely to attend top colleges after high school.
"We want to see every kid set up with a post-secondary plan for success that works for them," Green said. "This is not about tracking."
"It's been an amazing collaborative effort underway to get Pathways off the ground. … We're out of the planning phase." Jen Cheatham, superintendent of Madison public schools