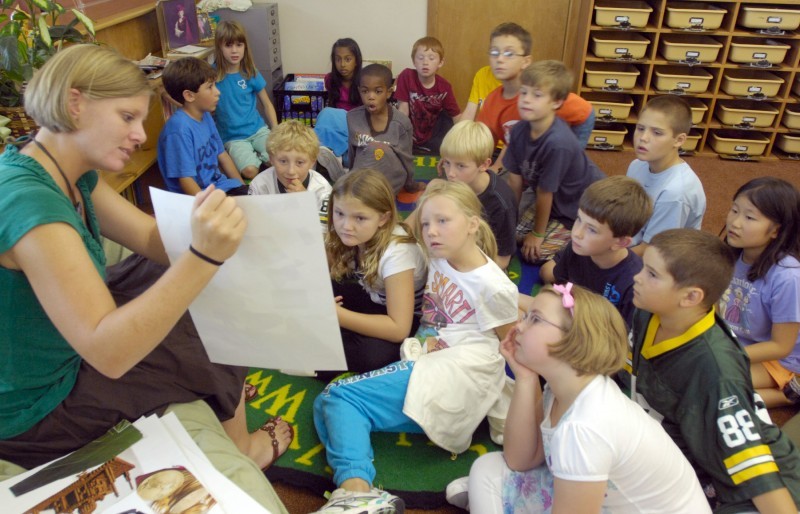 Wisconsin shed about 3,400 education positions this year, triple the number from last year. At least one-third of the state's districts increased elementary class sizes. And at least four in 10 districts are using one-time federal stimulus funds to balance their budgets.
But there have been no widespread reductions in course offerings, and the number of students per teacher, librarian and counselor remained about the same.
Those are the findings of a statewide survey of school superintendents about their 2011-12 budgets. Two-thirds of those responding to the Wisconsin Association of School District Administrators survey anticipate next year's staff cuts will be as bad or worse than this year.
The survey didn't ask about property taxes, but the Legislative Fiscal Bureau has projected an average increase of just 0.6 percent on the December tax bills, far less than the average 4.84 percent annual increase over the previous decade.
The survey results, to be released by the Department of Public Instruction Thursday and provided to the State Journal, offer the most comprehensive picture yet of how Gov. Scott Walker's budget cuts are affecting public education.
"The true picture is bleak," said Miles Turner, the association's executive director.
Walker spokesman Cullen Werwie said the findings are evidence "Governor Walker's reforms are working." 
"Schools are staying the same or getting better, and (that's happening) while the state will hold the line on property taxes over the next two years," Werwie said in a statement. "All of this was done without massive public employee layoffs or any tax increase unlike in other states."
Sen. Luther Olsen, R-Ripon, chairman of the Senate Education Committee, said the classroom impact wasn't as severe as some have warned.
The state budget reduces general state funding to schools by $749 million over two years.
The budget also forces districts to cut revenues — a combination of state aid and property taxes — by 5.5 percent this year and hold them steady next year. The result is a $1.6 billion difference from what districts could have raised if revenues increased as they have in the past — typically by 2 or 3 percent each year.
While that's good news for property taxpayers, it means the lower property taxes come at the expense of staff and larger class sizes in some districts, Turner said.
"The facts show that a few districts benefited from the changes," Turner said. "But the vast majority of districts and students in Wisconsin are going to experience a very negative impact because of the financial constraints that are imposed in the budget."
Werwie said school districts have reported savings of $336 million this year not including benefits savings from Milwaukee and Janesville or health care savings in Madison.
Over all, 83 percent of the state's 424 districts responded to the survey.
A DPI analysis of the responses found:
• Three out of four districts reported having fewer staff positions this year than last year. Two-thirds reported fewer teacher positions. A quarter of districts with increasing enrollment reduced staff. 
• The statewide ratio of students to teachers, librarians and counselors increased from 13.27 last year to 13.5. Werwie said that's still lower than some previous years and below the national average.
• 20 percent of districts eliminated entire sections for vocational and technical training. That was higher than all other types of classes, including art, music and physical education. Werwie said the survey shows most districts are maintaining or decreasing class size.
• Districts with union contracts in place this year — about 63 percent of all districts — were just as likely to cut staff and increase class sizes as those without contracts.
• Many of the position cuts were masked by at least 4,581 retirements this year, meaning the cuts didn't result in massive layoffs. There were still at least 1,428 educator layoffs among districts responding to the survey. There were 5,238 new hires. Werwie said the three districts with the most teacher layoffs, including Milwaukee, didn't implement Walker's reforms.
The State Journal conducted additional analysis including information from some districts that submitted survey responses after DPI concluded its analysis.
WASDA has conducted a survey every fall with the Wisconsin Education Association Council, the state's largest teachers union, since revenue limits were imposed in 1993. This year the survey was not conducted with WEAC.
The 2011-12 figures come from a Wisconsin Association of School District Administrators survey, and totals do not reflect all school districts in the state. Figures from other years come from reports from all districts to the state.
SOURCE: Department of Public Instruction, State Journal research
Total school district property taxes are expected to grow more slowly than they have over the past decade because of a 5.5 percent reduction in school district revenue limits.
| Year | Total Levy | Percent Increase |
| --- | --- | --- |
| 2001 | $2,928,086,246 | 4.77% |
| 2002 | $3,071,789,034 | 4.91% |
| 2003 | $3,192,664,463 | 3.94% |
| 2004 | $3,367,583,835 | 5.48% |
| 2005 | $3,610,690,110 | 7.22% |
| 2006 | $3,592,272,872 | -0.51% |
| 2007 | $3,787,843,188 | 5.44% |
| 2008 | $4,066,627,920 | 7.36% |
| 2009 | $4,279,013,060 | 5.22% |
| 2010 | $4,537,560,910 | 6.04% |
| 2011 | $4,692,930,468 | 3.42% |
| 2012* | $4,722,600,000 | 0.63% |
| 2013* | $4,780,300,000 | 1.22% |
*Estimates by the Legislative Fiscal Bureau based on the current state budget.
Source: Wisconsin Taxpayers Alliance