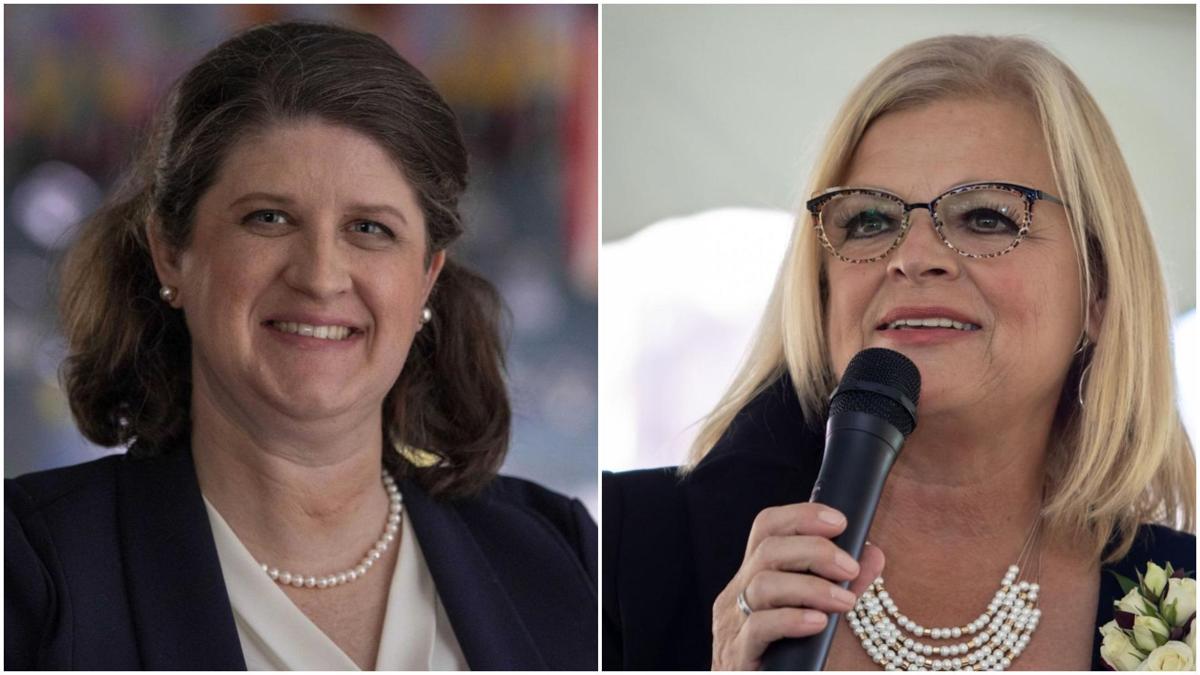 The race for state superintendent of schools, the only statewide contest on the April 6 ballot, has amplified political divisions surrounding public dollars for private and charter school vouchers in a historically nonpartisan election.
Former Brown Deer Superintendent Deborah Kerr and Pecatonica Superintendent Jill Underly will face off on the ballot to become the state's next head of the Wisconsin Department of Public Instruction, after beating five other candidates in the February primary.
Despite the nonpartisan nature of the race, Kerr has garnered Republican financial backers and support, including an endorsement from former Gov. Scott Walker, while Underly has received endorsements from the state's largest teachers union and the Wisconsin Democratic Party.
The two candidates not only have different views on a number of issues — including teachers unions, Act 10, when students should return to in-person learning during the COVID-19 pandemic and, perhaps most prominently, the private school voucher program — but they also charted starkly different paths to get to this point.
Democrats have long argued that the voucher program diverts tax dollars from public schools to help students attend private institutions and has increased pressure on public school districts to turn to referendums for operating funds. Republicans say the voucher program provides options for families who are unable to afford private schools and their students who might be struggling in a public district.
In forums leading up to the election, Kerr has said she supports school vouchers and wants to bring the two parties together to find a funding solution, while Underly, who said she is "100% unapologetically pro-public schools," has called for a freeze in enrollment in the school voucher program, an effort former state superintendent and current Gov. Tony Evers tried unsuccessfully to pass with his first biennial budget.
"I'm not against private schools," Underly said. "I'm against using public money to fund them. … A lot of stuff in vouchers, in privatization that's been passed in budget bills, has never had a (public) hearing."
Kerr said she wants to "level the playing field" in regard to private school vouchers.
"The question should be how can we support high-quality education across the board?" she said. "We need to work together. High tides raise all boats."
The two also split sharply over Act 10, Walker's 2011 law that effectively ended collective bargaining for public sector unions.
In forums, Kerr has said she was able to use Act 10, which forced teachers to pay more for their pension and retirement benefits, to help the Brown Deer School District district save money. Kerr has been endorsed by teachers from her former district.
Underly said Act 10 is the reason districts have repeatedly had to go to voters for billions of dollars for referendums.
"It basically took funding out of our schools and made teachers leave," she said. "Districts had no choice but to cut benefits to rectify the state budget."
Kerr: Education focus shaped life
Kerr grew up on in Melrose Park on the west side of Chicago, where she was enrolled in a private parochial school.
Her first teaching job was in the University of Chicago Laboratory Schools, a private day school associated with the university. She later taught in Fairbanks, Alaska, where she coached girls' basketball and earned a master's degree from the University of Alaska Fairbanks.
She then moved back to Illinois, became a middle school principal and met her husband, Ron, who came from a family of dairy farmers west of Kenosha. Kerr has a number of nieces and nephews who are also in education.
"We have this education focus in our family and life, and that's shaped my leadership goals," she said.
While working at a middle school in Antioch, Illinois, her superintendent encouraged her to become a superintendent, so she completed three years of course work and worked for two years on her dissertation, which focused on the benefits of "looping" — a term for teachers and staff remaining with their students throughout years of schooling.
Once she finished, Kerr applied for a superintendent position in the Wilmot Graded School District, a small district with one class per grade where, she said, she wore many hats including superintendent, business manager, principal, curriculum director and playground duty to give her teachers prep time.
"I shoveled snow, I did whatever it would take," she said.
When she realized Wilmot wasn't going to make it on its own as a school district, she moved to consolidate it with another district a few miles away.
"It was a great combination, and not only was it successful because the voters approved it overwhelmingly, we reduced the levy and built a new building the next year to house all of the kids for a better program," she said. She also launched a charter school in the Wilmot district for 4K students.
She then moved about 60 miles north to Brown Deer where she became the superintendent of a school district that, at the time, had 20% students of color and 20% low-income students. But over her 13 years in the district, those percentages increased to 80% students of color and 50% students who were economically disadvantaged.
That change prompted Kerr to push for more diversity in her teaching staff, she said. She also worked to establish before- and after-school programs for students, and "applied for every grant they could find" to help support her students. She brought in reading specialists to support students at the high school level when needed, redesigned a community-based 4K program for the district and pushed to close the district's achievement gap.
Kerr said she had a "reckoning" at the end of June, around the time she retired and launched her private consulting firm.
"I was really frustrated as a COVID-19 superintendent — I'll never forget March 13. That was the day me and other Milwaukee-area superintendents shut down our schools," she said. "When the DPI gave out a handbook on (COVID) guidance, I just felt so disrespected as a professional, the superintendents and district leaders and school boards were shouldering the burden of this pandemic from the beginning."
She said she felt there was a lack of state-level guidance for public school educators and leaders navigating the pandemic and so, in July, she made the decision to run for state superintendent.
Underly: Acutely aware of disparities
Underly attended public schools in her early years, before becoming a middle and high school social studies teacher in a low-income district in rural Indiana.
A large percentage of her students were English language learners which, she said, helped her to better understand how poverty and immigration affect a student's connection to opportunities in education.
Her second position as a public educator was in a much wealthier community which, she said, was like "night and day, as far as achievement and opportunities for students. The kids there didn't want for anything."
"Just a drive down the road and you're in a high-poverty community and the buildings are falling apart and kids don't have music or art or musical theater," she said. The experience, she said, made her acutely aware of the disparities in public education across the state.
Underly, a first-generation college student, attended graduate school at UW-Madison. She focused her dissertation on poor schools in rural and urban Wisconsin. After she graduated, she worked at the Department of Public Instruction under Evers, where she worked on projects in Milwaukee Public Schools.
"All of these experiences made it clear that we have a system of haves and have-nots when it comes to public schools in Wisconsin," she said. That prompted her to explore changes in the state's public school funding formula, which for decades has been based on a number of factors, including a district's property wealth but not student poverty.
She was a part of the workforce at DPI when Act 10 was passed and saw the effect on schools. At the same time, she said, she was bothered by the growth in the voucher program.
People "don't realize we're funding two school systems: a private system and a public system," she said.
"The vast majority of our kids go to a public school, and communities are being misled when you look at the referendums that have to be passed," she said. "Public schools in Wisconsin have lost $4 billion. We don't have people going into the teaching profession anymore, you can't have great schools without great staff."
After working at DPI, Underly became the superintendent in the Pecatonica School District. The district encompasses a rural, farming community with a high poverty rate. Underly said she pushed the school board to expand opportunities for students and families, including implementing full-day 4K classes, teacher recruitment and retention programs with a focus on diverse staff and initiatives to support mental health.
"We saw problems before the pandemic with shortages in mental health providers, and we have a shortage of school counselors and mental health psychologists," she said.
Underly said she knew she wanted to seek the position as the state's highest educator for years.
"I knew pre-pandemic this is something I would do, so I started putting the wheels in motion and people started asking if I would do it, and that was the nudge I needed" to seek election, she said.
---
'Every aspect of our lives has been turned on its head': The COVID-19 pandemic one year on
'Every aspect of our lives has been turned on its head': The COVID-19 pandemic one year on
A year into a once-in-a-century pandemic, Madison and Wisconsin continue to grapple with a virus that's killed thousands, destroyed businesses, upended school and changed nearly all aspects of everyday life.
It's been 12 months of grief, shutdowns, reopenings, protective measures, partisan fighting, lawsuits and loss. And now, hope.