State superintendent candidate Jill Underly used her Pecatonica School District email account to collect personal email addresses from superintendents across Wisconsin in an effort to build a contact list for her campaign.
Emails obtained by the Wisconsin State Journal show Underly twice used her district email account to contact a number of superintendents across the state to collect their contact information on April 20, a little more than two weeks before launching her campaign for state superintendent last year.
The emails were brought to the State Journal's attention by the campaign of Underly's opponent, former Brown Deer Superintendent Deborah Kerr, who the newspaper reported last week had used her district email account to work on her private business shortly before leaving her previous job.
Underly's use of her district email account presents a different ethical issue — using public resources for campaign purposes. However, Kerr campaign spokesperson Ethan Hollenberger said the campaign does not plan to file a complaint with the Wisconsin Ethics Commission.
Underly in her first email blast last April, sent out in the morning with the subject line "Personal email address request — entirely optional" from her district address, wrote that she had something she needed to send to the recipients but that she didn't want to — nor should she — send it to their school email. She then directed recipients to respond to her private email address.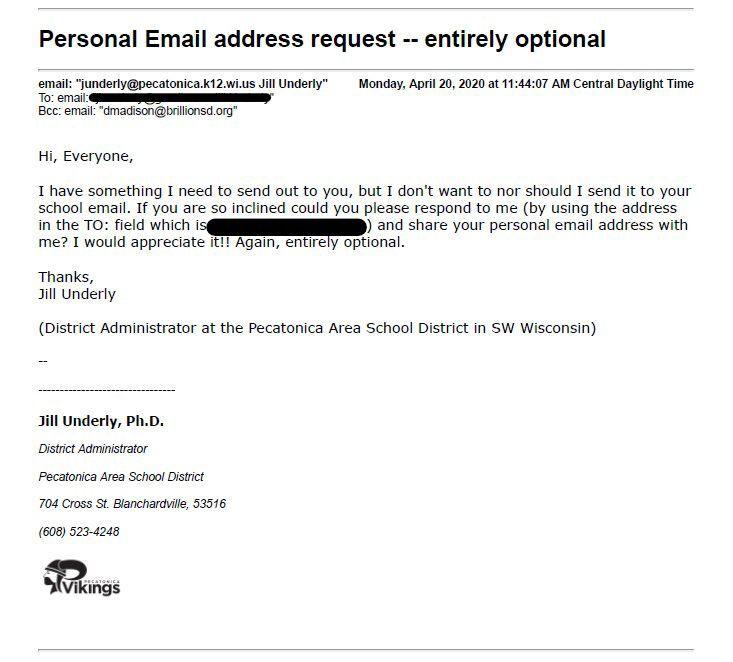 In the second email blast, sent out in the afternoon with the subject line "This is legit — please don't call my school district to report a weird request," again from her public district account, she told recipients that the email is in regard to the state superintendent race, and she didn't want to send the request for personal addresses out over district email.
"Please trust me — more information coming," she wrote, before again directing recipients to her private email address.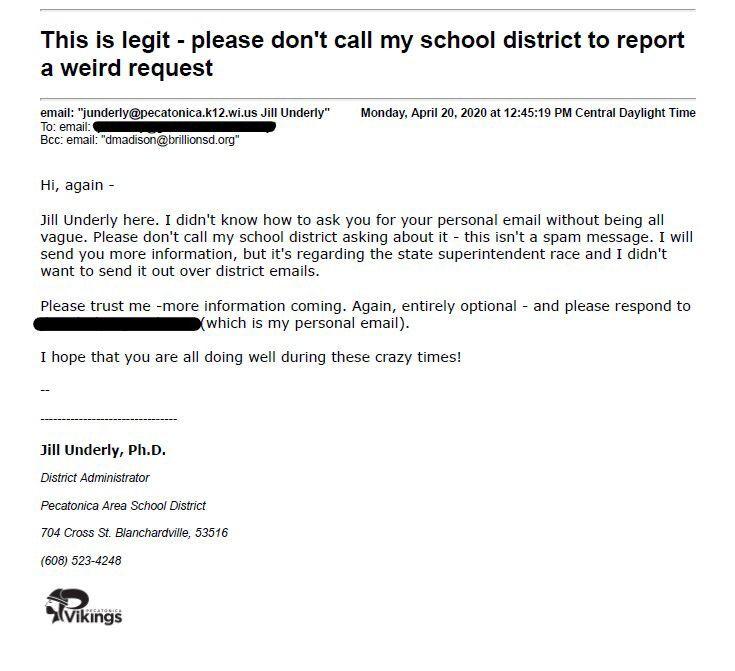 According to Underly's campaign, the second email was sent in the afternoon to provide clarification for the first after recipients contacted the Pecatonica School District to ask if Underly's district email had been hacked.
Underly campaign spokesperson Alanna Conley said the emails were sent to people Underly had met in her career in an effort to collect private contact information to avoid using school emails during the campaign.
"This is standard practice, to make sure taxpayer resources aren't utilized and was done specifically to comply with state laws regarding use of public email — she is literally saying, don't email me at work, talk to me only on my personal email," Conley said, contrasting Underly's use of her district email with Kerr's use of hers to solicit clients for her private business.
"Deb utilized her school email repeatedly to conduct for-profit private work on taxpayer time," Conley said. "Jill Underly took care to not use school email for her campaign, and to ask her contacts to give her ways to contact them other than school, and specifically not to contact her at school regarding the campaign."
Conley did not address why Underly used her public email account to contact other superintendents, rather than her private email.
In a statement, Kerr blasted Underly.
"The fact is Dr. Underly used her school email account to send messages asking people to contact her to discuss her campaign," Kerr said. "She is campaigning on government resources and it is illegal. She clearly does not understand the law. This is not 'standard procedure' as she suggests. Intentionally skirting state law is not a standard procedure. Anyone who thinks or says so is disqualified from holding public office."
The state superintendent oversees the Department of Public Instruction, which manages the state's public school system, sets priorities in the department's two-year budget request, manages the private school voucher programs and disperses grants to schools and districts.
Candidates in the traditionally nonpartisan race for state superintendent have received support from partisan backers in the weeks leading up to the election. Underly has garnered an endorsement from the state's largest teachers union, the Wisconsin Education Association Council, which supports Democrats. Kerr, who describes herself as a Democrat who voted for Joe Biden for president, has garnered financial backing from Republicans because of her support for private school vouchers.
Ahead of a crowded seven-person primary in February, Kerr led the group in campaign fundraising and spending. She finished second with 26% of votes in the primary. Underly finished first with 27% of the primary votes.
The state superintendent seat is open for the first time in more than a decade after Gov. Tony Evers, who won statewide elections to head the agency for three consecutive four-year terms, assumed Wisconsin's highest office. Current state Superintendent Carolyn Stanford Taylor was appointed by Evers in January 2019 after he won the 2018 governor's race. She did not seek election this year.
'Every aspect of our lives has been turned on its head': The COVID-19 pandemic one year on
A year into a once-in-a-century pandemic, Madison and Wisconsin continue to grapple with a virus that's killed thousands, destroyed businesses, upended school and changed nearly all aspects of everyday life.
It's been 12 months of grief, shutdowns, reopenings, protective measures, partisan fighting, lawsuits and loss. And now, hope.