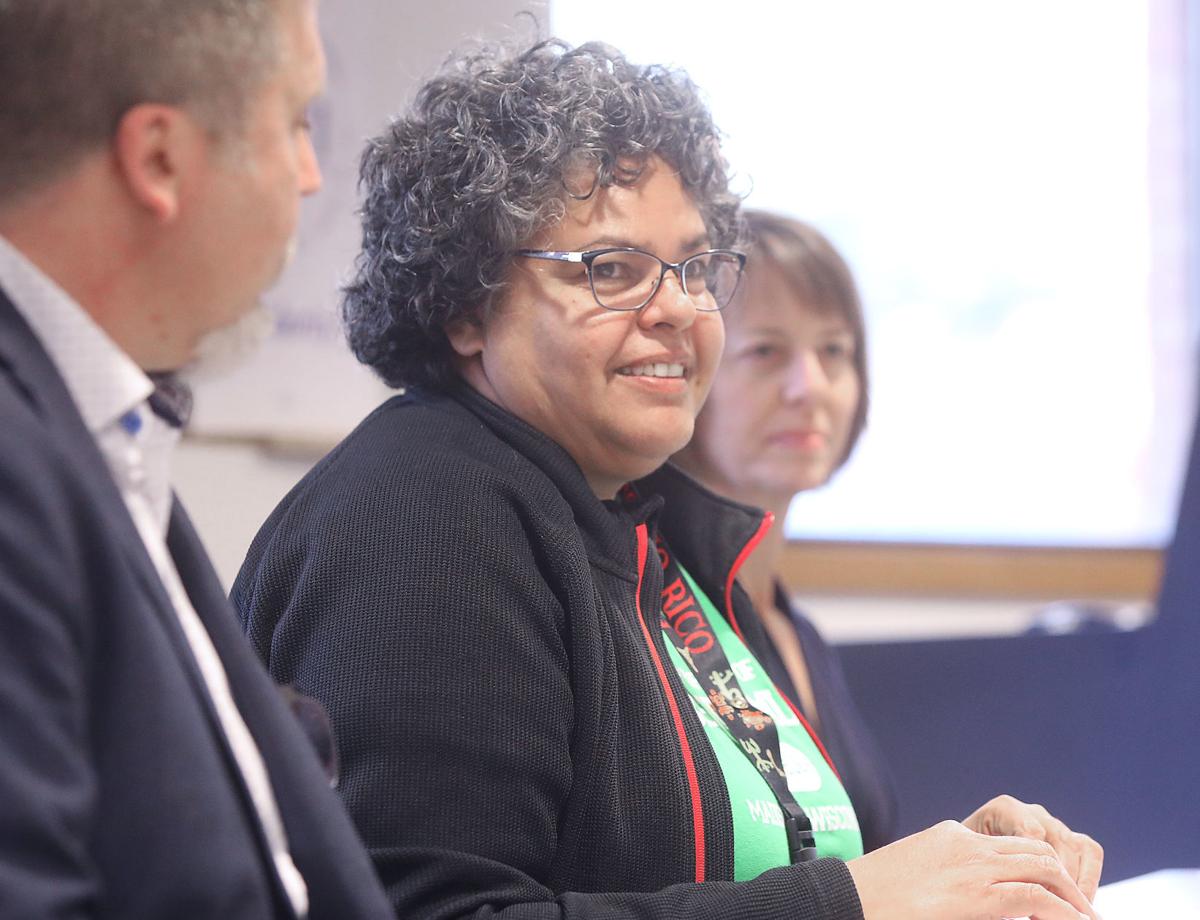 Another Madison School District staffer accused of violating a zero-tolerance policy on the use of the N-word is speaking out now that an African-American West High School security guard who also used the word was fired and then quickly reinstated following a community uproar.
Sandra Rivera, a bilingual social worker at the district's dual-language immersion charter school, Nuestro Mundo elementary, said during a press conference Friday put on by the teachers union, Madison Teachers Inc., that she was disciplined after she used the word during a staff meeting in March.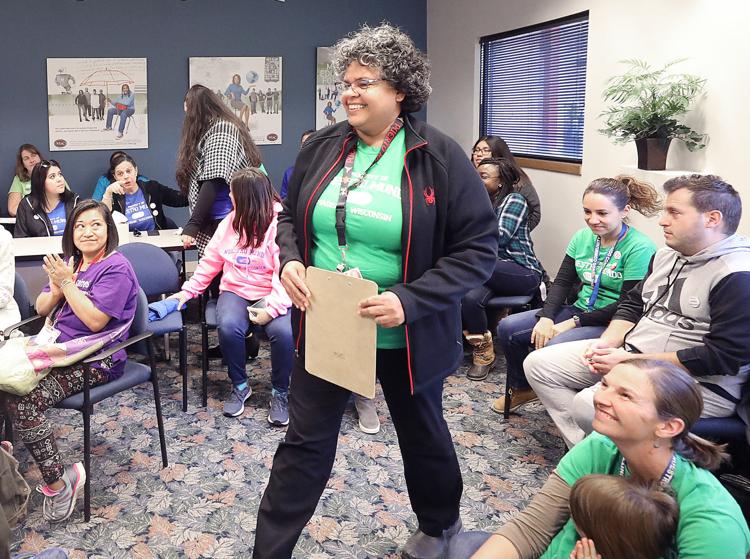 Rivera, who identified herself as a "black Puerto Rican," said that during the meeting on professional development activities to further the district's black excellence goal, "I brought up how to prepare ourselves better as staff members to address issues where students use racial slurs and insults."
She said another person at the meeting was surprised to hear that students used such language, so "I gave her a recent example I had witnessed, and wanting to be clear, I quoted the student and said the N-word, out loud and in its entirety."
The zero-tolerance policy, implemented last school year by the district's former superintendent, Jennifer Cheatham, makes the use of racial slurs — and in particular, the N-word — a one-strike-and-you're-out offense if uttered in front of students. The policy applies regardless of whether the slurs were directed at students or used in a derogatory manner.
Of those who have been reported to have violated the policy, Rivera is the first to be sanctioned despite there being no students present to hear the slur. She also said there were no other black staff members at the meeting, either.
Rivera received a "disciplinary suspension" letter as punishment, and while she did not lose any pay or serve any actual suspension from work, her union attorney, Tamara Packard, said the sanction is the most severe punishment short of termination and could be used as part of the rationale to fire her should she violate any other district policies.
In a statement in response to Rivera's story, Jane Belmore, the district's interim superintendent, said, "We have committed to examining our approach and are beginning that work." School Board President Gloria Reyes said Monday that the district was reevaluating the zero-tolerance policy.
"We cannot discuss the details of personnel matters or an active appeal," Belmore said. "We would encourage our community not to speculate on details, but to recognize any situation like this is incredibly complex."
On Oct. 16, Marlon Anderson, who is black, was fired from his position as a security guard at West High School for using the N-word in front of a student a week earlier.
Anderson had been helping with a disruptive male student, who is also black, when the student repeatedly called him the N-word and other obscenities. In response, Anderson said he told the male student several times not to use the slur, including a phrase like "do not call me a N-word," using the actual word.
Belmore rescinded his termination Monday after widespread community outrage, including a walkout from West High and a march to district offices to protest the firing that included some 1,500 students, staff and community members.
Packard said the district "has no formal policy ... that forbade Sandra (Rivera) from saying the N-word in the context in which she did" and that emails last school year from Cheatham on the issue were "unclear" and "Latino staff at Nuestro Mundo, including Sandra, understood those emails to say that staff must not direct racial slurs or other hate language at others."
"The lack of clear communication from the district has created a climate at Nuestro Mundo of stress, low morale, fear, mistrust, lack of risk-taking, secret conversations, intimidation, and it has frustrated the very work we are supposed to be doing," Rivera said.
It's not clear how many district staffers were fired or forced out of their positions last school year for violating the zero-tolerance policy. The district has confirmed seven, all of whom were white.
Third appeal pending
On Friday, Madison Teachers Inc. executive director Doug Keillor said four or five of the the union's members chose to resign last year after violating the policy. In addition to the appeals the union has filed in Anderson's and Rivera's cases, there is one other appeal pending of a white female teacher who was fired last year for violating the policy, he said.
MTI has said it was not aware of any circumstances in which teachers directed the N-word at students or used it in a manner meant to be derogatory.
Writing in its newsletter, MTI said "some instances have involved staff citing this word as an example of inappropriate language," while "other instances have involved staff repeating offensive comments made by students which included the word."
The district has been tight-lipped about the circumstances of each case in which a slur was used. Before Anderson and Rivera, only one teacher who used a slur had spoken publicly about her case.
The former Hamilton Middle School teacher told the Wisconsin State Journal that when she used the N-word Oct. 31, 2018, it was as part of a misguided attempt at teaching a black seventh-grader a lesson after the student called a white student a "cracker," a derogatory term for whites.
In an incident last winter, Karyn Stocks Glover, principal of Capital High, one of the district's two alternative high schools, wrote to parents on Feb. 21 of a "staff member allegedly using an inappropriate racial slur while reading from a book, in front of several students."
Decision to come
Rivera's case went before a hearing officer on Sept. 16, Keillor said, and the union and district are now in the process of submitting legal briefs. A decision could come in December or January, Packard said. Under a 2011 law that limited the powers of public-sector unions, the School Board will have the final say on whether to accept that decision.
Rivera said Anderson's case was part of what spurred her to come forward.
"I felt like my silence has kind of contributed to this way of responding to situations like this," she said. "It has contributed to the damage that it continues to do — this zero-tolerance policy."
Packard said that it does not appear that the district has any specific "curricular methods" for dealing with students who use racial slurs against other students.
[Editor's note: This story has been updated to clarify that, aside from Rivera, no other black staff members were present at the meeting where this discussion took place.]
Be the first to know
Get local news delivered to your inbox!