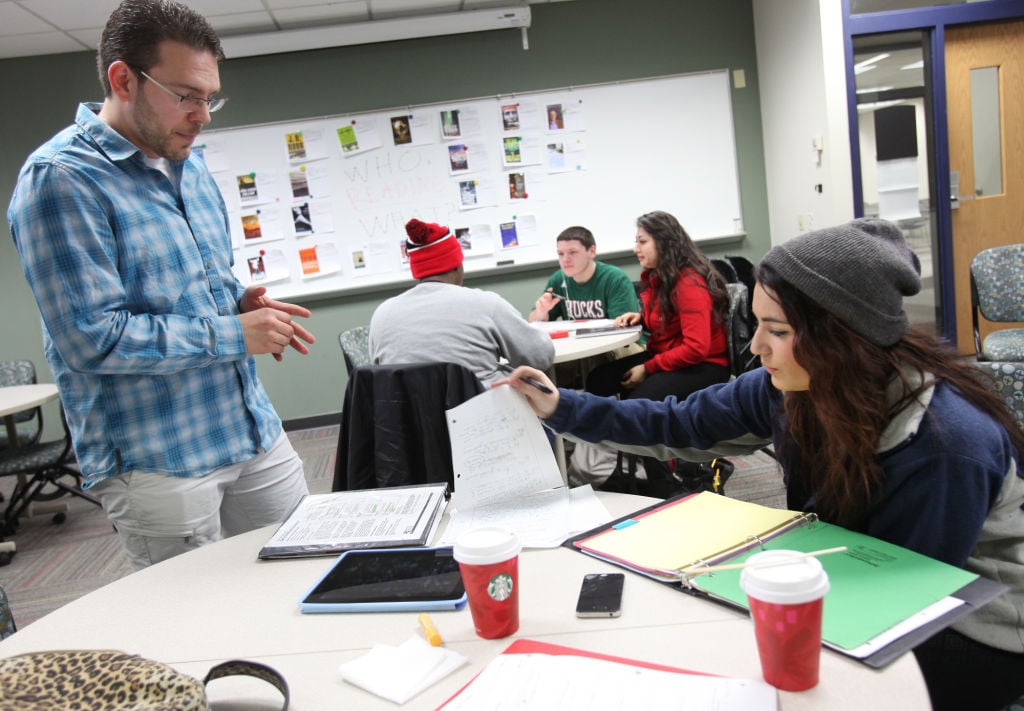 Anyone with "real-life experience" and a bachelor's degree would be able to get a teaching license in any subject as long as they pass a test proving they are knowledgeable, under a budget provision Gov. Scott Walker announced Thursday.
The proposal would expand the non-traditional routes available to become licensed without an education degree. But many details weren't disclosed Thursday, including whether it would call for any preparation for teaching, which is required in many of the current ways to get a teaching license without attending an education school.
Under Walker's proposal, people with experience in fields they intend to teach could get licenses as long as they have a bachelor's degree and demonstrate "that he or she is proficient in the subject or subjects that he or she intends to teach," according to Walker spokeswoman Laurel Patrick.
The renewable license authorizes the individual to teach only in grades 6 to 12 for three years, Patrick said.
The proposal would be similar to nontraditional routes already available. Patrick said there are differences that will be outlined in the budget, but was not specific.
Currently, school districts may hire candidates with an emergency teaching license for high-need subjects. Someone with a bachelor's degree also could obtain a teaching license by completing a teaching preparation program at a state college or university, or may receive a license in a subject area they majored in that has a shortage of teachers.
Those candidates then receive teacher preparation from one of 10 programs approved by the state, according to the Department of Public Instruction's website.
Wisconsin, like other states, has a shortage of college graduates planning to teach courses in such subjects as applied technology, health sciences and finance largely because salaries are higher in those fields in non-teaching jobs.
It's unclear if Walker's proposal is intended to specifically address those shortages.
Officials voice concern
Senate Education Committee chairman Luther Olsen, R-Ripon, said shortages in fields like career and technical education are a "big concern," but any alternative pathway for teaching licenses should ensure the applicants are effective teachers, too.
"Just passing a test that you know how to change spark plugs on a motor is one thing, but you've got to be able to teach kids, too," said Olsen, who noted he had not read Walker's proposal. "We have a serious shortage of people that are trained to teach technical education ... We need to move in that direction."
In an emailed response to the proposal, DPI spokesman Tom McCarthy said, "You need more than textbook knowledge to be the kind of teacher that connects with students and helps all kids learn."
"Like a skilled surgeon or a master electrician, high-quality teaching requires both skills and content knowledge," said McCarthy. "Increasing the number of licensed teachers only addresses one side of the equation when it comes to finding and retaining the best teachers."
McCarthy said school funding should be increased to allow schools to be able to pay competitive salaries to people with such skills so they don't leave for a higher-paying job in the same field but not in teaching.
He said the state has seen a decrease of nearly 500 career and technical education teachers in the last six years.
Sen. Paul Farrow, R-Pewaukee, who chairs the Senate's Education Reform and Government Operations committee, said the proposal is needed.
"That is something we need to look at," he said. "How can we engage (teaching candidates), especially in specialty areas of the (science, technology, engineering, mathematics) and the finance areas."
John Forester of the Wisconsin School Administrators Alliance said without seeing details, the organization has "significant concerns over what appears to be the philosophical underpinnings" of the proposal.