Transforming thousands of living rooms, kitchens and bedrooms into cloistered classrooms, several Dane County school districts are going digital after the shuttering of all school buildings in response to a global health crisis.
Faced with students out of class for weeks to help prevent the spread of COVID-19, many districts already have the technology to instruct students remotely, using a Chromebook or iPad they provide to each student and online education platforms such as Google Classroom.
But educating thousands of students at home is not without logistical challenges, such as serving those who have disabilities or lack internet access.
As the reality of a prolonged closure sunk in this week, districts handed out wireless hotspots and laptops, including a curbside computer pick-up Wednesday outside an Oregon school, and directed parents on how classes would proceed remotely.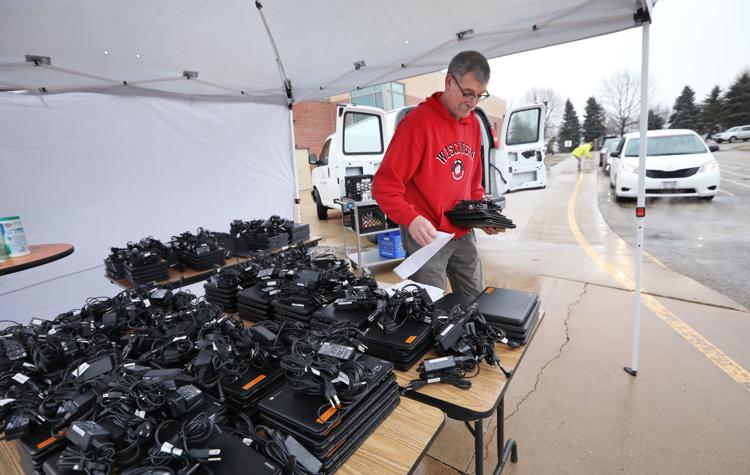 "A week ago, quite frankly, none of us, I don't think, could have predicted that we would be in this situation," said Jordan Sinz, administrator of the Wisconsin Heights School District, which is moving to "off-site learning" on March 30. "But yet here we are, so I think that goes to show the level of positivity and desire for people to try and make the best of a completely unpredictable situation."
Across Wisconsin, all public and private schools were ordered to close by Wednesday afternoon. The state Department of Health Services has extended the closure until Gov. Tony Evers declares an end to the public health emergency, tentatively scheduled to expire May 10.
Making the switch
On Thursday, the Sun Prairie and Verona school districts will implement their at-home education plans.
Curtis Mould, Sun Prairie's director of digital media, innovation and strategy, said the district is taking a "distance learning" model. It doesn't mean "a kid sitting in front of a computer for eight hours a day," he said.
Instead, teachers will assign directions digitally, which could be essays for high school students or having an elementary student practice counting, work that might not require a computer to complete.
"If it's a kid who's learning to just read or is working through some tricky, new words, they can record themselves reading and submit that to the teacher," Mould said. "It's a non-negotiable to continue learning opportunities even in a distance learning format during the closure."
Mould said Sun Prairie has a small number of families — maybe 10 — who do not have an internet-connected device in their home as a personal choice. He said those families will receive phone checks from teachers about their children's learning.
"We haven't figured out what the new world of attendance is going to look like," Mould said. "We're still sorting that out, but it is an expectation that families engage in learning through the distance format."
One parent's plan
In preparation, Tammi McCarthy has set up work stations and made a detailed daily schedule for her three children attending Sun Prairie schools.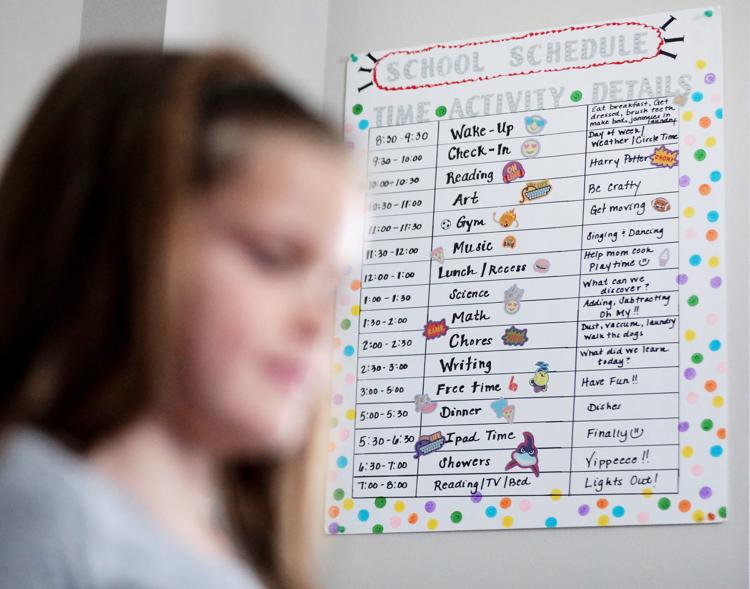 "I'm trying to keep their day as normal as I can, even though they're not in school anymore," she said. "For myself and my kids, we're better when we have structure."
McCarthy said her eighth-grade son will be able to work independently. A daughter in second grade, who had already received a video message of her teacher reading a book, might need some help. But McCarthy, who is a strategic account executive for an area tech company, said she'll guide her 5-year-old son's learning as she balances working from home.
"I think the Sun Prairie School District has done a phenomenal job of communicating and putting together what they can on a very short notice," she said.
Districts step up
At Wisconsin Heights, Sinz said laptops that typically stay in the classroom have been distributed. Elementary students will have some digital-based learning, but pencil-and-paper assignments were also provided, he said.
When Verona begins its virtual learning Thursday, high school students will be required to put in 4½ hours a day, 3½ hours for middle school students and 2½ hours for elementary students.
Mould said Sun Prairie is also requiring students put in a certain number of daily hours of learning, depending on their grade level.
He said the district's special-education department is developing plans to support students with special needs, including student-specific plans that spell out how many minutes and hours a student must receive for a special service like speech therapy.
"Accommodations and minutes will be met to the extent possible in this new reality," Mould said.
If certain services for students with disabilities can't be fulfilled online, the state Department of Public Instruction is advising the services be made up when classes resume.
As of now, the Madison School District isn't moving to online schooling, but spokesman Tim LeMonds said the district is preparing for "distance learning alternatives as a requirement, if schools remain closed longer than what was initially expected."
In the meantime, Madison is providing "enrichment" activities for students and directing parents to online resources.
LeMonds said district staff are in daily communication with DPI and other large districts to address the "unique complexities" for a bigger school system to move online.
State guidance
With the closure stretching on for potentially months, the state education agency is providing guidance on how districts can offer school remotely or virtually.
Janice Mertes, DPI's digital learning administrator, said the department is helping train teachers on switching to virtual instruction. Wisconsin is already a bit further along than some other states since DPI had resources on digital learning available before schools were ordered to close, and the state allows virtual learning to count toward required annual instructional time, Mertes said.
"We have an infrastructure to try to help move districts forward," she said.
More than 60% of Wisconsin school districts have a digital device assigned to each student in grades 6 to 12, according to a DPI survey. Sixty-six of the 404 districts that participated in the survey reported using virtual learning sometime last school year.
Mertes said DPI recommends limiting screen time for elementary students at home, including no digital use for preschoolers to second-graders.
But there are challenges for some school districts, Mertes said, in terms of how many digital devices they have on hand and the speed of home internet in some regions.
DPI is helping the districts with the highest needs, she said, but added "there is no district who has not reached out for some help."
The switch in how students are educated is a credit to all involved, Mertes said, from teachers who are reworking lesson plans and districts figuring out how to digitally deliver them to examples of landlords and building owners making their WiFi publicly accessible so children in the buildings can get online.
"When you talk about creative solutions, we are starting to see that around all parts of the state," Mertes said. "It doesn't matter if it's urban, rural, north, south, east, west, it is a collective attempt to figure out how to keep students safe, ensure that learning can continue and how to salvage the experience of this school year."