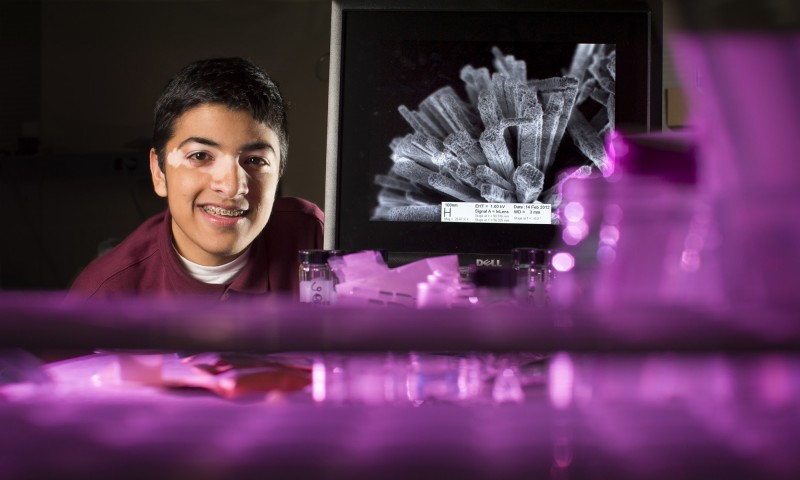 Memorial High School senior Sohil Shah is at an academic level above most of his peers.
Sohil, 17, who takes classes and conducts research at UW-Madison, also is more advanced than many college students.
Findings from his nanoscience research project were published in the prestigious Journal of Materials Chemistry — a feat that could be expected of third-year doctorate students, said Robert Hamers, chemistry professor at UW-Madison and Sohil's mentor.
"Sohil is the most amazing high school student I have ever seen," said Hamers, who is impressed by the high school student's overall scientific knowledge and outstanding math skills. "It's hard to remember that he's not a college student."
Hamers has been working with Sohil in the High School Science Research Internship Program offered by the Madison School District. Sohil conducted his research over the past two summers and to some extent during the year.
"He was very independent," Hamers said. "He didn't need a lot of supervision on a day-to-day basis."
Sohil's research prompted Rachel Egan, coordinator of the science research internship program, to suggest he enter the highly competitive Siemens Competition in Math, Science and Technology. A total of 2,255 students nationwide entered the competition this year for a total 1,504 projects submitted because some were on teams. A total of 93 participants, including Sohil, were named regional finalists, and they represented 60 projects.
He was the only finalist from Wisconsin.
The regional competition was Nov. 9-10 at the University of Notre Dame in South Bend, Ind., where Sohil presented his research to university judges. As a finalist, he received a $1,000 scholarship. He was not chosen to attend the National Finals in Washington, D.C., next month.
"It was a really great experience," Sohil said. "To be alongside some of those kids was really flattering. It was just a lot of fun to be with other kids that had this appreciation for science."
Sohil said he was about four or five years old when his aptitude in science became apparent. It was then nurtured by his sister, Pooja, who is four years older and has since graduated from the Massachusetts Institute of Technology. He was introduced to working with nanomaterials the first time he participated in a FIRST Lego League competition in elementary school.
Sohil is an AP National Scholar, Wisconsin Mathematics Talent Search winner and third place winner at the Junior Science and Humanities Symposium. He also is an editor of his school's yearbook, volunteers as a mathematics mentor to younger students and is one of the coaches of the Jefferson Middle School Mathcounts team.
Sohil wants to major in chemistry, math or economics and aspires to be a physician in internal medicine at the Mayo Clinic.
Be the first to know
Get local news delivered to your inbox!