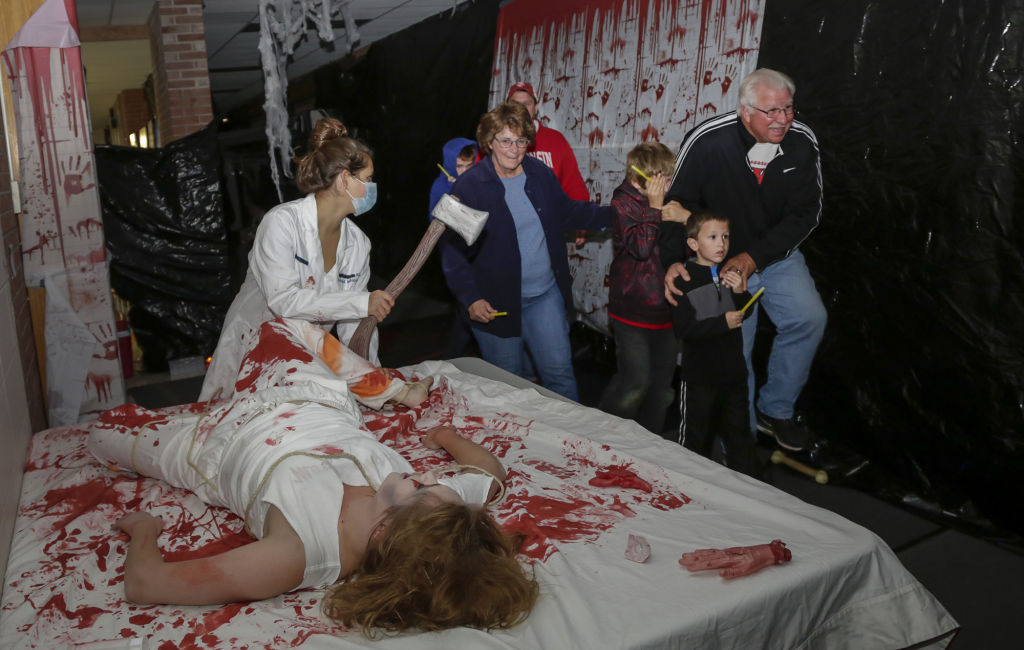 The hundreds of people who walk through the DECA Haunted House at Mount Horeb High School each year carry different colored glow sticks to let the costumed figures know what "scare level" to present.
What some of the young visitors in particular might not see behind all of the ghoulish makeup and scenes from a surgical ward to a circus is the carefully orchestrated business plan. Senior Maggie Koenig, 18, says the event is "basically running a mini business here in a day."
"It's cool to be able to put that together as a high school student," said Maggie, co-president of DECA, a business club.
Now in its sixth year, this year's event on Saturday drew 762 people. Tickets were $3, and with concessions the event raised about $2,300, according to preliminary estimates.
As part of the business plan, students approach businesses about sponsorships and come up with different marketing strategies from stretching a large sign across the city's Main Street to making bookmarks for young students in the district.
You have free articles remaining.
Last year as a junior, DECA member Emily Nelson entered her "Learn and Earn Project for DECA" paper about the haunted house in a contest at the DECA State Career Development Conference and wound up reaching the international level of competition.
"It's not just all about scaring people," said senior Blaine Bestul, 18, who has been a co-chairman for the past three years and is co-president of DECA.
Blaine said the event encourages students to do community service. About 110 people are needed to put on the event.
In addition to creating the reliable and popular sections of the haunted house, each year the students come up with new themes. The teamwork and negotiating skills that come with planning are challenging but satisfying aspects of the event, said Lucas Culberson, 17, a senior who has been event co-chairman for the past three years.
Six years ago, when members of DECA at Mount Horeb High School asked about reviving the haunted house they remembered visiting when they were young, Penny Thompson, who was new in her job as the DECA adviser and marketing teacher, said she was "pretty reluctant" because she knew the amount of work it would require and she was unsure what the community response would be.
The inaugural event only drew about 100 people but the school organization didn't give up. "The kids love this project," Thompson said.