On the surface, it's fantasy role-playing games. But the youth at the Goblins, Orcs and Swords summer camp are also sharpening life skills like collaboration and creative problem-solving.
The camp, which is run by the nonprofit Madison Center for Engaged Learning, is centered on the role-playing game called FATE, which is similar to Dungeons and Dragons. It emphasizes storytelling, character creation, teamwork and strategy.
Since the role-playing games are done at a table, the campers also engage in foam sword play simulations to take a physical break each day and practice some of their role-playing scenarios. The campers use martial arts practice swords and wear masks for the simulation, which is under the direction of Mike Garrison, who runs the Madison Fencing Academy.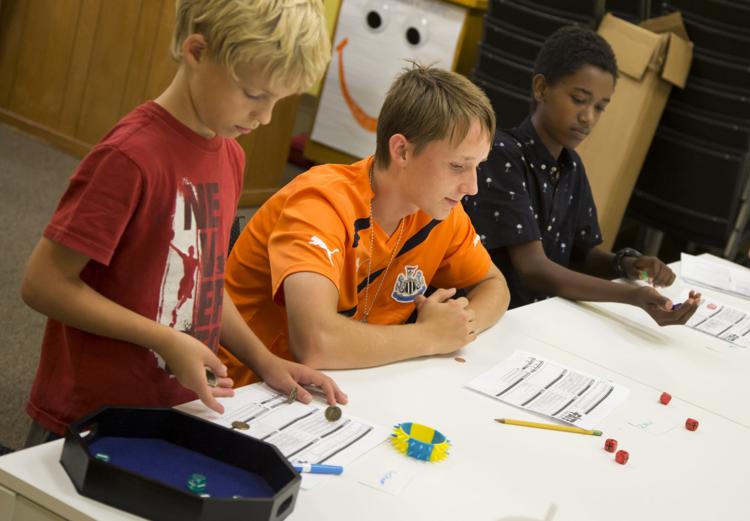 During the games, the campers assume characters and have to look at what is good for their characters and what helps the group. Stepping into certain characters also helps the campers become empathetic.
"How do you put yourself in the shoes of others and respond from their perspective?" said Michelle Sharpswain, camp director and president and co-founder of the nonprofit. "Empathy is something learned and practiced."
The campers also acquire sportsmanship skills as they learn how to handle disappointment because they invest a lot in their characters who sometimes die, she said.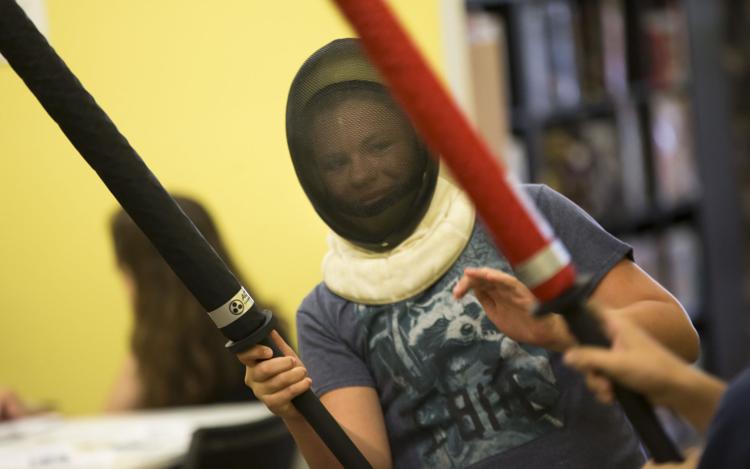 While many of the campers have experience gaming on their own, they said the camp has benefits such as meeting new people and finding other game-playing partners. That is especially true for Hayden Johnson, who said it is more difficult to find others to game with since he goes to the smaller EAGLE School in Fitchburg, where he will be in eighth grade this fall.
"It's more fun to do this with other people and to see what their ideas are," said Arwen Duckwitz, a fifth-grader at Edgewood Campus School.
Simon Sharpswain, who will be a ninth-grader at Madison Country Day School, said the camp's game masters, Garrison and Brian Duckwitz, help the campers become better gamers.
Bennett Jester, who's entering seventh grade at Madison Community Montessori School, said he signed up for the camp without experience in role-playing games.
Bennett said he picked up the skills fairly quickly and found it similar to writing, which he likes to do at home, but without as much control over the characters.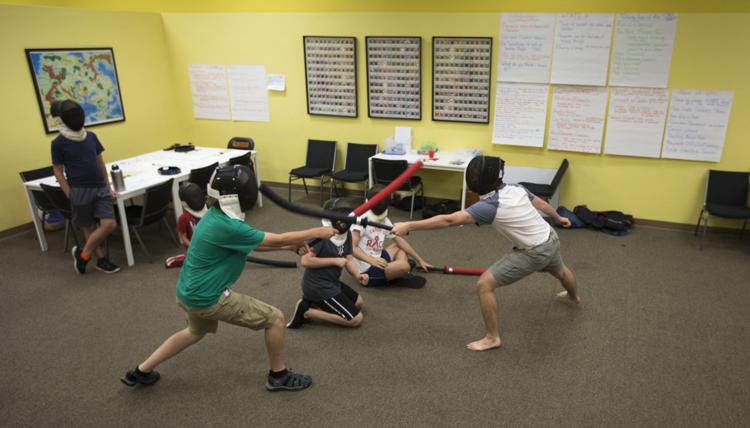 Nate Striker, who will be a sixth-grader at Hamilton Middle School, said the camp helps with skills like teamwork, collaboration and planning.
"You have to really think about what you want to do that will get you closer to the goals you have," he said.
The camp is design for youth ages 12 to 15 but exceptions are sometimes made for those younger after an evaluation. The I'm Board! Games and Family Fun store at 6917 University Ave. has donated its game room space for the camp, which also will run Aug. 22-26. Information on enrollment for the that session can be found at madisonelacademy.org/summer-enrichment.