BARNEVELD — When Emma Yingling first met Cowboy, the rescued horse with one eye frightened her.
But she soon learned what distinguished him from other horses didn't make him menacing, just different.
"He's kind, and he'll let us pet him on the nose," Emma said about Cowboy. "He's really nice, actually."
At the Kids Camp run by the I Am Magic Foundation in Barneveld, children learn about the care and management of horses and other animals. But the four-legged creatures are also teaching the campers about communication, trust and acceptance of others.
"It kind of stretches their horizons," said Marlene Cordes, executive director of the foundation, whose camp features interactions with several different kinds of animals.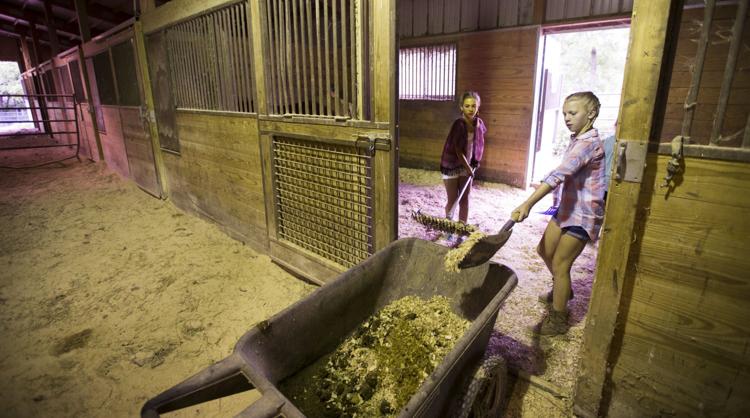 Olivia Sutor, an incoming sixth-grader at Glacier Creek Middle School in Cross Plains, said at first she was afraid of the goats because they have horns. But after a goat bumped the girl with the soft part of her head, she became less fearful because it didn't hurt. She later learned that's how goats play.
Gabriella Johnson, also an incoming sixth-grader at Glacier Creek, said she had a fear of birds but gained an appreciation of peacocks and their beauty after she learned they don't spread their feathers to scare others away but to attract mates.
While the campers, who are generally 7 to 12, get to ride the horses after they are done with chores, it is not a riding camp, Cordes said.
"I hope they understand horses for who they are and what they are, not just that they are there to ride," Cordes said. "Part of why they (horses) are used for therapy is they mirror people's emotions so well."
Campers sometimes don't realize how big the horses are until they are next to them, which is one of the reasons Cordes also has them work with other animals such as goats and dogs, which are not only smaller but also more familiar.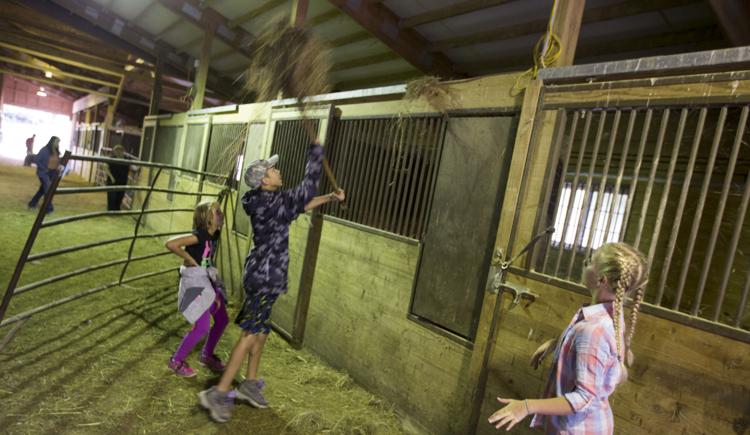 The campers learn how to take care of the animals by feeding and grooming them and cleaning out their stalls. They also listen to various animal experts speak about topics such as therapy dogs, snakes and dog training.
Cordes said the campers gain self- confidence and self-esteem because they overcome fears and learn teamwork by helping each other.
Jonathan Yingling, an incoming seventh-grader at Kromrey Middle School in Middleton, and Gabriella also said they made new friends at camp.