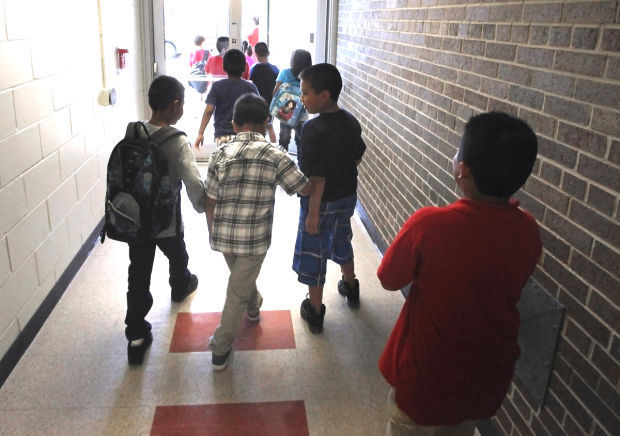 The chief of staff for state Sen. Alberta Darling, R-River Hills, has been hired by the University of Wisconsin System to oversee the creation of independent charter schools in Madison and Milwaukee.
Gary Bennett, a former public school teacher, will begin April 1, according to the UW System.
He will establish and lead the new Office of Educational Opportunity, an entity proposed by Darling and other Republican legislators and approved last year as part of the state's biennial budget process.
The office will have the ability to bypass local school boards and directly authorize new charter schools in districts with more than 25,000 students. Currently, that's just Madison and Milwaukee.
Charter schools are publicly funded schools that are granted considerable flexibility in how they operate. Families choose to attend them, often because the schools offer a particular focus or curriculum.
Supporters say the new charter-granting entity is needed to spur innovation, especially in the area of improving test scores for minority and low-income students. Opponents say independent charter schools drain sorely needed tax dollars from traditional public schools.
Under state rules, the Wisconsin Department of Public Instruction is required to reduce a school district's funding by the same amount that is paid per student to an independent charter school, currently about $8,000.
Last year, Madison Superintendent Jennifer Cheatham blasted the proposed creation of the Office of Educational Opportunity. Thursday, she made it clear her stance hasn't changed.
"My intent is to make this office obsolete — that our schools will be serving students so well that there isn't a need," she said.
Cheatham renewed her criticism Thursday of the Legislature.
"As a district, we're doing everything in our power to raise student achievement and close gaps, and we're making progress," she said. "It continues to be the case that every step of the way, the Legislature is putting up more barriers and making our jobs more difficult."
But Darling said Thursday the new charter-granting entity is needed precisely because Madison is failing too many children.
"We need educational opportunities for children who are not given opportunities to succeed right now," she said.
In the past, the Madison School Board has had the ability to control whether a charter school proposal moves forward. While the district has never been overly enthusiastic about charter schools, it has authorized three: Wright Middle School, the bilingual Nuestro Mundo Community School and Badger Rock Middle School.
All three are "in-district" charter schools, meaning the School Board retains oversight and employs charter school staff. Going forward, there now also will be a separate track, wholly independent and outside of the district's control, for the creation of charter schools.
School Board member Ed Hughes, who harshly criticized the Republican proposal last year, said Thursday he hopes the district can establish a collaborative relationship with the new UW System office.
"(The proposal) went forward, and we've got to live with it," he said. "Time will tell what kind of interest there is in the community for creating charter schools."
In his new role, Bennett will earn $95,000 and report to UW System President Ray Cross as a special assistant to the president. Bennett declined comment Thursday.
Bennett taught second grade for three years in the Clark County School District in Las Vegas and earned a law degree from UW Law School, according to a resumé provided by the UW System. Before joining Darling's staff in 2013, he was a policy adviser for state Sen. Lena Taylor, D-Milwaukee.
Darling, whom Bennett listed as a reference, said he's a great fit for the job, calling him "an education-reform activist with a national reputation." UW System said there were three other finalists for the job but declined to release their names Thursday.