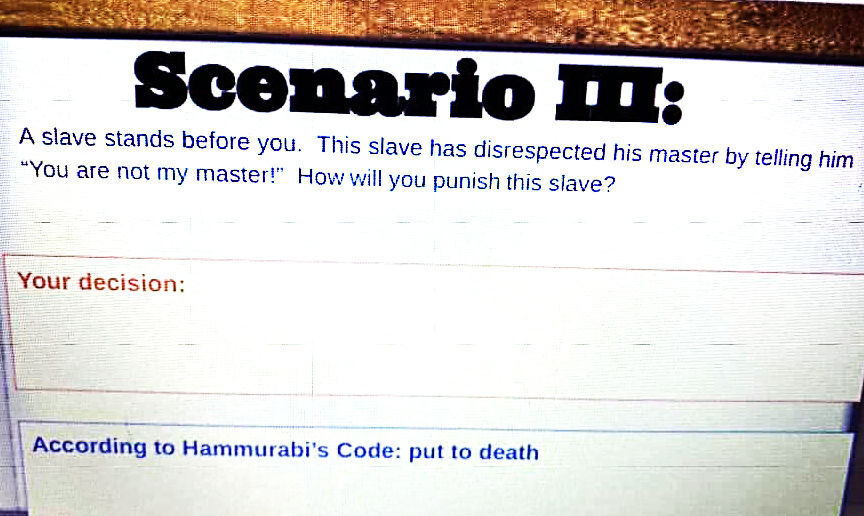 A dispute over whether the Sun Prairie School District was working with a local nonprofit focused on racial equity to build community trust after a recent lesson on slavery seems, at least in part, to have been a misunderstanding.
"While we would like to state the facts, we would also like to make room for the idea that all partners involved in this situation may have a position of being partially correct," the district said in a statement Tuesday.
Records released Tuesday by the district show a district equity leader had multiple text, email and phone conversations with a YWCA Madison staffer about how to heal after three of the district's teachers asked sixth-graders in a lesson about ancient Mesopotamia how they would have punished a slave. But the two organizations had not made any formal arrangements or even discussed one, contrary to the impression left by a district presentation Monday.
YWCA Madison CEO Vanessa McDowell said her staff member was helping the district leader "as a friend, not on behalf of YWCA." McDowell said she was frustrated to learn that the district listed her nonprofit's name as one of the groups it was working in "consultation with" to develop "restorative circle discussions" in a meeting Monday night.
"We are not in partnership informally or formally," McDowell said.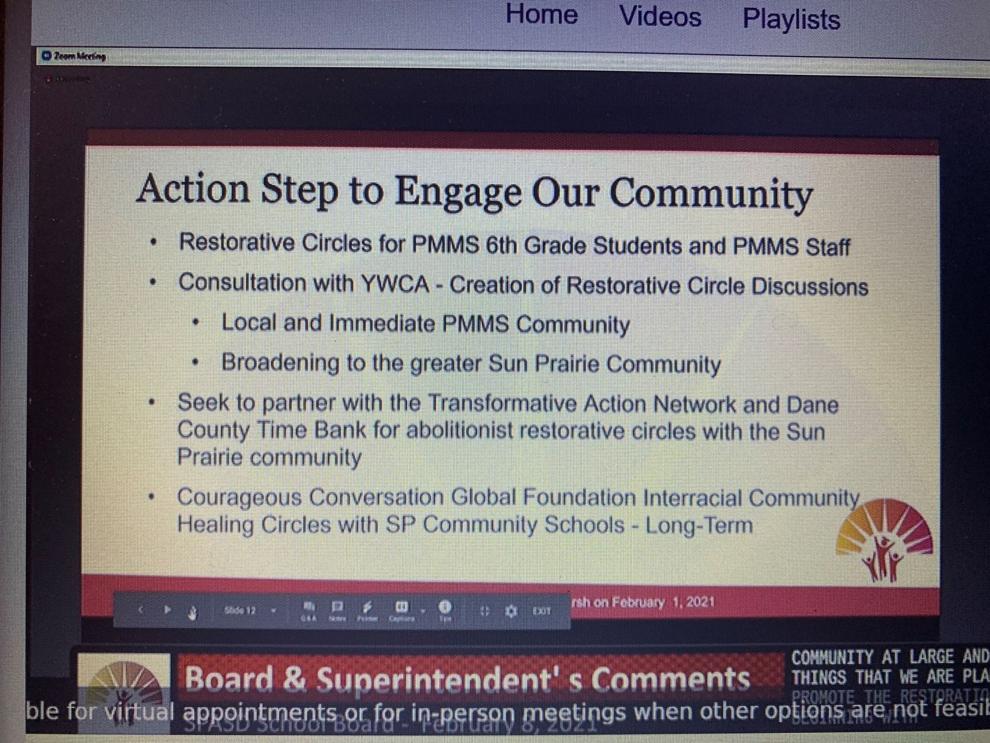 Shortly after Monday's meeting, the district clarified that it doesn't have a partnership with YWCA but said a staffer was receiving assistance from a member of the YWCA's restorative justice staff.
As fallout over first the slavery lesson and then the dispute with the YWCA continued to grow, the district took the extraordinary step of releasing text and email exchanges between Sarah Chaja-Clardy, the district's secondary director of teaching, learning and equity, and the YWCA's restorative justice program manager Bill Baldon for guidance on the incident.
The records show Chaja-Clardy first texted Baldon on Friday, followed by a phone call and several more texts and emails between Friday and Monday, discussing ways in which they might collaborate. Baldon shared a potential script to follow for "discussion circles" and an open letter to the district from the Dane County TimeBank that denounced the slavery lesson and mentioned the importance of "abolitionist restorative justice circles." Baldon is also on the board of the Dane County TimeBank, the district said.
Outrage over the lesson has been swift since it was first reported that sixth-graders at Patrick Marsh Middle School in Sun Prairie were asked to imagine they were doling out punishments as part of a lesson on the ancient set of laws called Hammurabi's Code. According to a screenshot of the lesson, they were given the following scenario: "A slave stands before you. This slave has disrespected his master by telling him, 'You are not my master!' How will you punish this slave?"
The lesson was delivered on Feb. 1, the first day of Black History Month.
During a presentation on the district's response to the incident Monday, Chaja-Clardy overstated the district's relationship with YWCA, but the text and email correspondence shows she was actively seeking input from Baldon on how to create discussion circles. She also expressed interest in "future opportunities" to work with Baldon and YWCA in an email to McDowell Monday afternoon.
In her presentation, Chaja-Clardy said the district has "been working in consultation with the YWCA, whose mission is to eradicate racism and empower women, and partnering with an organization that is deeply steeped in restorative work will allow us to ensure that we have the right design in our circle discussions."
Although the district said later that night it "does not have a formalized partnership" with the YWCA, adding that Chaja-Clardy "has been partnering with a member of the YWCA Madison restorative justice staff," McDowell said the district should retract its statements about her organization. Knowing someone "who happens to work for me" doesn't mean the district is receiving consultation from YWCA, McDowell said.
"Sarah Chaja-Clardy reached out to one of my staff members as a friend, not on behalf of YWCA," McDowell said. "They have a separate professional friendship outside of YWCA. She's putting YWCA's name on something that is not authorized."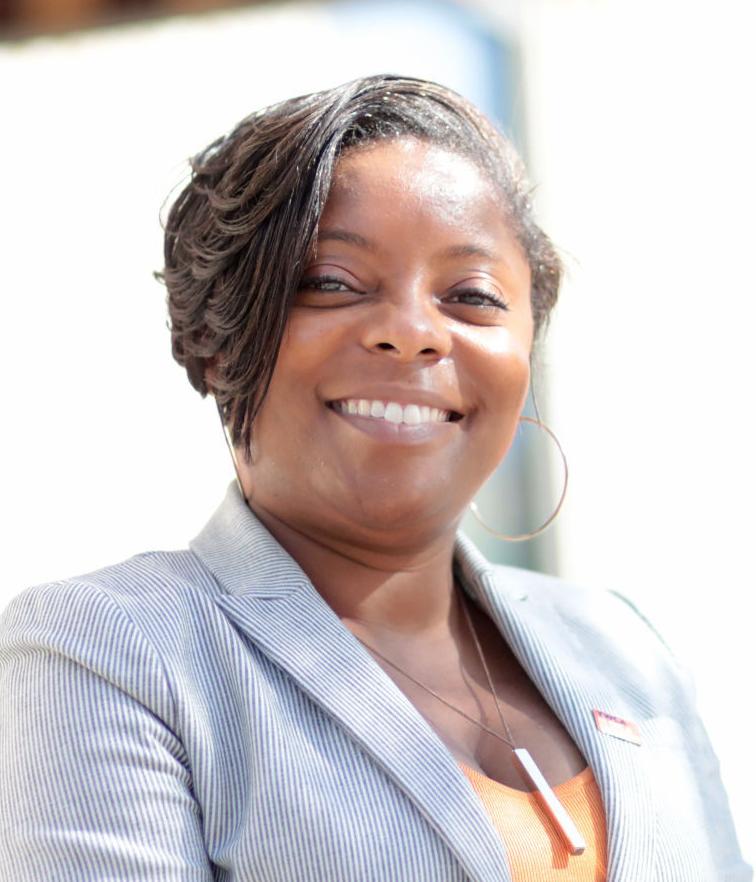 Letter makes waves
The email communication between McDowell and Chaja-Clardy was focused on the open letter that McDowell sent to the district expressing YWCA's outrage about the slavery lesson. McDowell said that's the only communication she had with the district on the matter.
When asked whether she would welcome a partnership with the Sun Prairie School District in the future, McDowell declined to comment. She said she would have been open to it before the district used her organization's name in a bid to build trust with the community.
McDowell said she's also frustrated to be dealing with this incident when she would rather be focused on honoring Black History Month.
"The conversation should really be about the incident that took place of teachers asking students how they would punish a slave," McDowell said. "That's where the action needs to take place."
The district said it also considers the dialogue with YWCA "a distraction from our shared goal for racial equity."
"It is of immediate importance to stay focused on our kids, families, staff, and community for collaborative action," the district said.
Call for firings
Attorney B'Ivory LaMarr, who is representing several families whose children were taught the lesson, said he wants the district to take immediate action by firing all of the teachers involved.
When Dazarrea Ervins, whose son Zayvion Hopkins was in the class, told the teacher how disturbing the assignment had been to her son, the teacher initially agreed to take it down, LaMarr said. But then the teacher opted to keep it up because it "would be a great question for discussion," LaMarr said.
"Teachers are placed in a position of trust. When a student, especially a sixth-grader, is bullied in a school environment, the first person they go to is the teacher," LaMarr said. "To now have a teacher, who is the person who is actually advancing the harm directly onto the student, places a sixth-grader in a very uncomfortable and very challenging position."
The district has not said what if any discipline the teachers might face. All three are on leave while an outside attorney investigates the matter. But officials have said they plan to add a new administrator role by July focused on equity and engagement with communities of color.
---
Art of the everyday: See the world through the eyes of the Wisconsin State Journal's photographers