When Eliot Gage's mother came to pick him up for camp, he was so covered in mud that she wasn't sure about him getting into the car.
Luckily she had some towels in the car so she could get him home. Eliot and others at the Wild Harvest Nature Connection camp last month were using the mud for camouflage as part of a game at Elver Park and he got really into it. Eventually he was dubbed the "mud king."
"I didn't want to get seen. If I was (covered) in mud all the way up to here, no one would see me," said Eliot, touching the top of his head.
Another camper, Harvey Pangman, a second-grader at Madison Waldorf School, said he pulled a plant out of the ground and put it on top of his head for camouflage.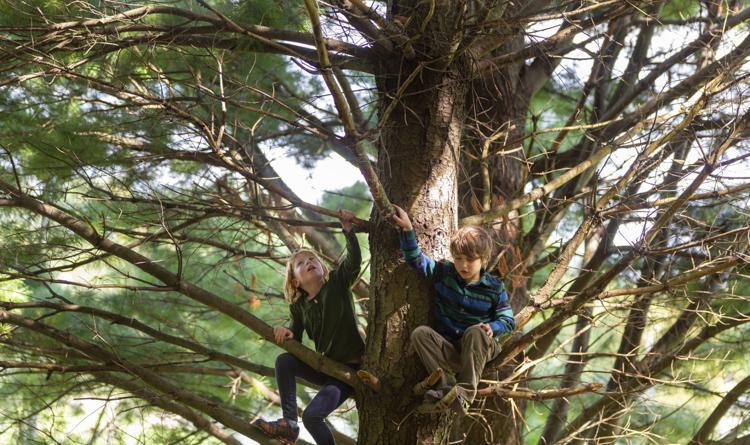 Wild Harvest Nature Connection, which is currently running a program once a week that is mostly attended by children who attend home school, bases its programs on a natural learning style rather than lecturing, said co-founder Heather Hutchinson.
For example, if black walnuts are found while the kids are out exploring, they might talk about collecting them and using them later to dye some wool.
"Our goal is not to feed information, our goal is form a relationship with the black walnut tree," Hutchinson said. "Our goal is to facilitate deeper connections to nature (which) also means people, it also means ourselves. We are nature."
For that reason, the programs set aside time for activities that promote deeper connections within the campers themselves and with others. One of those is the "sit spot" when the kids spend varying minutes sitting quietly and reflecting, sometimes about a certain topic.
"They become very good about caring for themselves and others," said Andy Gricevich, who is a mentor for the programs.
While the summer camps and school year programs are similar, the sessions during the school year have a different feeling because the students are able to get to know each other better, Hutchison said.
You have free articles remaining.
Register for more free articles
Stay logged in to skip the surveys
Hutchinson co-founded Wild Harvest Nature Connection with her partner, Alex Britzius, and it is in its fifth year. Ages of the students who qualify for various programs differ but the youngest is 4. Children in the school year program meet for six hours once a week and have a six-week winter break.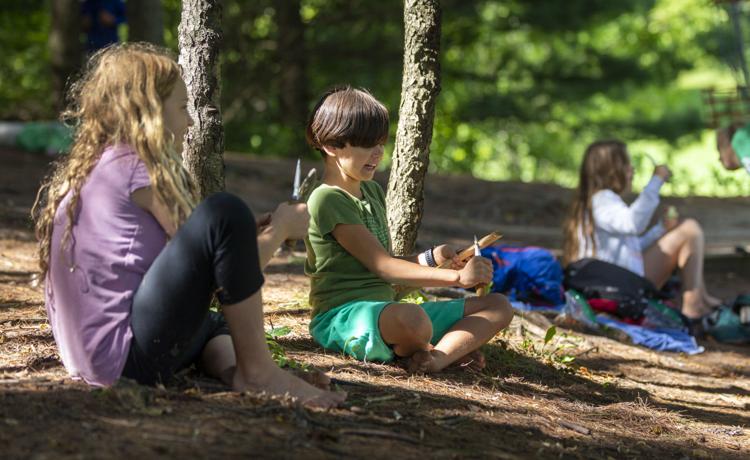 Her organization also runs other programs for students and they all generally take place at various parks in the area.
"We get to explore places I've never been to before," said Brianna Richard, a second-grader at Northside Elementary School in Middleton who attended the camp with Eliot.
The programs typically include naturalist skills such as tracking, identification and learning about flora and fauna, sensor awareness activities and learning about bird sounds.
They also include ancestral skills such as fire building, harvesting plants, carving with modern tools and shelter making.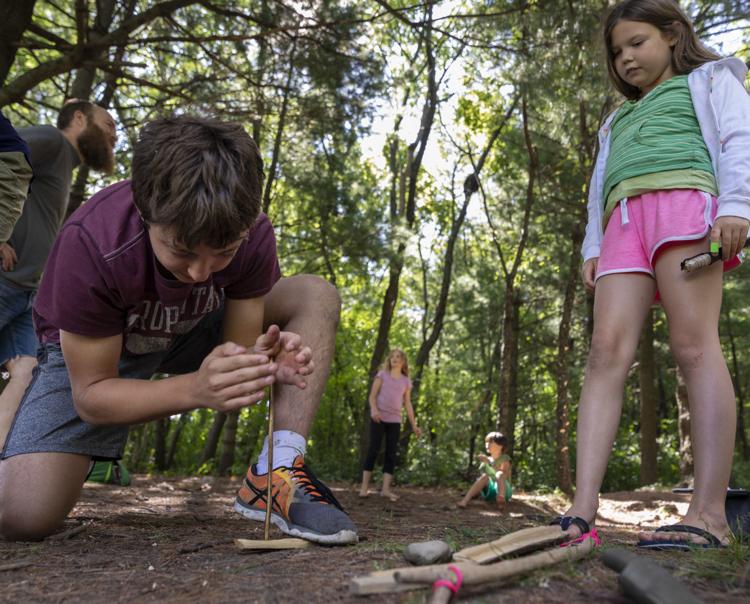 Exploring is a big part of the program, which also includes games and other activities to tend to the landscape, such as pulling out invasive species, picking up trash and learning how to prune trees.
Gricevich said Wild Harvest Nature Connection gets children outside in all kinds of weather and the activity involving the mud, which occurred on a rainy day, is an example of how they learn to adapt.
At the same August camp where Eliot got covered in mud, the students spent some time split among various activities driven by their interests. Some were foraging for black cherries. Others were climbing a tree or rolling down a hill. Marian Wallace, a fifth-grader at John Muir Elementary School, was carving, but she said she also likes other things about the camp.
"I get to climb trees, which is something I'm not allowed to do at home," she said, adding that the trees at her house are not as suitable.