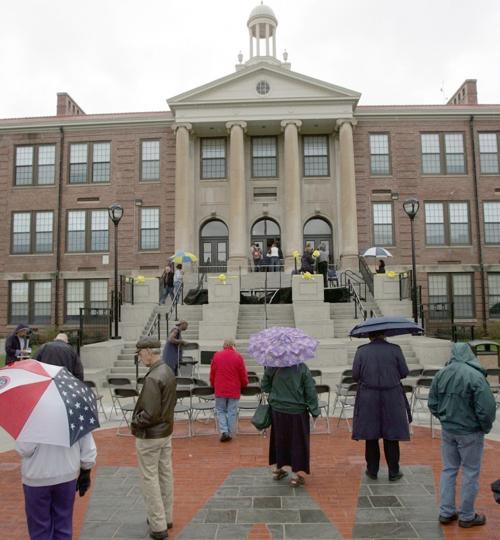 A group of 50 parents in the West High School attendance area has asked state education officials to investigate whether the Madison School District is violating state law by denying high-achieving students access to the "talented and gifted" programming parents say they deserve.
In a Sept. 20 complaint to the state Department of Public Instruction made public Tuesday, the parent group argued that freshmen and sophomores at West have limited opportunities for advanced English, biology and social studies classes.
West was targeted because "it's very easy to see that they have blatantly violated state statutes for gifted education and knowingly done it," said Lorie Raihala, the mother of two West students and a spokeswoman for the parents who filed the complaint. "We're hoping that this will compel the district to quit ignoring the needs of (talented and gifted) students across a spectrum of schools."
Madison Superintendent Dan Nerad said he had only seen a draft of the complaint, and is awaiting DPI's response.
The complaint accuses the district of "willfully and chronically" violating state statute — which requires that "each school board shall provide access to an appropriate program for pupils identified as gifted and talented" — and could set in motion a months-long investigation. With the help of some of the parents who signed the complaint, the district last year created a new plan to educate talented and gifted students, but Raihala said it hasn't been fully implemented.
Nerad said the plan is a work in progress, "and there's much, much work to be done."
"Keep in mind that the (talented and gifted) plan hadn't been revised in over an 18-year period of time," Nerad said. "I don't fault the frustrations (of parents). But a (talented and gifted) plan would not have been developed if we didn't feel in earnest that it should be implemented."
Different courses at different high schools
DPI will respond to the complaint with a letter to Nerad and Madison School Board President Maya Cole within the next week or so, said DPI spokesman Patrick Gasper.
Under the complaint process, DPI can require a district to form a "corrective action plan" and, in cases of continued noncompliance with state law, withhold some or all of the district's state funding. A similar complaint related to talented and gifted programming in the Waukesha School District was resolved in 2008 after that district put in place some DPI recommendations, Gasper said.
Nerad said the district is having internal discussions over the "significant variation" in courses offered across the four high schools and is developing a system to better identify students who might qualify for talented and gifted education services, a process that takes time, he said. Until the identification system is in place, it's not possible to say how many Madison students might be deemed gifted, Nerad said.
'high performance capability'
State statute defines "gifted and talented pupils" as those "who give evidence of high performance capability in intellectual, creative, artistic, leadership or specific academic areas who need services or activities not ordinarily provided in a regular school program in order to fully develop such capabilities."
How to specifically identify students who meet that criteria is left up to individual school districts, Gasper said.
In a district survey last year of families who transferred their children out of Madison public schools through open enrollment, many parents complained about a lack of talented and gifted programming.
Raihala said parents who filed the complaint believe high-achieving students are best be served by grouping them together for advanced instruction.