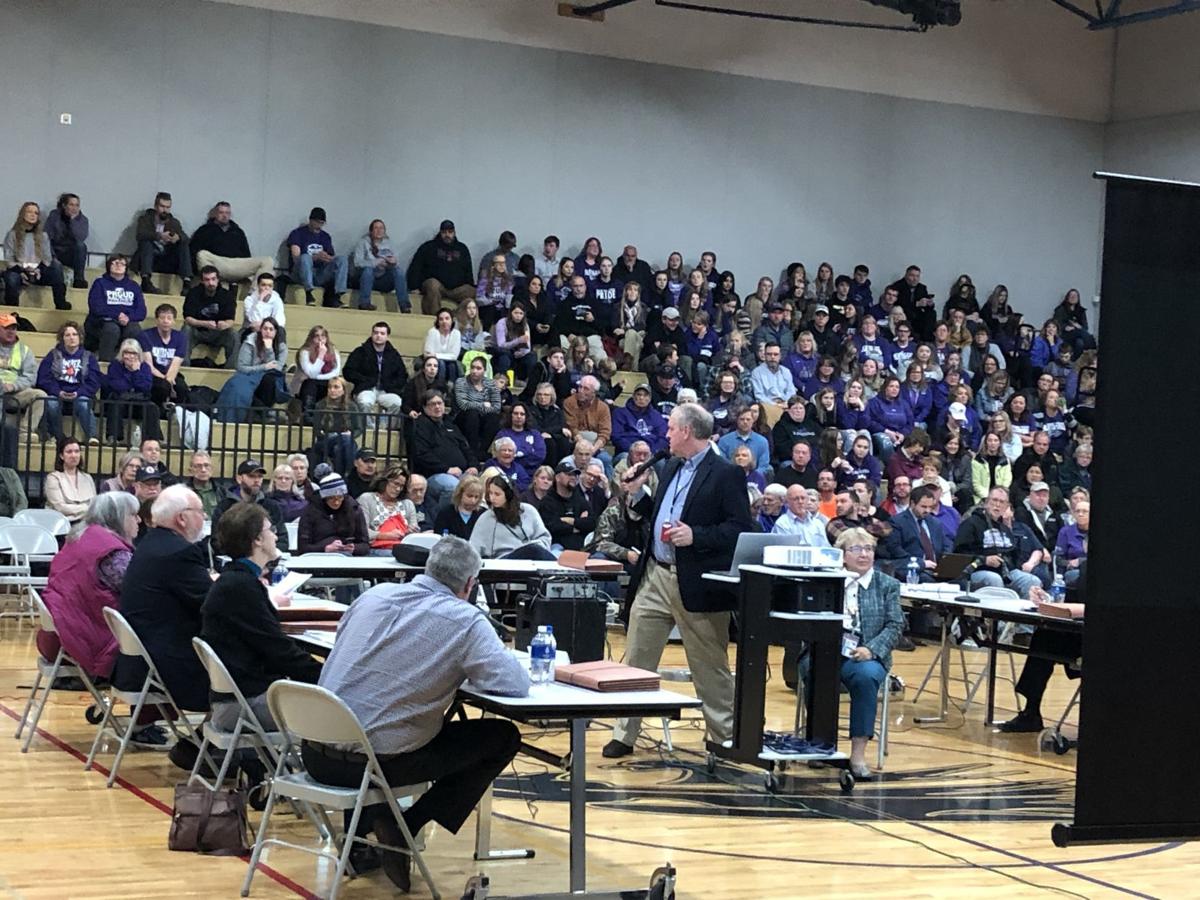 PALMYRA — A state board on Thursday decided the small, financially troubled Palmyra-Eagle School District will remain open — at least for another year.
Now those who cheered the decision will get to figure out how.
The School District Boundary Appeals Board was not convinced that a string of failed referendums, a massive deficit and an advisory vote in November calling for the district's dissolution were reason enough to shutter the district of about 775 students straddling the Jefferson-Waukesha county line.
Boundary Appeals Board member Katie Maloney, a Green Bay School Board member who made the motion to keep the district open, said the dissolution process was "rushed" and "I think it's critical that time be given to pursue options."
Five of the six other board members, all representing other local school districts, agreed. Only the state superintendent of public instruction's designee to the board, David Carlson, voted against keeping the district open.
District employees, students and community members packing the district's middle school gymnasium where the board was meeting erupted in applause when the fourth vote in favor of keeping the district open was announced, and then again when the final vote was tallied.
"I am just happy to give this to our students. ... and to know that our juniors are going to graduate next year as Panthers means the world to me and their families," said Tara LeRoy, a mother of two students in the district and a main force behind a citizens group working to preserve the district, named the Panther Community Network after the district's mascot.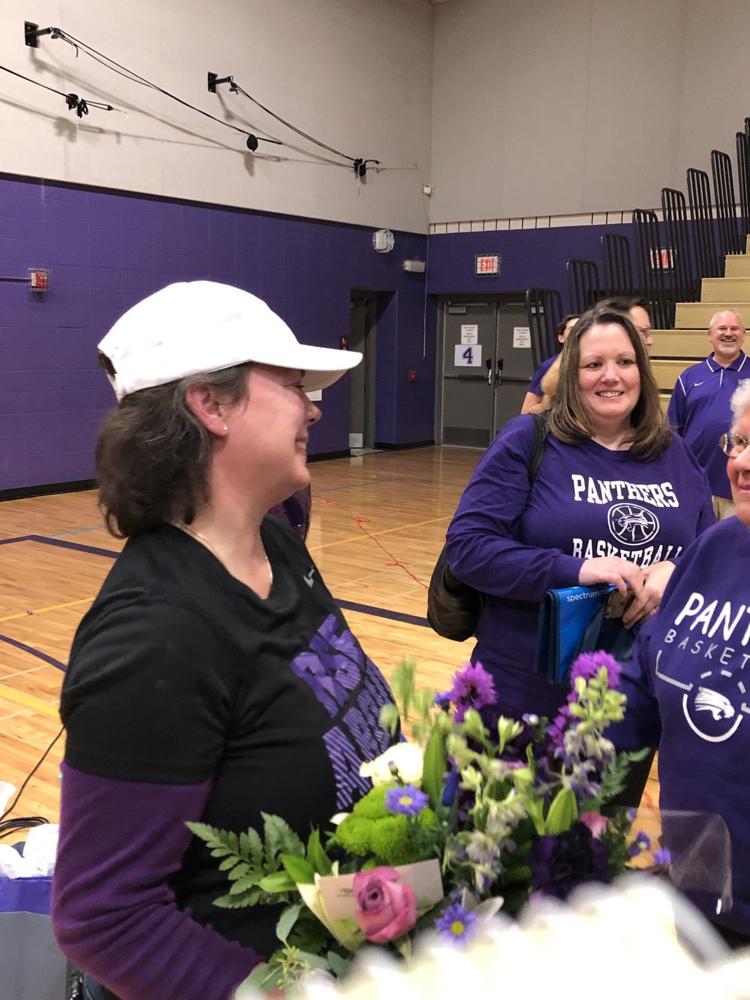 Aiden Calderon, a junior who plays football and basketball, said that if the district had been dissolved, he probably would have gone to East Troy High School for his senior year.
"I didn't really want to start my senior year off at a new school because that would be very weird and since I'm involved in a lot of sports here," he said.
Among the factors weighing in favor of denying dissolution, according to the motion, were the possibility of increased travel time for students who would have to attend surrounding school districts, and the effect such a transition could have on special education students; the greater chance students have to participate in a range of activities in smaller districts such as Palmyra-Eagle; and that if Palmyra-Eagle's were to dissolve, its debt would be parceled out to surrounding districts, "which might be looked at as taxation without representation."
You have free articles remaining.
Under versions of three motions that would have dissolved the district, teachers would have either automatically become employees of the districts that absorbed Palmyra-Eagle or been given "priority" for jobs in those districts. Palmyra-Eagle students would have been sent to the Mukwonago, Whitewater or East Troy school districts.
State Superintendent Carolyn Stanford Taylor said in a statement that the Boundary Appeals Board was "faced with a question that had no perfect answer."
She said she supported dissolution based on the Palmyra-Eagle School Board's July decision to pursue dissolution and an advisory referendum in November in which voters districtwide voted in favor of dissolving.
Palmyra-Eagle has seen its enrollment drop over the last 14 years from 1,154 students to 769 in 2018-19. It's lacked commercial and industrial development to drive property tax revenues and seen an increase in the number of students in the district — up to 40% — opting to go to school in other surrounding districts under the state's open enrollment program.
During the Boundary Appeals Board's first public hearing in November, Palmyra-Eagle School Board President Scott Hoff lauded the district and its teachers but painted a dark picture of its finances and community support for its schools.
He said that in an attempt to save money, the district has cut millions of dollars from its budget over the last 10 years and 22 positions since 2013-14. A four-year, $11.5 million operating referendum failed in April, and Hoff said that since 1991, 14 of 16 referendums have suffered the same fate.
Reached by phone after the vote Thursday, Hoff said the Boundary Appeals Board "based their decision on a lot of emotion that was shared, and (the Palmyra-Eagle School Board) approached it from a financial standpoint."
He said the district faces a projected $14 million budget next school year but only $12 million in projected revenues. Among the cuts the district could consider would be to close one of its two elementary schools, cut staff, cut athletics and consolidate bus routes.
Three seats on the seven-seat School Board will be on the ballot in April, and LeRoy and seven others have filed to run. All of them, LeRoy said, are in favor of the district continuing. Two of the members of the current board have decided not to run for re-election.
"We know we have a lot of work and a long road ahead of us, but I think we have a community that's really pulled together in a time of great need and I think going forward we will be able to get the job done," LeRoy said.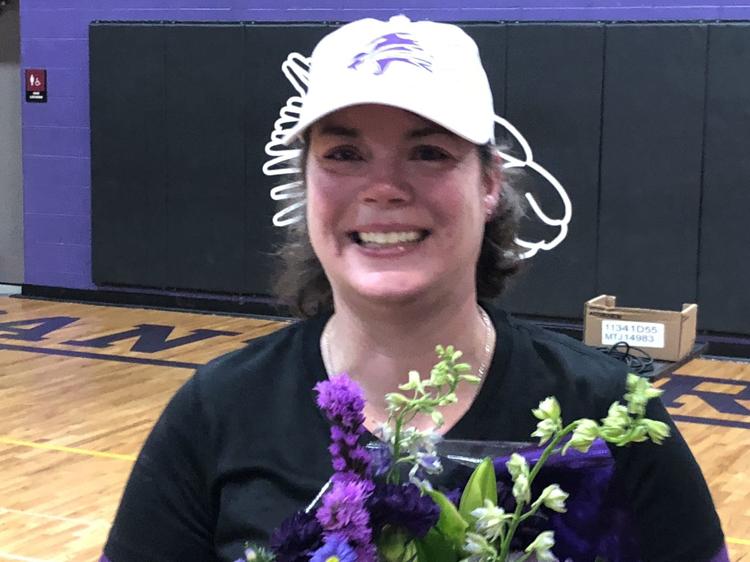 School district dissolution is a rare thing in Wisconsin, according to Department of Public Instruction records. The last one was of the Ondossagon School District in 1990. Prior to that, in the "early 1960s and earlier, there were many dissolutions of small rural elementary districts that formed into the K-12 districts we see across most of the state today," DPI spokesman Benson Gardner said.