MIDDLETON — Students who spend a large portion of their school year individually taking courses online are working together to create hands-on projects that will benefit the community.
A group of 11 students in grades four through seven at the 21st Century eSchool, a virtual charter school in the Middleton-Cross Plains School District, are building three Little Free Libraries, a bird blind for Confluence Pond in Middleton and an app to help identify birds. The group calls itself eImpact.
"You know you helped do something," said sixth-grader Joie Meuer.
The Little Free Libraries will be at Northside Elementary, Elm Lawn Elementary and West Middleton Elementary schools.
The 21st Century eSchool submitted an application for the Follett Challenge, a grant competition program designed to encourage innovation.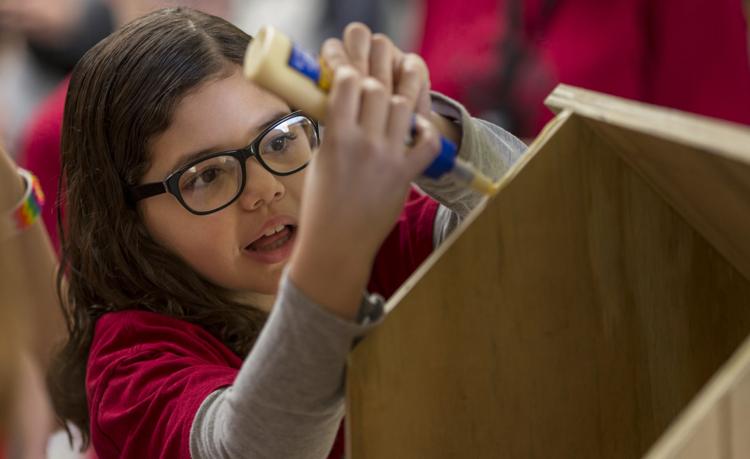 They also have written grant applications, given community presentations, facilitated fundraisers and created a website — all real-life experiences for the students, said Wendy Ripp, eSchool teacher.
While the staff encourages students, who do some coursework that is not online, to take on projects, the students asked if they could come up with the ideas and do something that would benefit the community.
"They want to interact with the community while making a difference," said Kim Gauen, eSchool counselor.
The students are partnered with older students at Clark Street Community School, a Middleton-Cross Plains School District charter high school where the curriculum is project-based. Both schools are based in the same building.
Sixth-grader Esther Helbach, who came up with the Little Free Libraries idea after seeing them around town, said building them has been more difficult than she thought.
Seventh-grader Luca Galassi has been spearheading the technological part of the project by building the group's website, coming up with the idea of the app and being instrumental in creating it.