Blooming Grove Montessori's 10-acre property is one giant outdoor classroom — an ideal space for learning during the COVID-19 pandemic.
But the school, which reopened to in-person learning June 1 and has been free of COVID-19, has altered its approach.
Students can pick vegetables and fruits from the school's gardens to eat individually, but are not taking part in shareable cooking projects. A huge watermelon that was hard to resist was offered to students recently, but elementary teacher April Netz wore a mask as she washed and cut it up.
"It is a sad way to prepare food," Netz said. "Usually we will have kids help with every aspect of that."
Blooming Grove Montessori was founded in 2015 in a former residential duplex that sat on just under five acres in the town of Blooming Grove. Then two years later, the school purchased an adjacent parcel measuring about five acres. Together the land gives the school a rural feel in a rather typical neighborhood.
In addition to the classrooms in the duplex, a new 14-by-40-foot structure was built Aug. 24. It has doors that can open for an open-air feel but be closed when it is colder. The students are used to dressing for all kinds of weather so they will use it year-round.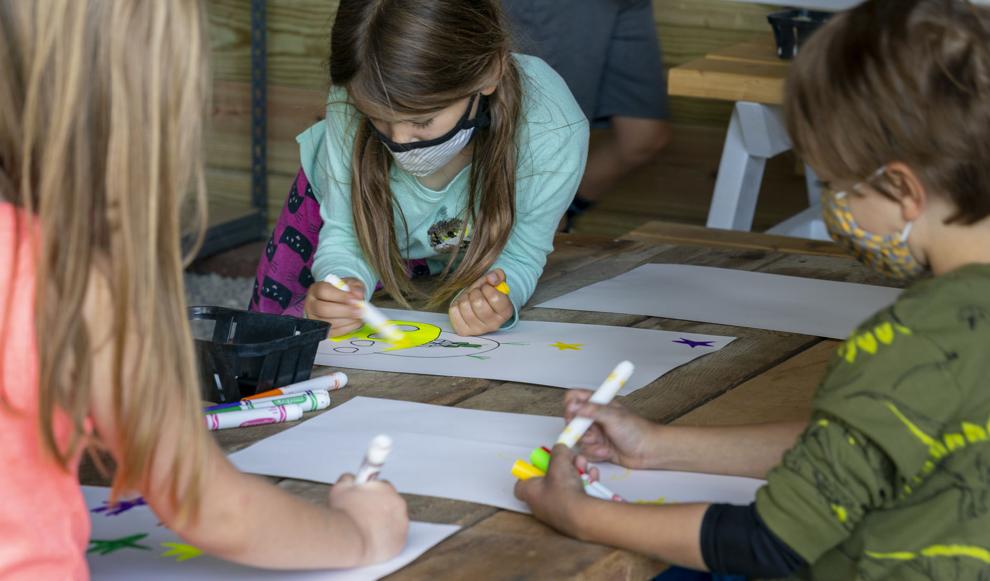 "It's pretty fun just running around and working with the things they have ... seeing all the fun animals and running around climbing trees," said third-grader Jackson Reilly.
A playground is referred to as the "loose parts play area" because it features big tires, tree branches, logs and other objects that the children can move around.
The property also contains two large garden spaces and a "food forest" where trees, bushes and plants bear fruits and nuts such as elderberries, paw paw fruit and hickory nuts. Remnants of an old vineyard still produce a few grapes.
An "evergreen forest" features trees that were planted by the school and in another area logs with fungus are collected and displayed.
The school has a monarch path with native milkweed for the butterflies and another pathway flanked by two rows of old pine trees. It also features lilac bushes.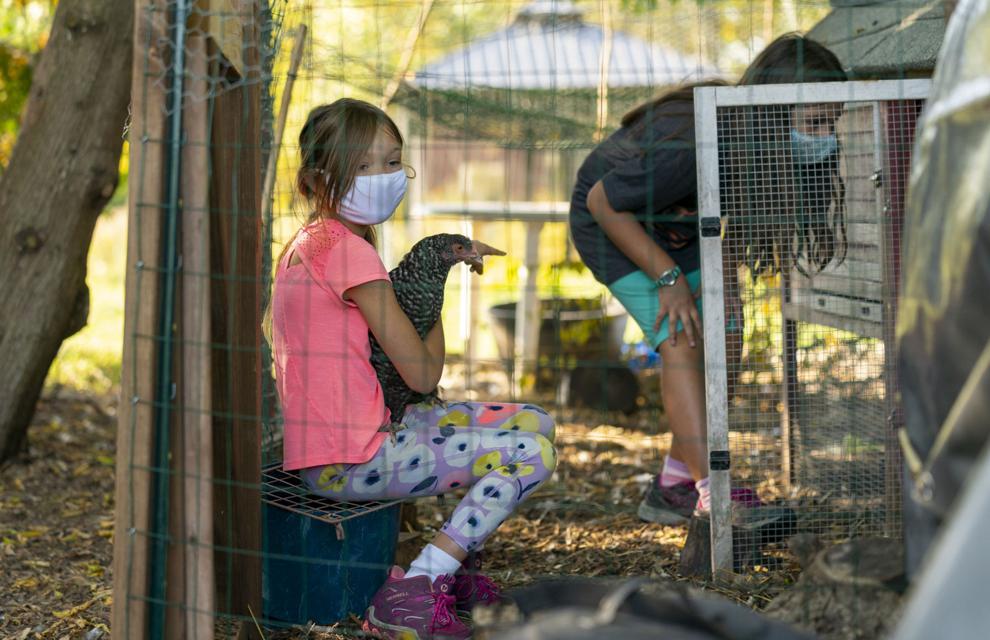 The school has beehives and eight hens, and the property backs up to a greenway so toads are plentiful.
"That's how we start the day, going on a walk and catching toads," said founder and director Rebecca Katzenmeyer. "The whole Montessori philosophy is really rooted in nature."
Up in one day
The new outdoor building, which the school calls the Studio and is used for all sorts of lessons, was built in one day. First-grader Carter Wright likened it to being dropped by an alien ship because "one day it was just here."
"We received grant money through the state of Wisconsin," Katzenmeyer said. "So we wanted to expand our outdoor offerings for the children so they can be outside as much as possible."
First-grader Phoebe Fuller said the Studio is her favorite part of the school.
"We get to do Spanish and we get to draw and we get to do yoga," she said.
Netz said her students are learning in the Studio two or three times a day.
"Oh gosh, the outdoor structure is really crucial especially now with the coronavirus," Netz said. "Outside is the best place to keep our students."
Plans to grow
Blooming Grove Montessori was created to serve growing families who had children at Toad Hill Montessori, the first school opened by Katzenmeyer in 2005. Toad Hill currently serves children ages 2½ to 6. Blooming Grove is licensed to serve children ages 12 weeks to 12 years old but currently the oldest children are 9. Plans involve adding classrooms up to eighth grade as students age.
Katzenmeyer is opening another location Nov. 2 in a former home on Piccadilly Drive on Madison's East Side. It will be called Toad Hill Toddler House and serve children under the age of 2.