On the latest round of statewide tests, fewer than half of Wisconsin public school students in grades three through eight scored proficient or better in English language arts or math.
The results, released Tuesday by the state Department of Public Instruction, showed 42.5 percent of students scored in those top two categories in English language arts, while slightly fewer, 42.3 percent, scored proficient or advanced in math.
The state simultaneously released scores from the ACT college readiness assessment, now required of all high school juniors in Wisconsin. In this second year of the requirement, the composite ACT score for public school students was 20.1 out of a possible 36, up one-tenth of a point from the prior year.
The test in the lower grades, administered last spring, is called the Wisconsin Forward Exam. Its equivalent for students with significant cognitive disabilities is called the Dynamic Learning Maps exam. The statewide scores reported by DPI include results from both tests.
The Forward Exam replaced the problematic Badger Exam, which was used only once and had itself replaced the long-running Wisconsin Knowledge and Concepts Exam. Because of this upheaval — three tests in three years — state officials say comparisons across years should not be made.
While the latest results generally show scores lower than those on the Badger Exam, the decline does not mean students are losing ground, said Viji Somasundaram, director of DPI's student assessment office. The Forward Exam's "cut scores" — the methodology used to determine categories of achievement — align with the state's increased expectations for students and are thus more stringent than before, she said.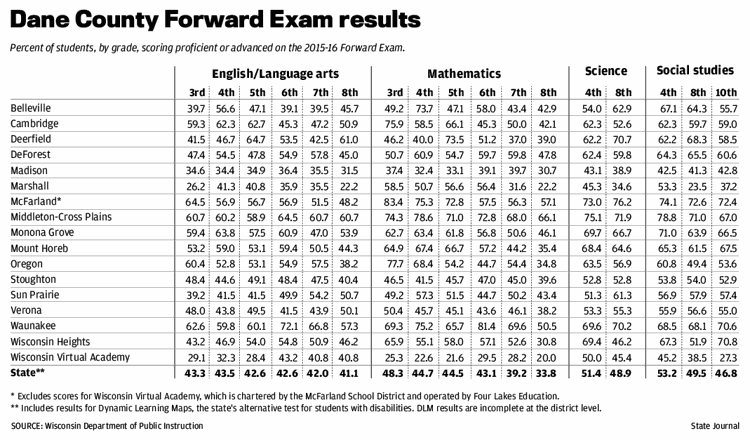 The state also released results Tuesday from the much smaller pool of students who took the Forward Exam in private schools that are part of the state's controversial voucher program. At these "choice schools," as they are called, only 19.1 percent of students in grades 3-8 scored proficient or advanced in English language arts and only 14 percent scored proficient or advanced in math.
Jim Bender, president of School Choice Wisconsin, said those scores don't tell the full story. Choice programs are composed predominantly of low-income students, so their scores should be compared to the subset of public school students who are economically disadvantaged, he said.
"When we make those comparisons, voucher students actually score higher on every metric across every program," he said.
To cite one example, 19 percent of voucher students in the Milwaukee Parental Choice Program scored proficient or advanced in English language arts, compared to 14.9 percent of economically disadvantaged students in Milwaukee Public Schools, Bender said.
It was all part of a day that saw a huge amount of achievement data released by the state, including scores in social studies in grades four, eight and 10 and in science in grades four and eight. About half of public school students passed the science and social studies portions.
Achievement gap
Scores from both the Forward Exam and the ACT continued to reflect stark achievement gaps across racial, ethnic and income groups. Gaps also are apparent for English language learners and students with disabilities.
For instance, while 50.9 percent of white third-graders tested proficient or advanced in English language arts, the comparable figures were 15.1 percent for black students and 26.5 percent for Hispanic students. Economically disadvantaged students had a composite ACT score of 17.4, compared to 21.3 for those students who are not economically disadvantaged.
"I remain troubled by the achievement gaps that persist in Wisconsin," State Superintendent Tony Evers said in a statement. "As a state and within our communities, we must work together to raise awareness of this problem and implement policy-driven solutions. It is not an issue of one student or one school district, it is an issue that impacts us all."
Local results
You have free articles remaining.
Scores on the Forward Exam in the Madison School District were lower than state averages, though last year's high school juniors in Madison improved on prior ACT scores in the district and exceeded state averages.
In grades three through eight, 34.5 percent of Madison students scored proficient or advanced in English language arts, while 35.4 percent scored proficient or better in math. Student results are given one of four labels — advanced, proficient, basic or below basic.
Andrew Statz, executive director of accountability for the Madison School District, said the district continues to rely more heavily on its internal testing through the Measures of Academic Progress test, or MAP, than on a statewide assessment. That's in part because MAP measures a student's growth over time, not just proficiency, and it can be given at intervals throughout the year, he said.
Also, like so many other assessment officials in districts throughout the state, Statz said the instability in statewide tests continues to make year-to-year comparisons difficult for now.
"In the first year of any test, it's always wise to be cautious," he said. "We're seeing some good movement in the right areas on the (MAP) tests we're using, and we think that, given time, we might see the same movement on the Forward Exam. We certainly have a very concerted planning effort in place to improve student achievement and narrow gaps."
The Forward Exam data "will become much more useful once we have another year or two of trends," said Tim Schell, director of curriculum and instruction for the Waunakee School District. "I'm really hoping the state's able to stay with a consistent assessment for a few years."
That "absolutely" will be the case, said DPI spokesman Tom McCarthy. State officials signed a 10-year contract with Minnesota-based Data Recognition Corp. to provide the Forward Exam.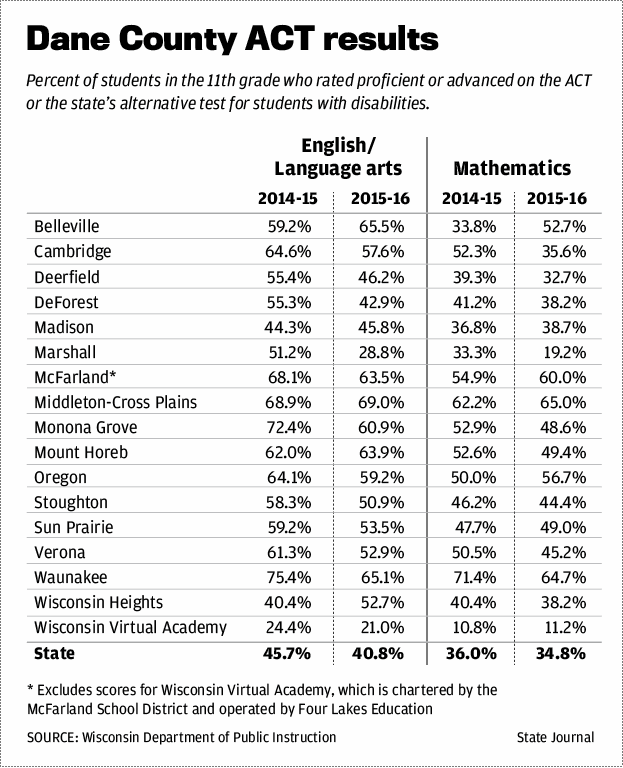 On the ACT, 45.8 percent of Madison juniors scored proficient or advanced in English language arts, up from 44.3 percent the prior year and better than the state average of 40.8 percent. In math, 38.7 percent scored proficient or advanced, up from 36.8 percent the prior year and above the state average of 34.8 percent.
Opting out
The percentage of Wisconsin students opting out of statewide testing dropped but was still sizable in some districts, including Madison.
The number of opt-outs had ballooned during the 2014-15 school year, part of a national movement of parents souring on standardized testing. In Madison, 737 elementary and middle school students chose not to take the Badger Exam, about 7 percent of eligible students. Statewide, about 2.7 percent of students opted out that year.
For the Forward Exam, 492 Madison students in grades three to eight opted out, about 4 percent of the tested student body, Statz said.
"That's still a pretty big percentage," he said.
He speculated that more parents are willing to sign on to the Forward Exam because it appears it will be around for a while. "I think the one-time nature of the Badger Exam caused some people to say, 'Why bother?' " he said. "So they took a pass."
Statewide, about 98.8 percent of public school students took the Forward Exam, DPI said.
'In the first year of any test, it's always wise to be cautious.' Andrew Statz, executive director of accountability for the Madison School District