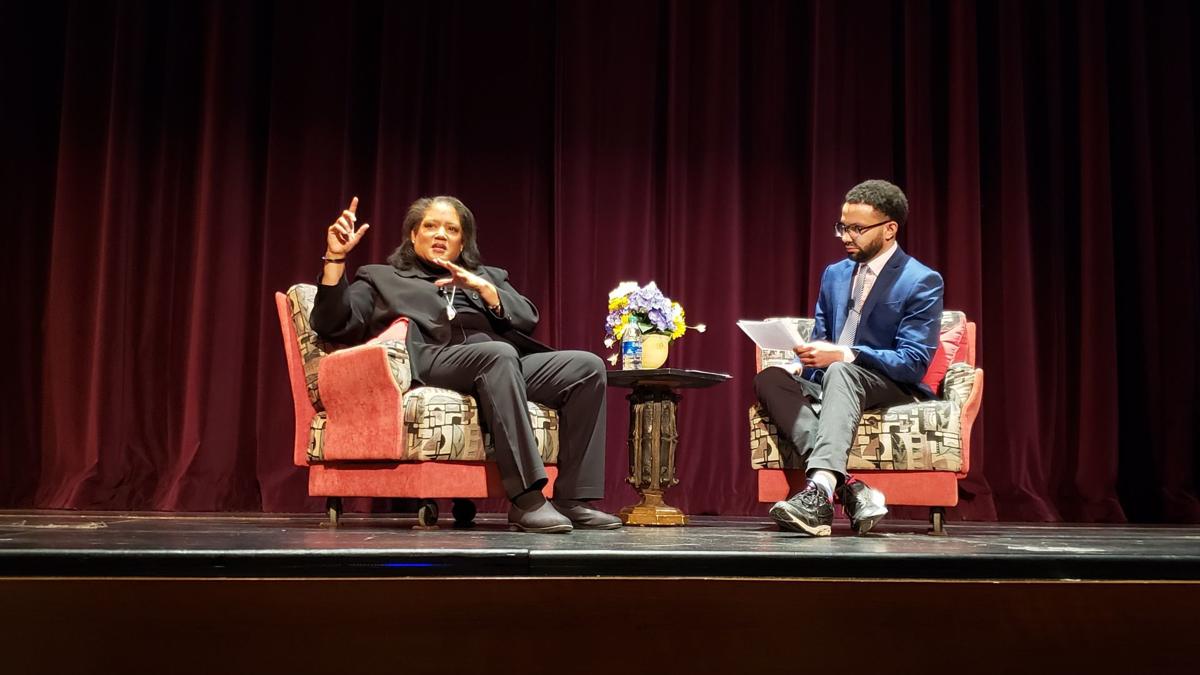 A New York education professor in the running to become Madison's next superintendent says her educational philosophy is "students first" centered around a commitment to racial equity and social justice.
Marguerite Vanden Wyngaard, a former superintendent of the Albany, New York, school district, touted Tuesday her experience of successfully shepherding a high school facilities referendum, bringing groups together in a process she calls "collective impact," and outreach to students experiencing homelessness as some of the accomplishments in her nearly 40-year career.
In front of a crowd of about 100 people inside the theater at East High School, Vanden Wyngaard fielded questions on a variety of topics, such as a statewide teacher shortage, police officers in school and how to prepare students for college, from audience members seeking to hear from the first of three superintendent finalists visiting Madison this week.
"I hope you understand how I live my life, I hope you understand my philosophy, I hope you understand how I live through social justice," she said. "I hope you heard I am seeking an investment from all of you to change the lives of children, whatever that investment is you can make. I will invest all of me in that."
Vanden Wyngaard said she would make it a goal to visit each of the Madison School District's 50 schools at least once every three months, and she lauded the district's "Black Excellence" commitment to African American students, calling it "unheard of."
Currently, Vanden Wyngaard teaches educational leadership as an assistant professor at the College of Saint Rose — an Albany college that specializes in teacher education.
After her resignation as superintendent in New York's capital city in 2016, Vanden Wyngaard started a consulting company, EquiVisible, to advise schools and other organizations on areas of diversity, culture and climate.
She earned a Ph.D. in curriculum and instruction from Kent State in Ohio.
Before the forum Tuesday evening, Vanden Wyngaard toured schools, met with teachers and union representatives, and interviewed with the School Board in a closed meeting as part of a "Day in the District" visit.
Speaking with reporters after the forum, Vanden Wyngaard said the "progressive thoughts" within Madison and the community's desire to help students appeal to her.
She was the first of three finalists scheduled to visit Madison over three days.
On Wednesday, Matthew Gutierrez, a superintendent of the Seguin Independent School District in Seguin, Texas, will be in Madison. He will be at a community forum at East High School, 2222 E. Washington Ave., from 6 to 7:30 p.m. Wednesday.
George Eric Thomas, chief turnaround officer for the Georgia Board of Education, visits the district Thursday. He will be at a community forum at La Follette High School, 702 Pflaum Road, from 6 to 7:30 p.m. Thursday.
School Board President Gloria Reyes is aiming for a quick turnaround in the decision, hoping for a candidate to be picked during a two-hour closed session meeting Friday. If a decision is made Friday, though, Reyes said an announcement likely wouldn't come for a few days.
Whoever is selected to succeed Jennifer Cheatham, who resigned in August, would be Madison's first superintendent of color. Jane Belmore has led the 27,000-student district as interim superintendent since Cheatham's resignation.
Career background
Vanden Wyngaard was hired to lead the 9,000-student City School District of Albany in September 2012. But her tenure there came to a rocky end midway through the fourth year on the job.
Vanden Wyngaard resigned from the job in January 2016, suggesting a lack of trust and unity with the local school board in her resignation letter, the Times Union newspaper reported.
A separation agreement, which included a non-disclosure agreement, provided Vanden Wyngaard with a lump sum of $90,000, benefits through June 2017 and continued salary pay through June 2016, the newspaper reported.
You have free articles remaining.
The Times Union reported Vanden Wyngaard was given the option to resign with a payout or be fired without one.
When asked about the split Tuesday, she said it amounted to "philosophical differences" between herself and the Albany board.
In the three years and four months leading Albany schools, Vanden Wyngaard lists on her resume increases in graduation rates as an accomplishment, with the overall graduation rate rising 10 percentage points and a 13-point increase for African American students.
"I have been able to hone my skills to bring people together collectively to change and challenge the trajectory for student learning," she said.
Vanden Wyngaard, a native of Michigan, spent much of her early years in various positions throughout the Midwest, including as a teacher, chief academic officer and Ohio education agency official.
In 2010, she took a position as deputy superintendent of Paterson Public School District in New Jersey.
During a two-year tenure at the suburban New York City school district enrolling about 30,000 students, which is similar in size to Madison, Vanden Wyngaard managed day-to-day operations for the state-appointed superintendent, according to her resume.
She left the New Jersey job to become superintendent in Albany.
Responses to questions
Throughout the forum, Vanden Wyngaard, who also goes by "Dr. V," balanced her thoughts on serious topics with occasional jokes or an analogy on her "transformational" leadership style to the '80s-era cartoon "The Transformers."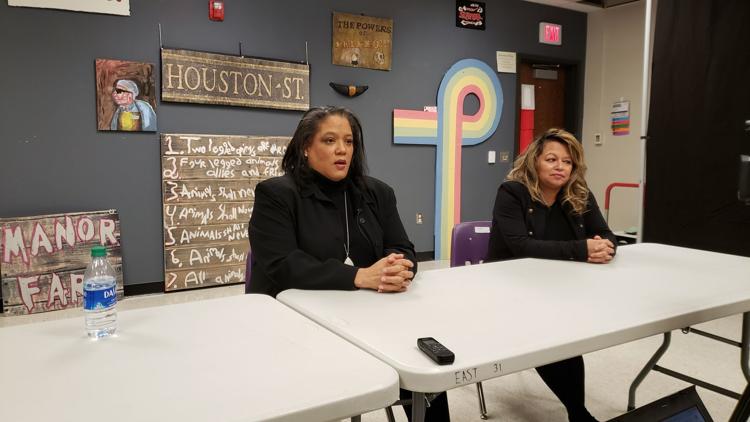 On the Behavior Education Plan — the disciplinary policy that moved the district away from less punitive approaches to more restorative efforts — Vanden Wyngaard said she doesn't have any specific changes she would seek without knowing more about the plan at this point.
But she said the district could do a better job of relaying to teachers how some of its initiatives, such as a focus on social-emotional learning and restorative justice, are interconnected.
On a question about what she would do to break the "school-to-prison pipeline," Vanden Wyngaard said the biggest thing the district could do is make sure every child can read by the third grade.
She also highlighted the importance of having teachers know the cognitive process of how children learn to read to improve literacy outcomes.
When asked about school-based police officers, a divisive topic in the Madison School District, Vanden Wyngaard said she doesn't have a problem with police being in schools but thinks they should only be involved if a felony-level crime is suspected.
She also spoke to giving teachers the ability to "fail forward" when they make mistakes, allowing them to learn and adjust.
To increase the number of teachers of color, Vanden Wyngaard said the district can try to recruit directly from historically black colleges, expand a district program that encourages minority students to become teachers and change the culture of the district to be more welcoming for teachers of color.
People can provide online feedback for each candidate until 8 a.m. Friday. For Vanden Wyngaard, the website is: mmsd.org/wyngaard.