New voices on the Madison School Board could change the course of the school-based police officer program, potentially ending the decades-long agreement between the Madison School District and Police Department.
When newly elected board members Cristiana Carusi, Ali Muldrow and Ananda Mirilli are sworn in later this month, a majority of the seven-person body will have either expressed opposition to or previously voted against a new contract to continue the program, which stations one armed and uniformed officer in each of East, La Follette, Memorial and West high schools.
"We'll potentially eliminate the program," said Mirilli, who defeated Seat 5 incumbent TJ Mertz on Tuesday.
The program has been a contentious, and at times heated, topic at board meetings for months, punctuated by protesters calling for the immediate removal of the officers.
At the last two monthly meetings — Feb. 25 and March 18 — activists shouted down proceedings, sending board members into a closed room to conduct business. The proceedings were live-streamed to the original meeting room, which the district's legal counsel, Matt Bell, said complies with state open meetings laws.
Outgoing board members Dean Loumos, James Howard and Mertz, along with board president Mary Burke, backed a new contract on a 4-2 vote in December to continue the program, which is set to expire this school year.
Mirilli and Muldrow both oppose retaining the police officers, known as school resource officers, or SROs.
Board members Nicki Vander Meulen and Kate Toews voted against the contract in December. Vander Meulen opposes a provision that would have the district rather than the Police Department pay for some new officer training, and Toews expressed mixed feelings toward the program.
Carusi said she supports the continuation of the contract with a long-term goal of phasing it out. Member Gloria Reyes, who was absent for December's vote, has previously said she would recuse herself on the contract given her current job as deputy mayor.
Building 'trust'
Police Chief Mike Koval said the SRO program offers several benefits, such as a timely response to public safety incidents in schools and promoting the best interests of children.
"Enforcement is not the reason that officers choose to audition for these four-year commitments," he said. "These officers are committed to making relationships of trust with authority figures a reality."
If the program is ended, Mirilli, a state Department of Public Instruction equity consultant, said the district would need to put in more social supports before next school year.
To some, including Superintendent Jennifer Cheatham, the election also represents a potential reset of relationships between the board and protesters.
"If there's an opportunity here, an opportunity to change the current dynamic, I think it is in expanding the way our board members — and me as a member of that team — engage our constituents not only in the boardroom but outside of the boardroom," Cheatham said Tuesday before election results were known.
Contract in limbo
Negotiations between the School District and Police Department on a new contract have been uncertain.
During December's meeting, the board made a late amendment to the contract that would give the district authority to remove an officer if problems with the SRO cannot be resolved. However, the Police Department has said the provision would violate state law and the department's labor agreements, and the sides have been trying to work toward consensus for months.
Cheatham said there are "no significant updates" to negotiations after the School Board met in closed session this week to discuss the contract.
If negotiations result in language different from what was approved late last year, the board would need to vote again, Bell said, potentially returning to a body less supportive of the program than those who sat on the board in December.
Over a year and a half, a special committee examined the SRO program and made several contract and policy recommendations intended to improve it. Those changes were included in the new contract, such as required officer training in adolescent brain development and autism.
Protests unfold
For two years, activists have been airing their concerns to the School Board, arguing SROs disproportionately affect and treat as criminals students of color.
Social justice organization Freedom Inc., including members of its groups for youth, have taken the lead in demanding termination of the program.
But a perceived lack of attention to their concerns has created frustration, particularly among the student activists who cannot yet vote in School Board elections, said M Adams, co-executive director of Freedom Inc. The frustration has become more visible the past two meetings, Adams said, as protesters have chanted, unfurled banners and taken to the stage where the board normally conducts its business.
"For those who don't understand why protest or why direct action, that's why," Adams said. "There is no outlet, there is no institutional recourse for black people, particularly young black people. So protest is the message that you have to make public and to make urgent the things you speak about."
Burke said the protests "undermine the democratic process and disrupt the meeting to make it unable for us to conduct business," calling the closed-door meeting "the only viable option."
"What liberals are more interested in is what they perceive to be order than they are with justice," said Adams. "If our justice conflicts with their perception of order, then it just does."
Feeling 'unheard'
Cheatham said the optics of moving to a closed room "may make it look like the board is hiding from a challenging situation."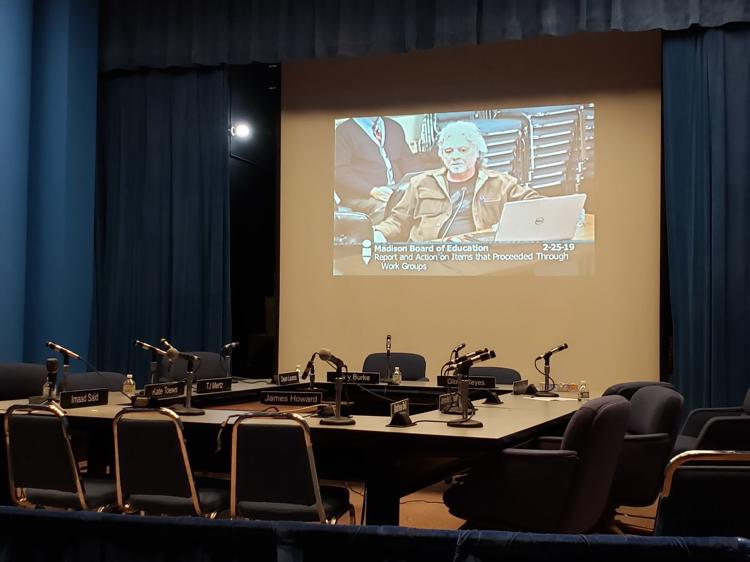 "But they're making that choice so as not to have to resort to tactics that the board simply doesn't want to utilize," she said. "They're making an intentional choice to keep students from the possibility of arrest."
Muldrow said moving into a closed-room "makes people feel unheard."
"I don't think that the strategy is to avoid protest or to avoid public comment," she said. "It's about how do we take people who feel really passionate about something and utilize their opinion to improve education."
In addition to ending the SRO program, Adams said Freedom Inc. is advocating for more money to be invested in students of color through things such as culturally specific curriculum, more nutritional lunches and after-school programs. The group is also demanding more community control over school-based decisions.
Carusi said she wants to refocus the discussion on investing in students of color without the SRO program being such a divisive issue.
"We do need to contend with the protest situation, which I think is about talking to Freedom Inc. — possibly facilitate a discussion in another location — and try to figure out how to come to an agreement so the protests end," she said.
More talks set
Burke said she and Howard, the outgoing board vice president, have a meeting set with a staffer of Freedom Inc. later this month to open a dialogue on how to move the issue forward.
Mirilli said as a board member she wants to engage community members, including Freedom Inc., in informal settings to allow for two-way conversations because speakers at School Board meetings have three-minute time limits and board members don't directly respond to speakers.
"If (a board meeting is) the only place where people get a chance to be heard and that turns into a protest, then it's your job to listen to the protest," Mirilli said. "This is the way the community holds elected officials accountable."
On whether Freedom Inc. will protest the next meeting, Adams said, "I think our young people are thinking that through now, and they'll make whatever decisions they need to make that's appropriate."
Be the first to know
Get local news delivered to your inbox!