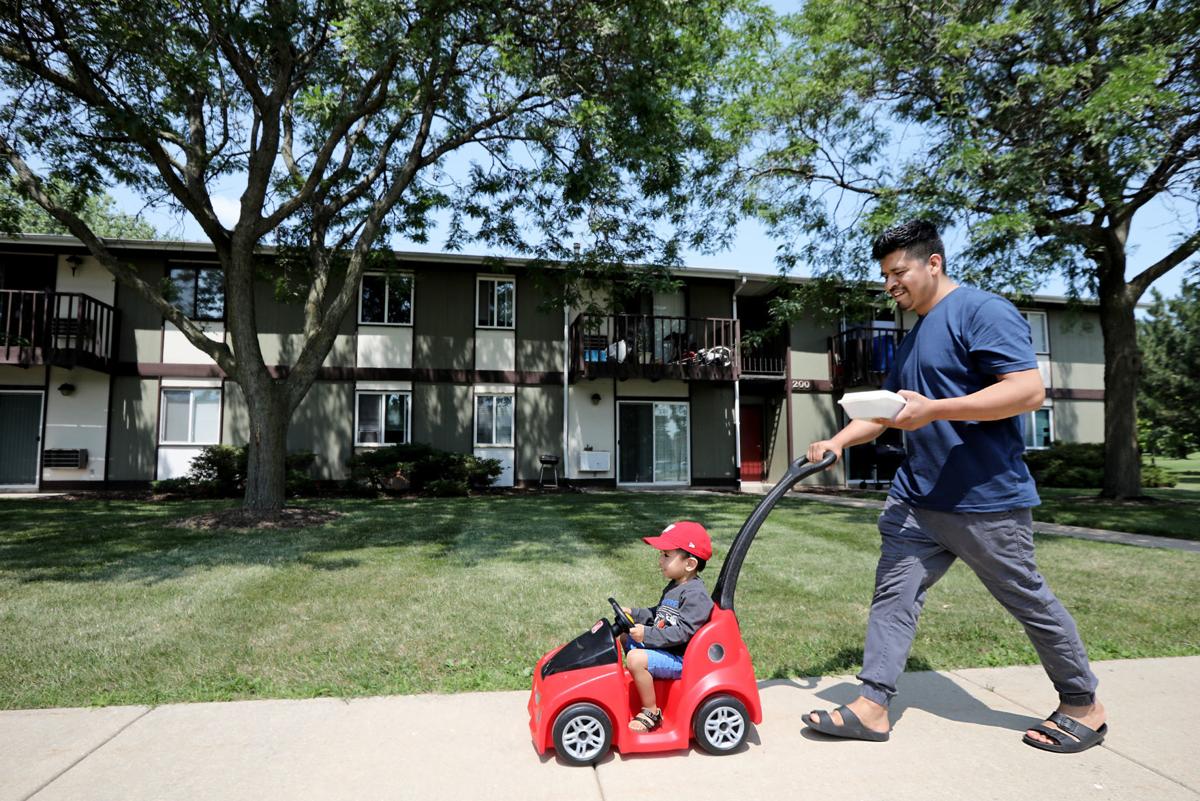 For young students living in Madison's Moorland-Rimrock neighborhood on the South Side, a school day can start with a long bus ride out of the neighborhood to attend their Southeast Side elementary school.
Elementary students from Moorland-Rimrock — a majority of whom are children of color from low-income or immigrant families — make up about 70% of the 4K to fifth grade enrollment at Allis Elementary School, despite living in an area about 6 miles away from the Buckeye Road building.
Now, the Madison School District is examining whether the isolated neighborhood south of the Beltline could be better served by its own elementary school, which might become the district's first new elementary since 2008.
Aside from reducing longer-than-average bus rides, district officials say a new elementary could allow students to walk to school, reduce barriers for parents without cars to be involved in activities and events, and address other inequities.
"People really own their schools in ways, and they are an extension of a neighborhood," said Madison School Board member Ananda Mirilli, who lives in the Moorland-Rimrock neighborhood. "Schools are such an iconic image of neighborhoods."
The School Board has given district officials the go-ahead to further develop the idea through a community engagement process this fall.
But several key aspects of the proposal, such as where a school could be built and if it could serve as a new home for the dual-language immersion Nuestro Mundo Community School, will need to be decided, said Andrew Statz, the district's head of data and accountability.
"What we're trying to do is really uncover some inequities in our system, look at some decisions that have created barriers, even unintentional barriers, for families to get the services they need from the schools they send their kids to," Statz said.
Neighborhood profile
The Moorland-Rimrock area is largely hemmed-in, with Highway 14 to the west, the Beltline to the north, and parkland and marshes to the south and east.
The area — a mix of apartment buildings, single-family homes, some commercial and light-industrial uses, and luxury-car dealerships — has high populations of Latino, black and low-income residents compared with the city as a whole.
Moorland Road is the major east-west route, while Rimrock Road acts as the north-south spine. Access to areas north of the Beltline is limited to a pedestrian and bicycle overpass, Rimrock Road and Broadway.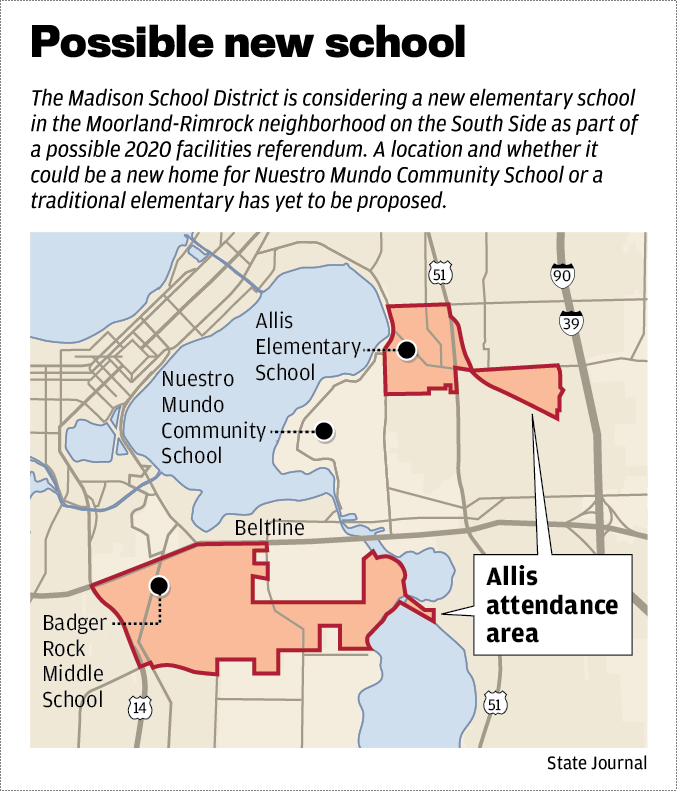 Development near the Beltline largely started in the late-1960s and early-1970s, said Jeff Greger, a land planner mapping specialist for Madison.
Throughout the '70s, '80s and '90s, residential development in the neighborhood moved farther south, resulting in a now "fairly well built-out neighborhood," he said.
Parts of the Moorland-Rimrock neighborhood are in the town of Madison, but that will change in 2022 when the town is dissolved and some residents join Fitchburg, which doesn't have its own school district, and others join the city of Madison.
On a tour of the neighborhood, Mirilli pointed out areas where she sees a lack of investment and inequities, such as bus stops not located on sidewalks, the absence of a neighborhood grocery store and a nearly faded line marking a bicycle lane.
The neighborhood is home to approximately 450 students in kindergarten through fifth grade, according to the district, and that number is projected to grow by about 40 over the next five years.
There are more elementary-age children living in the Moorland-Rimrock area than the number of children enrolled in 22 of the district's 32 elementary sites.
Chad Wiese, the district's director of building services, said about 450 students is an ideal size for an elementary school. The only school in the neighborhood is the environment-focused charter Badger Rock Middle School.
Gathering input
With a new elementary school still in a conceptual phase, community feedback will be important in steering the direction of the proposal, Statz said.
Allis Elementary, 4201 Buckeye Road, draws from three neighborhoods: Moorland-Rimrock on the South Side, Lake Edge on the East and Southeast sides, and East Buckeye on the Southeast Side.
It is not unusual for Madison schools to have non-contiguous attendance boundaries, which is the case for schools such as Chavez, Glendale and Stephens.
You have free articles remaining.
Statz said district decisions on what schools students attend are driven by space constraints and historical practices to encourage diversity. Beginning around 1983, elementary students in the Moorland-Rimrock neighborhood were assigned to Allis, he said.
"It's something you can see on a map has been a barrier to families in that area for a long, long time," Statz said of the distance to Allis.
Families living within the Allis attendance area also have priority in the lottery to attend the Nuestro Mundo charter school, which is located in a leased building in Monona.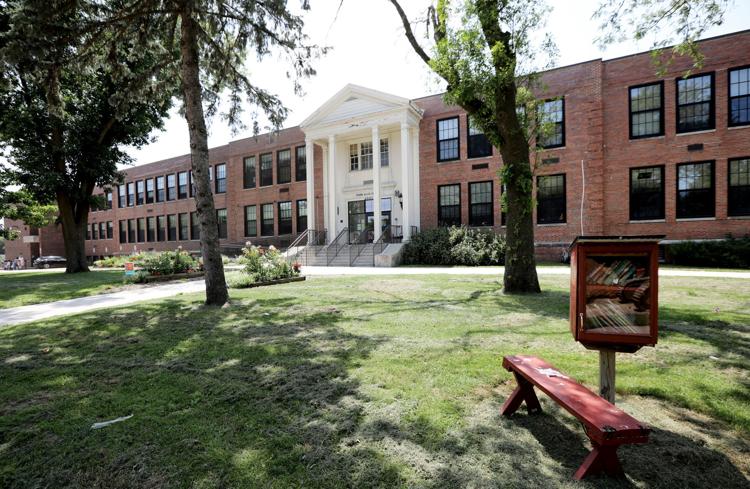 With several groups potentially affected by a new school, district officials will engage this fall with the Allis Elementary and Nuestro Mundo communities through focus groups, input sessions and surveys to get further direction on a school in Moorland-Rimrock.
Statz said part of that exploration will be whether a Moorland-Rimrock elementary would become a new location for Nuestro Mundo or another charter school versus a traditional neighborhood school. The difference could affect parents' decisions on where to send their children.
"We need to first investigate a school site and then engage the community and check out all the dynamics around building a new school in an area that's never had one before," Statz said. "Then we have that investigation with the community to see what sort of programming or what sort of structure would be best there."
As for a location, he said the district is "looking at all available options, and the hard part here is there's not a ton that's available."
Statz said location options could include industrial or residential sites, the Novation Campus development, converting parkland, or whether there is a role the Badger Rock Middle School property, which is owned by the Center for Resilient Cities, could play.
Greger, the planner, said the city has helped and will continue to help identify a potential site, but it "becomes a real challenge, because a lot of this area is already developed."
Property that may be available along the Beltline, Greger said, would likely not be ideal for a school because it is not centrally located and is noisier because of the nearby traffic.
The size and use of a school in Moorland-Rimrock would ultimately affect how much it costs to build, said Wiese, the district's building director.
With new school construction costing approximately $250 to $350 per square foot, Wiese said building an elementary school generally ranges from $20 million to $25 million.
When Olson Elementary School on the Far West Side — the most recently constructed elementary — opened in 2008, it came in at a price tag of $12.7 million.
Ideally, an elementary would be located on a property with a minimum of five to six acres, Wiese said, but the district has made smaller parcels work for schools such as Franklin, Lowell and Randall elementary schools.
Nuestro Mundo tie-in
While a majority of the elementary-age children in Moorland-Rimrock attend Allis Elementary, the neighborhood also accounts for just under half of Nuestro Mundo's enrollment.
Of the 147 Nuestro Mundo students from Moorland-Rimrock, 90% come from low-income families and 84% are English-language learners, according to the district.
Mirilli prefers a new elementary to be the home for Nuestro Mundo rather than a traditional school, as she said many of the immigrant families who send their children to Nuestro Mundo live in Moorland-Rimrock.
"This is an opportunity to address some of the inequities," she said.
The Madison School District spends $177,485 per year to rent a formerly vacant elementary school from the Monona Grove School District to serve as Nuestro Mundo's home.
The dual-language charter moved into the building in 2012 because of crowding issues at its first home inside Allis Elementary. But with the Monona location, 902 Nichols Road, at 97% capacity and a desire to end lease payments, district and charter officials hope to find a permanent home.
Whether that could be a new school in Moorland-Rimrock still needs to be determined.
Because the neighborhood is in close proximity to three other school districts — McFarland, Monona Grove and Oregon — Mirilli thinks having the dual-language school in Moorland-Rimrock could draw in students from surrounding districts, helping with the stagnant enrollment in the Madison School District.
Francesca Rodriquez, president of the charter's board of directors, said leasing a building continues to prevent the school from making improvements, such as upgrading the playground.
Rodriquez, who does not live in the Allis attendance area but has two children attending Nuestro Mundo through a lottery, said she does not have a preference on whether a new location would be in Moorland-Rimrock, but wants to find a solution that is beneficial to both the Nuestro Mundo and Allis communities.
"I hope they'll consider including a long-term plan for Nuestro Mundo in the referendum," she said. "We hope to do it in locked arms with Frank Allis."