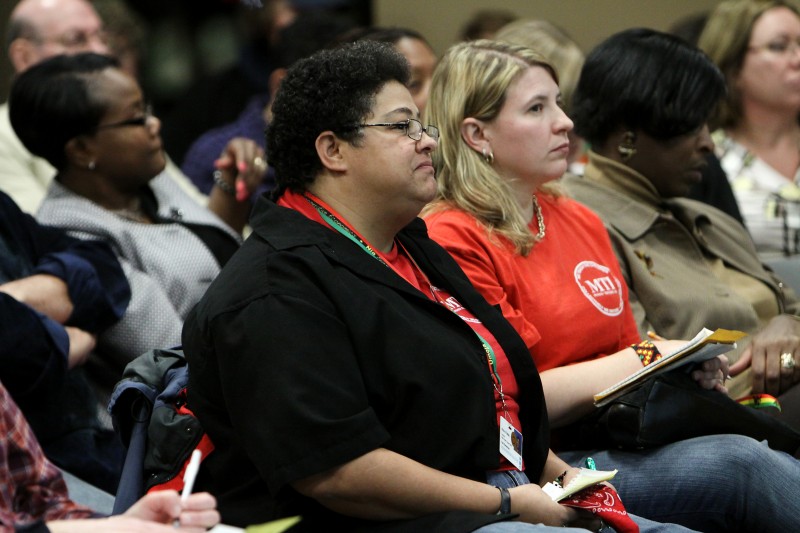 Madison Superintendent Dan Nerad's plan for closing the School District's persistent racial and socioeconomic achievement gaps calls for spending an estimated $105.6 million over the next five years on a mix of new and existing strategies.
In a speech Monday night at the Fitchburg Public Library attended by almost 200 people, Nerad acknowledged the shortcomings of the district in closing the achievement gap and called on the community to unite behind improving and implementing the plan.
"Join us in creating a new narrative of who we are," Nerad said.
• Adding an extra early morning class period for elementary and struggling middle and high school students, and developing an early warning system to identify such students;
• Designating a model school for culturally relevant instruction;
• Creating theme-based career academies within high schools;
• Establishing a "parent university" to help with parenting skills;
• Expanding the AVID tutoring program, a youth court in which students mete out discipline, and a United Way program that works with low-income parents of young children, among other things.
Nerad made about 40 recommendations in six categories: instruction, college and career readiness, culturally relevant practices, school environment, family engagement and staff diversity.
"The plan is based on the view that there isn't one thing alone the School District can do to eliminate achievement gaps," Nerad said. "We're attempting to be comprehensive with the proposal."
The plan's projected cost for next year is $12.4 million, which Nerad recommends come from the district's untapped property taxing authority under state-imposed limits. The amount includes adding about 67.5 positions, including behavioral support staff, reading specialists and parent liaisons.
Some recommendations wouldn't take effect until future years. The district estimates the recommendations will cost $20.9 million in 2013-14 and $26.6 million by 2016-17. The district doesn't have the authority to raise property taxes by that amount, though Nerad said part of the discussion in coming months will involve whether the private and nonprofit sectors can help pay for the strategies.
"We're going to have to struggle through the conversation of how to get it done," Nerad said.
In his presentation, which replaced the annual state of the district speech, Nerad highlighted gaps in fourth-grade reading scores and graduation rates. Ninety-one percent of white fourth-graders score proficient on the state reading test compared with 55 percent of black and 64 percent of Hispanic students. And 87 percent of white students graduate in four years compared with 48 percent of black and 57 percent of Hispanic students.
The rates are higher when adding in students who complete equivalency degrees or take longer than four years to graduate, but the gaps remain about the same.
The draft plan opens with an assessment of the school-related factors that over the decades have caused gaps, stating "our district must confront issues of institutionalized racism."
Those factors range from not differentiating approaches for minority and low-income students, to inconsistent instruction among schools and teachers, to not reaching out enough to families who felt isolated because schools lacked cultural competency, the plan states.
Nerad emphasized that poverty and limited funding for public schools also have played a role. Over the past 20 years, the district's low-income population has doubled, while the district has cut programs to offset rising personnel costs. Nerad recommended restoring some of the programs that were cut, such as a parent liaison program.
Madeline Hafner, executive director of the Minority Student Achievement Network at UW-Madison, said she was pleased the plan boldly discusses the concept of institutionalized racism.
"For it to be the first foundational concept, it looks at the heart of the matter," Hafner said. "This is how we undo a racialized past and move into a place where every kid in Madison, no matter where they live, receive a high-quality education."
Many who attended Nerad's speech had a wait-and-see reaction. T.J. Mertz, a local education blogger and activist, said "people were intrigued" but had some concern about the price tag. Don Severson, president of a conservative watchdog group, said he was looking for more systemic change, but there was "not much new."
Steven Goldberg, executive director of the CUNA Mutual Foundation, said the plan provides an unprecedented level of strategic clarity for addressing the achievement gap. Michael Johnson, executive director of the Boys and Girls Club of Dane County, said the proposal presents the skeleton of a plan with real potential.
Urban League of Greater Madison President Kaleem Caire, whose charter school proposal drew attention to the achievement gap in recent months, announced earlier Monday a panel organized by the Urban League would thoroughly review the plan before commenting. He didn't attend Nerad's speech because of a previously scheduled speaking engagement.
The 97-page plan, titled "Building Our Future," is a preliminary draft and includes implementation timelines, cost analysis and performance benchmarks, such as having a 90 percent graduation rate for all students by 2014.
The district has scheduled eight forums in the next two months to discuss the proposal, after which Nerad plans to deliver budget recommendations to the School Board.