Many a weekend night, Memorial High School senior Julianne Griepp can be found sketching on her computer drawing tablet at 2 or 3 in the morning, leading her parents, they said, to constantly yell, "Julianne, go to bed!"
Thursday, that devotion to her art paid off. At a surprise presentation at her school, Griepp was announced as the Wisconsin finalist in a national design contest sponsored by Google.
The 17-year-old had no idea the honor was coming. Principal Jay Affeldt retrieved her from a morning English class and ushered her to the school's theater, where her family, representatives from the technology company, and about 100 fellow art students yelled "Surprise!"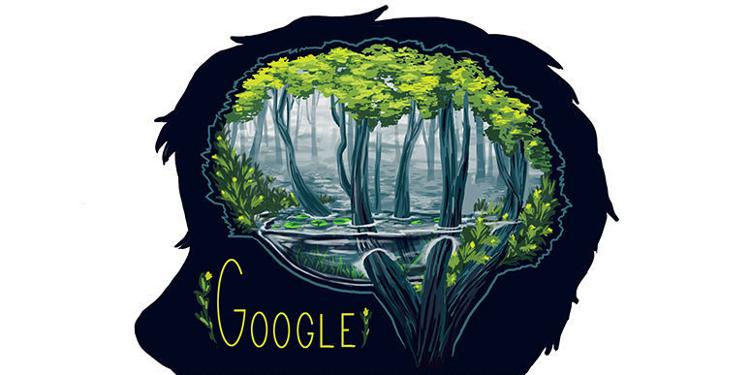 Griepp later said she almost fainted.
The contest she excelled at is called "Doodle 4 Google." It asked students to redesign the Google logo using the theme "What makes me ... me." All K-12 students in the U.S. were eligible to enter, and about 100,000 did. Google judges picked 53 finalists — one from each state, plus three from U.S. territories.
Griepp's design is all about nature — her love for it, the stories it inspires in her, and how it influences her artwork.
As Wisconsin's finalist, she now has a chance to become the national winner, to be announced March 21. The public will help choose the winner. Voting begins Friday at google.com/doodle4google.
The winner will receive a $30,000 college scholarship, and his or her school will receive a $50,000 grant for technology upgrades. The winning design will be featured on Google's homepage for one day.
Google money already was flowing through Memorial on Thursday. Everyone in attendance got a Google T-shirt, Griepp was handed a Google Nexus 7 tablet, and the school's art department got a $2,500 donation.
Geof Herman, the art department's chairman and one of five art teachers at the school, said the money will be used to buy 24 drawing tablets for the computer art lab. He said Griepp is easily one of the most impressive art students at the school, though very modest and unassuming.
"You'd think someone with her talent would be running the show, but she's always open to new ideas and she's always asking others for suggestions," he said.
Griepp said she started drawing as a child and plans to make art her career.
A National Merit Scholarship semifinalist, she has taken eight art classes at Memorial and helped co-found the school's animation club. She can often be found at Memorial on Saturdays during what the school calls open studio time.
"This isn't a specialty art school, yet I've been able to spend a lot of time in the art department around some really amazing teachers," Griepp said.
She has applied to art schools for college. The applications and portfolios were due Monday, before she could have known of this latest honor.
However, her parents, Milton and Mary Beth Griepp, said they were alerted to their daughter's win several weeks ago. Unbeknownst to her, they slipped the honor into her application packets.
Be the first to know
Get local news delivered to your inbox!