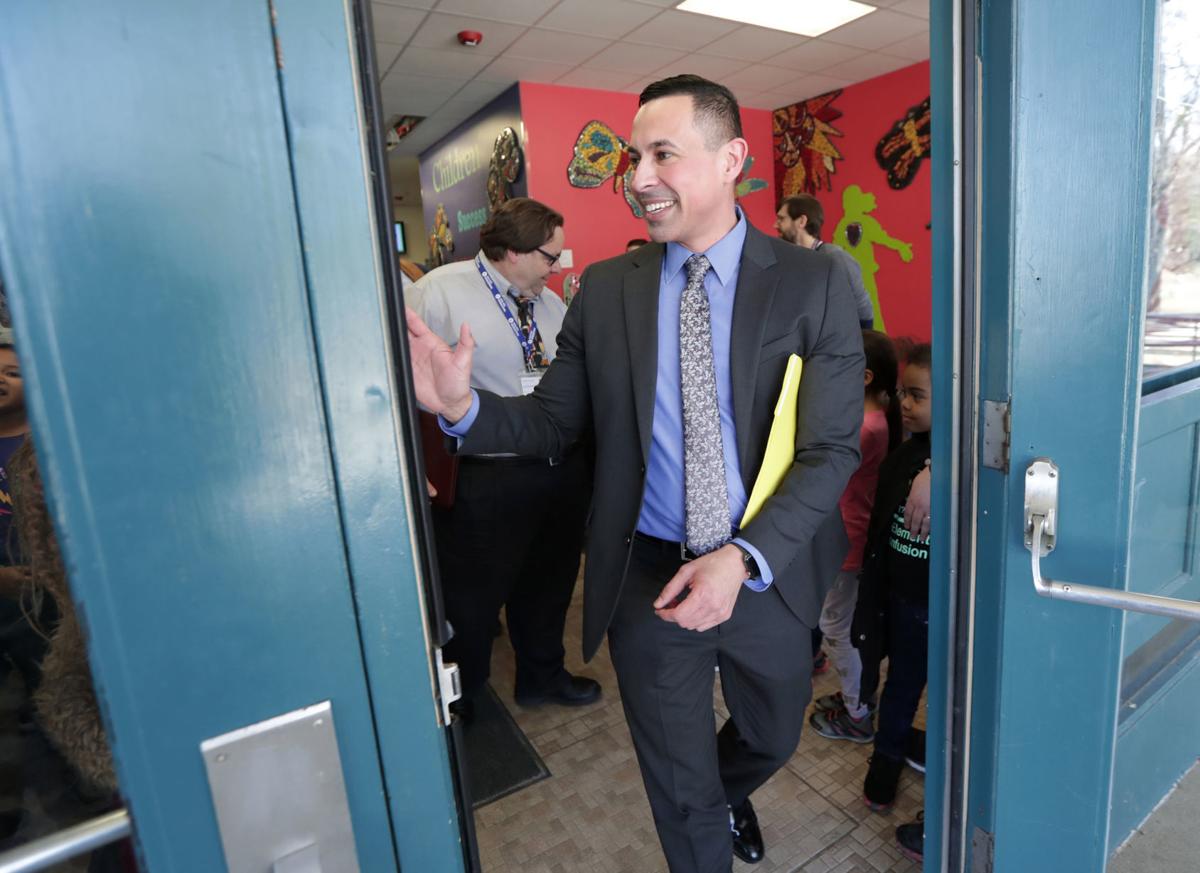 Making his first visit to Madison since being named superintendent and facing a divided response to his hiring, Matthew Gutierrez said Tuesday a priority of his first year on the job will be to "unify the community."
Last month, a group of 13 African American community leaders questioned Gutierrez's experience, saying in a letter to the Madison School Board they had a "significant lack of confidence" in his answers to their questions about addressing disparities and responding to the needs of the black community when he visited Madison in January for the job interview. A group of Latino leaders and others praised his selection and urged the community to give him a chance.
"I understand where they're coming from, and I respect where they're coming from because they are very passionate about the students in this school district," Gutierrez said at a news conference Tuesday in response to the letter. "I expect people to question me, I accept that accountability. But I do also ask that people take a look at my experience."
Gutierrez, who is superintendent of the Seguin Independent School District in Texas, said he'll be "the strongest advocate" for the district's Black Excellence goal of raising achievement and reducing disparities between white and African American students.
During public forums in January when the three superintendent finalists took questions from the community — the other two were black — Gutierrez said he was "the only candidate who really celebrated and acknowledged the work of Black Excellence that this School District has been committed to for a number of years."
Gutierrez's visit to Madison — he arrived on Saturday and stays through Thursday — is an opportunity to familiarize himself with the district. He'll be meeting with district staff, touring schools and speaking with students and teachers.
On Jan. 17, the School Board unanimously voted to hire the 39-year-old, lifelong Texan. He begins June 1.
Throughout June and July, Gutierrez said he plans to go on a "listening and learning tour" with various groups and community members. His visit this week is focused solely on the school district.
He said the group of black community leaders are some of the first people with whom he intends to meet.
"Being the superintendent of schools is a tremendous responsibility," Gutierrez said. "I want to thank the Madison community and the school district for their faith, trust and confidence in me to uphold the high standards of education that this school district and community has come to expect."
Taking questions
On closing academic achievement gaps, Gutierrez said he wants to understand what the district has in place to support "rigorous, relevant, quality instruction."
He added he wants to focus on early literacy and making sure students are reading at grade level.
"We've seen small gains but not what we have hoped to see with the investment of people and resources," Gutierrez said about academic outcomes.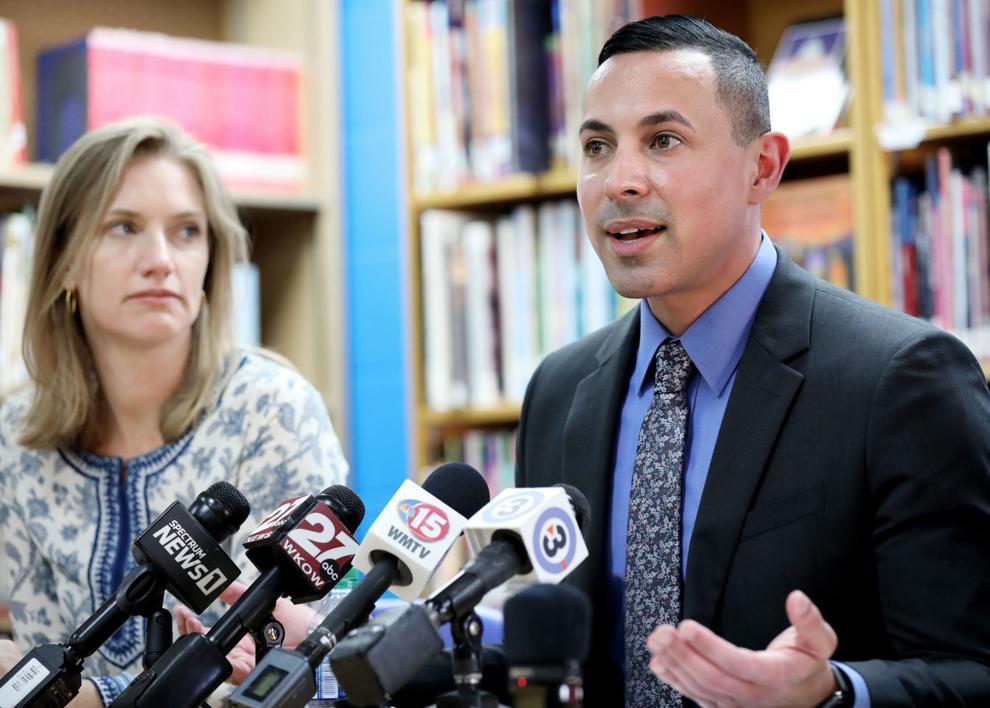 When asked about his priorities for the first year, Gutierrez said he intends to be a unifying force because he senses division in the community, such as between central office and school staff, administrative departments and "stakeholders in the school system."
"My goal is to work to unify the community, the school district, so that we can all begin moving in the same direction in focusing on what matters," he said. "That is the 27,000 students within this organization."
Gutierrez said he doesn't intend to change what the district is doing, but "add value to what we're doing based on my experiences."
He said some of the reasons students might not hand in an assignment, which can result in a 0%, can be the result of traumatic, external life events.
"When you talk about equity and disparities, those instances happen more frequently with students of color," Gutierrez said. "We've really got to take a step back and think about our practices."
Police in schools
On school-based police officers, which has been a controversial topic, Gutierrez said he understands both sides of the debate.
He said the district needs to find a "healthy balance" between the safety and security of a school, particularly in regard to school shootings, but also in understanding the social and emotional well-being of students.
"I can understand why this is a sensitive issue to a particular group of people in our community," Gutierrez said. "Why can I understand that? Because I have experienced it before."
He said as a 21-year-old teacher he was visiting his older brother in Texas when police were called to his brother's home about loud music.
Gutierrez said he was "removed from the home, handcuffed and thrown to the ground, so I've lived it, and it's vivid, and it's real, and it's fresh."
For officers stationed at the high schools, he said the district needs to ensure they are appropriately trained in deescalation techniques.
Gutierrez added, though, that if police officers were removed and something happened that required an officer, the first officer to respond might not have familiarity with dealing with children or deescalation.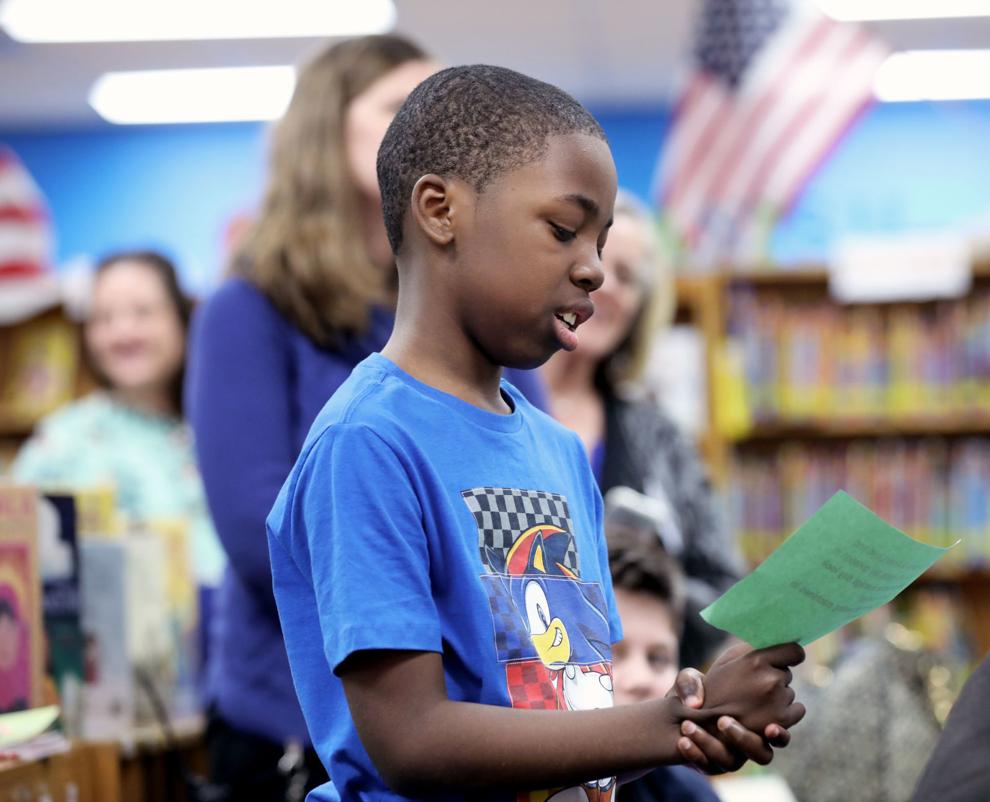 Their turn
After taking questions from reporters, Glendale Elementary students had the opportunity to ask Gutierrez questions.
When asked by a fourth-grader about why he wanted to become a superintendent, Gutierrez said he had it in his mind since high school because it's an opportunity to coach principals and serve as a role model.
Fourth-grader Amar Lloyd asked Gutierrez about what an average day looks like for him. Amar followed it up with an impromptu question about whether they could have vending machines, which drew laughter from those in attendance.
"That is an important question," Gutierrez joked. "We've also got to think about health and wellness, too, but I think we can continue to have that discussion."