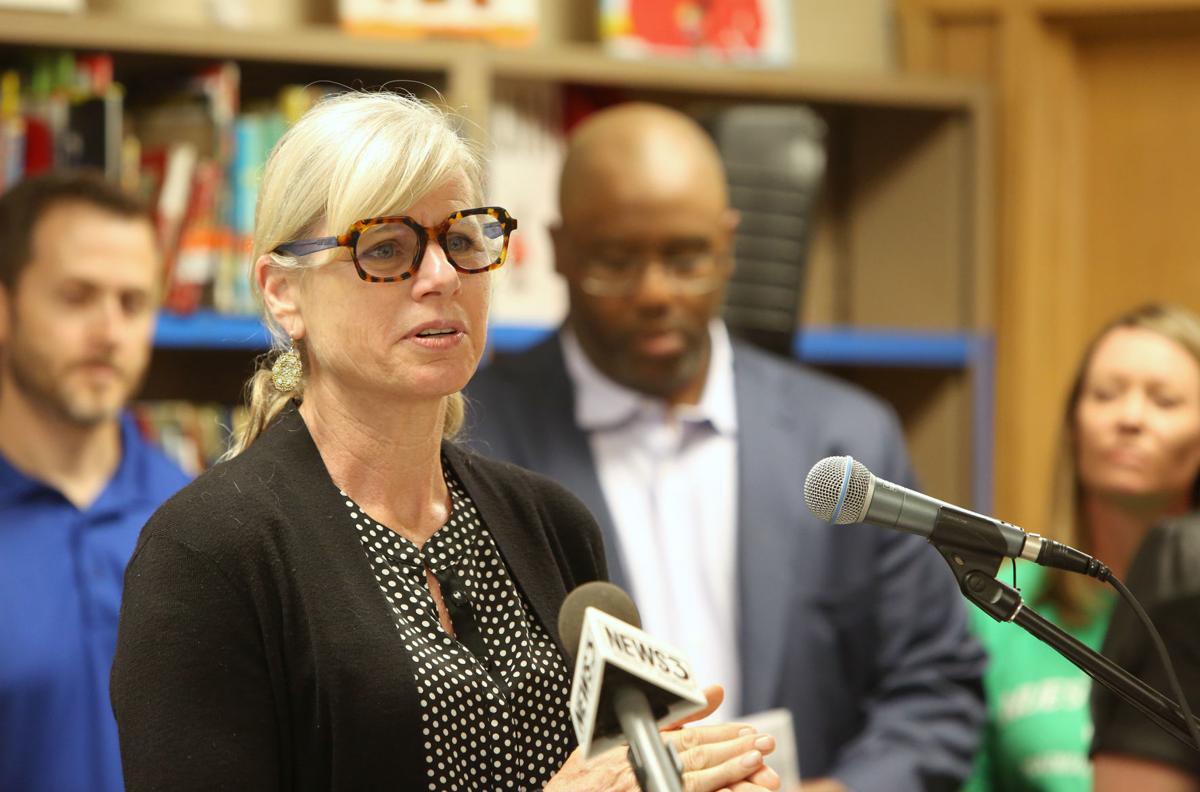 Mary Burke, the most veteran member of the Madison School Board, resigned from the body Friday.
After seven years on the School Board, Burke said she is leaving so she can commit more time and energy to the nonprofit organization Building Brave she founded about three years ago, which has the mission of "connecting, inspiring and empowering women."
"Between what's needed on the School Board and what is needed to be successful in this startup, I just can't do both to the level which is needed," she said.
Burke, 60, said the timing of her decision allows a replacement board member to fill her seat at the start of two big board decisions — hiring a new, permanent superintendent and deciding whether to pursue a 2020 facilities referendum, which could run as high as $280 million.
"It would be better for someone to be a part of that now, because these are long-term decisions, than to wait another six months or nine months," Burke said.
Burke, whose family founded Trek Bicycle Corp., left the Waterloo-based company 15 years ago.
"Mary's commitment to our schools is undeniable," School Board President Gloria Reyes said in a statement. "I want to thank Mary on behalf of the whole board for her service to our district."
First elected to the School Board in 2012, Burke sought out and won the 2014 Democratic gubernatorial nomination, but lost to incumbent Gov. Scott Walker that fall in the general election. She was the first woman to receive a major party nomination for governor in state history.
She also served as commerce secretary under Democratic former Gov. Jim Doyle.
Having been elected to the School Board three times, Burke is the most senior board member, with all other members still in their first three-year term.
The School Board will discuss filling the vacant seat when it meets Monday night. Board policy calls for a vacant seat to be filled by appointment within 60 days of a resignation.
According to the policy, interested candidates will need to file a statement of interest of no more than 700 words with the district, including:
Name, address and telephone number.
Statement on qualities they would bring to the School Board that would enhance the board's decision-making ability.
Statement on three critical issues and how they would address them.
Additional information "that the candidate deems appropriate and/or relevant."
Burke's term on the board expires in April 2021. Under state law, an election for the seat for the final year of the term would be held next spring.
Kaleem Caire, founder and CEO of independent Madison charter One City Schools, said he hasn't thought much about whether he would seek an appointment, having just heard about Burke's resignation.
In April, Caire lost in a close race to fill an open seat on the School Board.
"Mary brought a lot to the board and brought something different, too," he said. "She had a lot of business experience, and I consider her to be one of the greatest financial minds that I've run into."
Former board member TJ Mertz, who lost his re-election bid in April, said he has no interest in seeking the appointment at this time. David Blaska, a former Dane County Board supervisor and conservative blogger, said he also has no interest in the spot after losing in the April election.
The resignation comes days after the Madison City Council approved a three-year contract to continue to station school resource officers, or SROs, at the district's four main high schools.
Burke said the approval of the contentious office contract did not factor into the timing of her decision.
She said she plans to remain involved with the district's college preparation AVID/TOPS program, which she co-founded, through the Boys & Girls Club of Dane County.
"I will continue to support public education in Madison," Burke said.