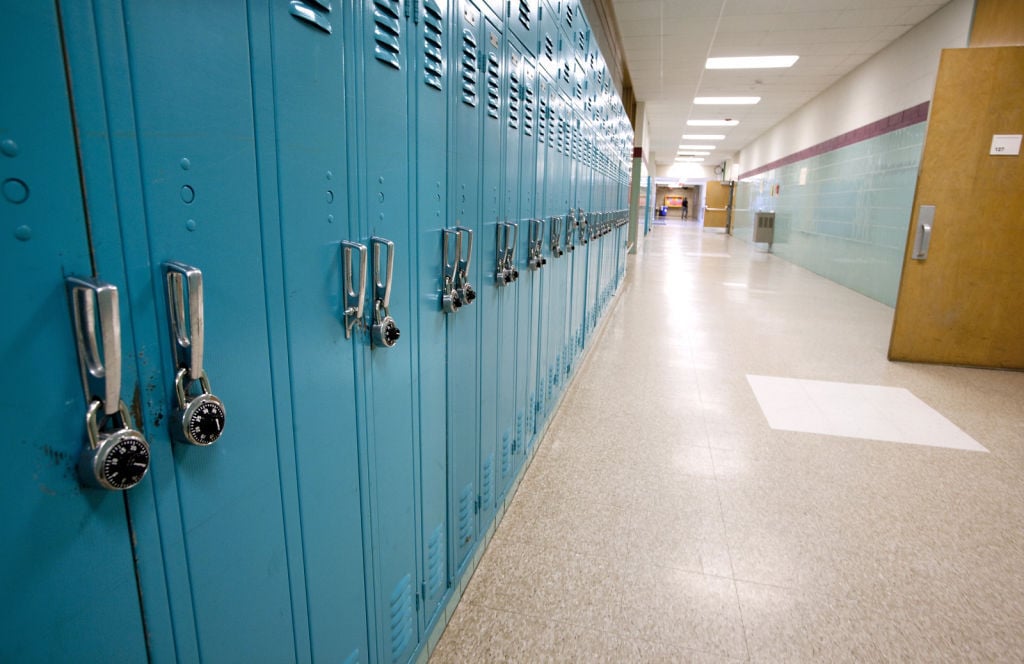 With the bulk of schools back in session now, a majority of Wisconsin school districts representing about half of the state's public school students report plans to open up school buildings for some form of in-person instruction during the ongoing pandemic.
A Wisconsin State Journal review found in rural parts of the state the decision was driven in part by a lack of reliable broadband internet access for students and teachers; districts representing about a third of students, including most large urban districts, started entirely online; and some schools' plans have already been set back by positive cases of COVID-19.
The state Department of Public Instruction sent a survey to school districts on Aug. 3 asking for descriptions of reopening plans. As of Friday, about 310 of the state's 421 school districts responded to the voluntary survey.
After an abrupt shift to online learning in the spring, about 280 school districts indicated to DPI some degree of face-to-face instruction was the plan to start the 2020-21 academic year — either a full five days a week or a hybrid approach combining online and in-person instruction.
Jennifer Kammerud, senior policy advisor at DPI, said the effort to provide in-person instruction is particularly pronounced for the elementary students.
"Most districts wanted to be back, most parents wanted to be back, and when they work with health departments, they're getting the best advice on how to do that safely," she said. "I'm not surprised that so many districts went back to an in-person setting because they worked hard to create an environment that was the safest possible to welcome students back to school."
Kammerud said DPI's reopening guidance released this summer — dubbed Education Forward — gave districts suggestions on how to operate schools either completely in-person, all online or as a hybrid in the safest manner.
And it appears many school districts took up the education agency's advice, particularly around schedule modifications such as taking one day off a week for cleaning or using staggered start times, based on survey responses.
"I think that is what we thought we might see given the conversations that happened over the course of the summer," Kammerud said of the majority gravitating to a return to the classroom.
DPI cautioned the survey results — the bulk of which came in between Aug. 3 and Aug. 7 — could have changed in the past month. DPI sent a final request for reopening plans Thursday, which yielded nearly 70 new or updated responses by Friday.
Different directions
Far fewer districts responded to the survey with plans for an all-online start.
But those school systems tend to serve large student populations in urban and suburban areas, such as Dane County, the Milwaukee region, southeastern Wisconsin and the La Crosse area.
For example, in south-central Wisconsin, which includes Dane County, at least 44% of public school students in the region attend a district that started the year online, a State Journal analysis of survey results and information on Dane County plans not submitted to the survey found.
That compares with no districts in the state's northern region telling DPI the plan was to start the year completely online.
Statewide, 49% of public school students attended a district offering some level of in-person instruction, 30% attended districts that started all online, and the status of 21% of the public school population was unknown, the analysis found. The student population figure is based on last year's enrollment counts because current enrollment counts won't be known until later in the school year.
With nearly all schools holding the first day of class by this past Tuesday, a few already had to change plans because of COVID-19.
Kammerud said she expects multiple instances of schools, grade levels or classes closing as positive cases of the virus continue to pop up.
"Depending on the course of the pandemic, I can't say how long that will happen," she said about intermittent closures. "We've already seen this happen. I anticipate we'll continue to see this happen through at least the first part of the school year if not the remainder of the school year."
Just because school districts have moved forward with in-person learning, though, it doesn't mean every student in those districts are in classrooms. Nearly all school districts starting with fully in-person or hybrid learning are also offering online alternatives.
And in the survey responses, many of the districts stressed they would be responsive to the fluid situation of the pandemic with backup arrangements ready.
Survey results
Of the school districts that responded to the survey, 171 said they planned to offer in-person instruction five days a week to all grade levels, with online options available as well.
Several districts said the high schools were switching from a seven- or eight-period day to a block schedule of four classes per day in an attempt to limit how many people students come in contact with on a given day.
The White Lake School District in northern Wisconsin decided on returning all students to the classroom, citing in its answer to the DPI survey that fewer than 40% of the 149 students in the entire district have access to reliable broadband internet.
Kim Kaukl, executive director of the Wisconsin Rural Schools Alliance, said the trend for many rural schools is to be face-to-face as much as possible, with online options for parents to choose and backup plans in case school buildings need to close.
Kaukl attributes the decision for most rural schools to go in-person to poor broadband access and smaller enrollments.
"Many feel they are able to logistically manage and adhere to county health guidelines over districts with large enrollments," he said.
Kaukl expects the use of in-person instruction will "ebb and flow" all year.
"Until we get appropriate testing where we can test everybody once or twice a week and get quick results to try to stay ahead of it, I think we're going to see this up and down where we're going to see face-to-face for a while, then you're going to see closures," he said.
From the survey responses, 111 school districts indicated they had plans generally considered to be a hybrid approach combining both online and in-person teaching.
Of that group, several districts said elementary students would be in classrooms for the whole week, but middle and high school students would split their days between face-to-face and online learning. Others planned to have all grade levels in the classroom four days a week with a fifth day, usually Wednesday or Friday, being online instruction.
Online approach
The least likely direction for districts across the state — but the broad choice for Dane County schools — was an online beginning to the school year.
Twenty-seven school districts responded to the survey saying they opted for all online. Most of those school systems, though, are large urban districts such as Beloit, Milwaukee and Racine. La Crosse and Green Bay had not responded as of Friday, but news reports show they started online.
Others are in suburban Milwaukee, such as Glendale River Hills and West Allis-West Milwaukee. But the 601-student Bangor School District about 15 miles east of La Crosse also chose to start online Sept. 1.
Bangor Superintendent Dave Laehn said La Crosse County school districts collectively decided to start the year online. It's been a pretty smooth start for Bangor, he said, which already had an iPad for every student before the pandemic hit.
About 45 students, though, are receiving in-person instruction either because of no or limited internet access at home or they have a disability that's better served with face-to-face learning, Laehn said.
"Obviously, we're watching very closely the other schools," he said of the schools that have reopened. "We're hoping that when we do go back in person … that we'll be able to learn from them."