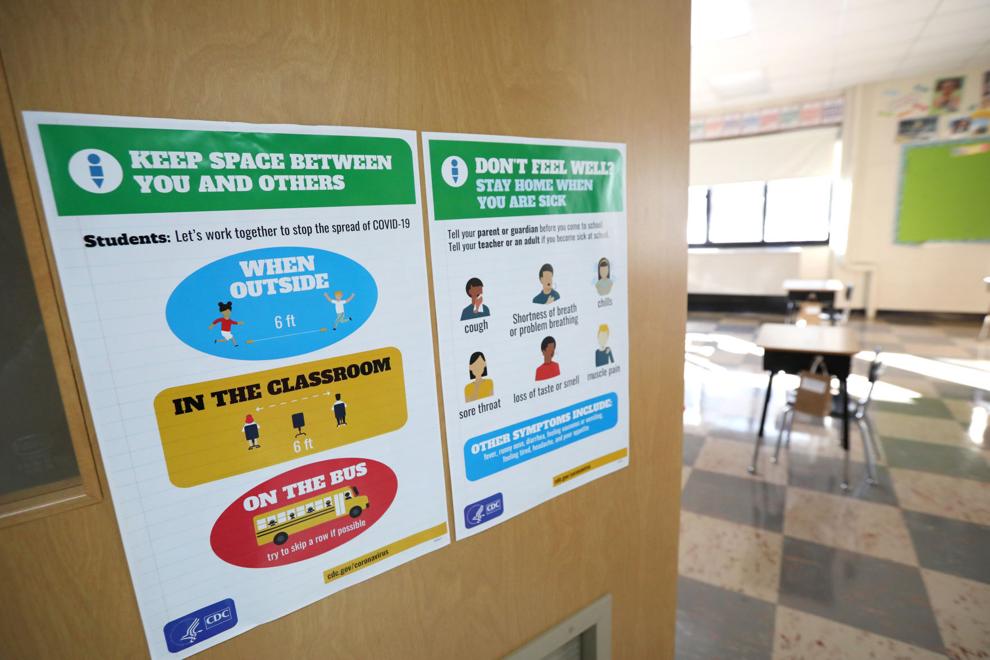 As Madison elementary schools prepare to welcome the next wave of learners back to classrooms, the district has begun discussing the launch of an online school for fall 2021 for those who prefer to learn online.
"A lot of our students are really thriving in an online environment, we want to make sure that as a district we're able to provide that option to families," said TJ McCray, director of instructional technology for Madison School District. The district plans to launch the Madison Promise Academy at the start of the 2020-21 school year to offer online programming for up to 250 students in grades 6-12.
"COVID, in many ways, reinvented education and we have a duty to keep up," Madison School Board member Savion Castro said. "This is an opportunity for the system to meet the needs of students versus the students meeting the needs of the system."
The program is in the early planning stages and McCray hopes to update the school board with more detailed information in June.
But for now, third-grade teachers will welcome back 71% of their students on April 13 for four full days of in-person instruction per week. They'll be followed by students in grades 4-5, for four full days of in-person instruction per week starting April 20, along with students in grades 6, 9 and 12 who will return to classrooms for two days of in-person instruction per week. Grades 7-8 and 10-11 will return to classrooms for two days of in-person instruction per week starting April 27.
According to data gathered by the district through its learning preference app, launched to determine the number of students who plan to return to classrooms, 72% of students in grade 4 chose in-person learning over online-only; 70% of students in grade 5 chose in-person; 69% of students in grade 6; 68% of students in grade 7; 67% of students in grade 8; 66% of students in grade 9; 61% of students in grade 10; 59% of students in grade 11; and 57% of students in grade 12 opted to return to in-person learning.
Different look
The school day for students in middle and high school will look different than that of their younger counterparts. Middle and high school students will attend in-person learning through a hybrid model, as opposed to the cohort model implemented for elementary students.
"The cohort model will not work for us," due to the higher student population in middle and high schools, compared to elementary schools, said Marvin Pryor, co-chief of secondary schools in Madison. "Hybrid gave us the opportunity to adhere to all protocols set forth by CDC and Public Health" while accommodating the largest number of students in classrooms as possible.
In the hybrid model, middle school students will have two full days of in-person learning and two full days of online-only learning. High school students will have two split-learning days, where they attend class in-person for the first half of the day, grab their lunch and return home to complete the school day online, and two full online-only days.
The district is on heightened alert as students prepare to reenter classrooms after a child care center in Dane County was discovered Monday to be the epicenter of a COVID-19 outbreak, where a more transmittable mutation of the virus was detected.
Jay Affeldt, the district's executive director of student and staff support, considered the possibility of positive COVID-19 cases in school buildings during a Madison Board of Education meeting Monday night.
If an individual positive case is detected with a very limited number of close contacts to that student or staff member, the district will only ask those students or staff to quarantine, Affeldt said. But if half to two-thirds of a classroom were to be considered a close contact to a student or staff member with a positive COVID diagnosis, that entire class would shift to online-only learning while in quarantine. Depending on the level of spread and staffing capabilities, the district may decide to close a single classroom, multiple classrooms or an entire school if COVID is detected, he said.
---
GALLERY: What schools look like under COVID-19 in Sauk, Columbia counties