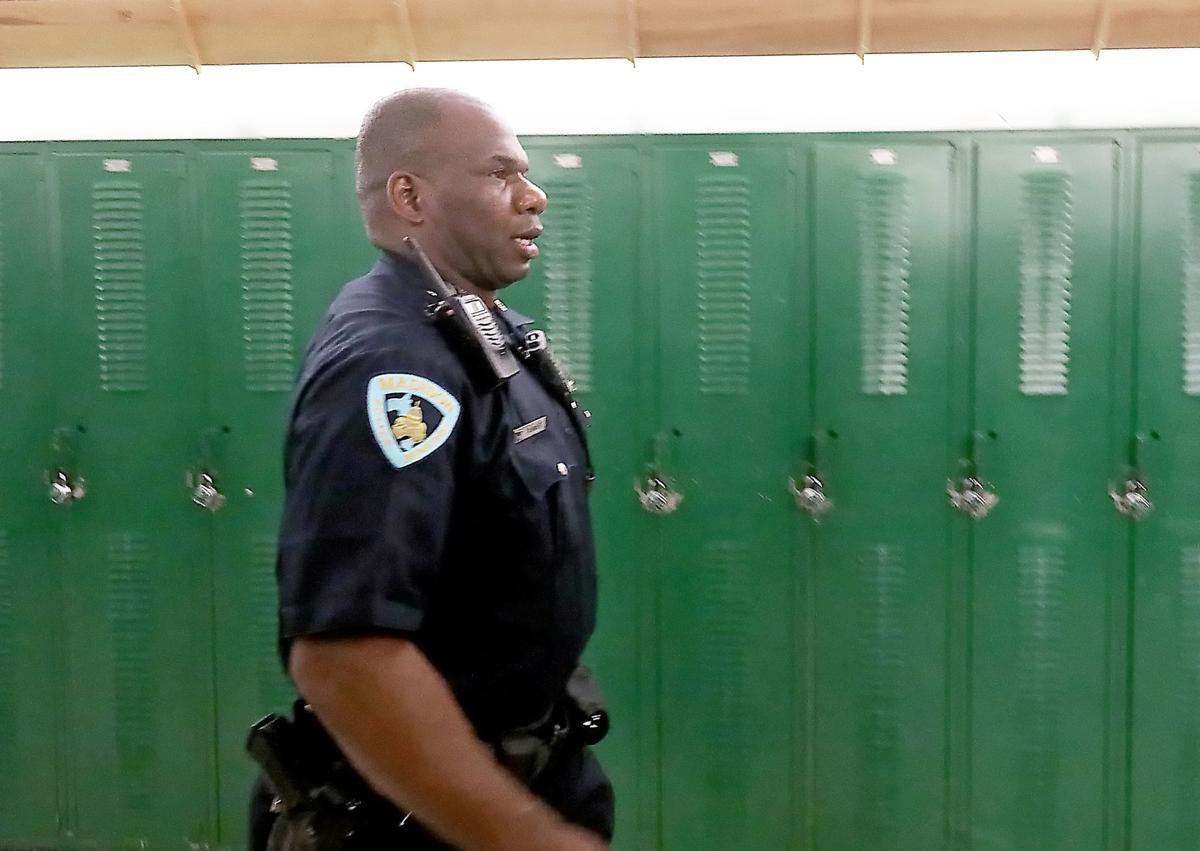 Madison's teachers union is shifting its stance on school-based police officers and is now advocating they be taken out of the city's main high schools — but only if 33 additional support staff are hired.
In a statement Sunday, Madison Teachers Inc. said it backs the removal of school resource officers, or SROs, stationed inside each of the Madison School District's four main high schools — a move local activists have demanded of the district for years.
"We see the systematic racism that exists in our current structures and join the voices of our students and our community in calling for dramatic change in how we educate and interact with all of our students, especially those most marginalized in our schools and society," MTI president Andy Waity said in the statement.
In the wake of the police custody death of George Floyd in Minneapolis and widespread protests against police violence and killings of unarmed black people, MTI said the change in position "centers our students' needs."
The union has historically backed SROs to provide safety for students and staff, the statement said, and MTI members have supported relationship-building roles the officers have taken on, acting more like counselors than law enforcement.
"However, it has become apparent from conversations with our children and community that the benefits of having police officers stationed inside our schools is outweighed by the racialized trauma experienced by some of our community members of color," the statement said.
The major caveat, though, is MTI will only support the removal if certain positions at the four main high schools are staffed at recommended levels by the American Civil Liberties Union.
According to MTI, achieving those levels at each high school based on the ACLU's "metric of equitable staffing" would require additional hires of:
One counselor, one nurse, one psychologist and four social workers for East.
One counselor, one nurse, one psychologist and five social workers for La Follette.
Two counselors, one nurse, one psychologist and five social workers for Memorial.
One counselor, one nurse and seven social workers for West.
"If we remove police officers from our schools, but do not adequately staff those same schools with social workers, nurses, counselors, and psychologists, we are perpetuating harm upon our most vulnerable young people," the statement said.
The union's reversal follows a unanimous decision last week by the governing body of Minneapolis Public Schools to terminate its contract for police in schools.
But adding 33 new staff positions could be a challenge as the district is projecting a shrinking operating budget for 2020-21, which could be exacerbated by potential state cuts to school aid because of the COVID-19 pandemic.
For four years, social justice organization Freedom Inc. and others have demanded the Madison School Board end its contract with the Madison Police Department to station one officer in each of the four high schools, citing disproportionate arrest and citation rates and arguing the presence of the officers negatively affects students of color.
Last June, the School Board renewed the SRO contract on a 4-3 vote, which included several changes to how the officers are trained and their roles and responsibilities.
That three-year contract, though, includes deadlines to either remove an officer from one of the four high schools or take them all out.
The board has until Wednesday to vote on reducing the number of SROs from four to three, which would take effect at the start of the 2021 calendar year. Board members also have until Sept. 15 to decide if they want to back out of the third and final year of the contract for the 2021-22 school year.
Since the new contract was approved last summer, the makeup of the board has changed, and it now includes four members who have previously supported the removal of the officers.
As of Sunday afternoon, an agenda for a special board meeting Tuesday does not include a discussion or vote on the SRO contract.
In addition to its stance on SROs, MTI is also demanding the district make several other changes, such as providing crisis intervention training for all employees and committing to "social-emotional learning that is culturally relevant to the needs of our children and not a canned curriculum geared towards compliance."
---
Why Madison is marching: 'I feel like we're not real citizens'
Be the first to know
Get local news delivered to your inbox!