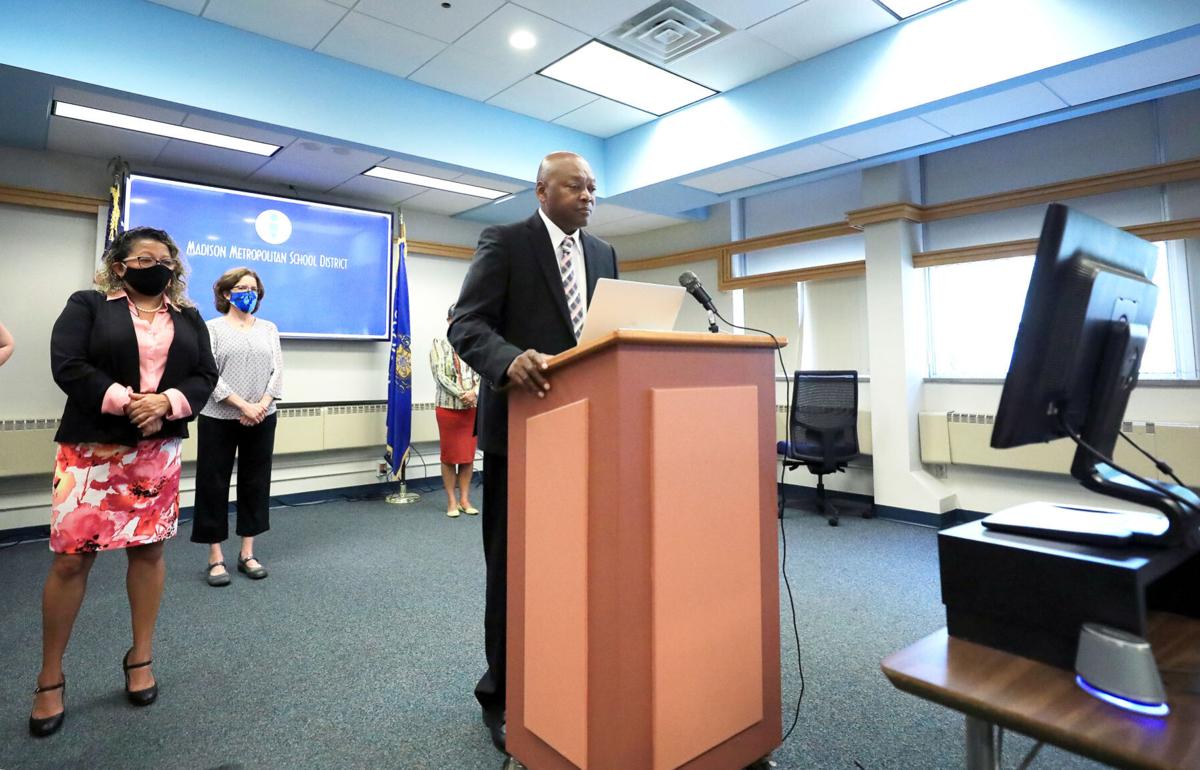 Madison public school students will start the third quarter exactly where they left off last quarter, with all grades attending online-only classes, the district announced Friday.
Superintendent Carlton Jenkins said metrics surrounding COVID-19 cases in Dane County do not yet support a safe return to school buildings for most students.
"Although we will begin third quarter virtual, if at any time conditions for bringing students and staff back safely improve, we will execute our plan to safely return students to in-person learning in a phased approach," Jenkins said in an email to district staff Friday morning.
Jenkins said the "incredibly difficult" decision to remain online-only was made in consultation with many others including public health experts, parents and staff and the district's teachers union, Madison Teachers Inc. A key consideration was the safety of adults in multigenerational households that include district students.
"Although it is our preference to have all students learning in person, connecting face to face with teachers and classmates and benefiting from learning in a classroom environment, it is also our ultimate responsibility to ensure when we do return to our school buildings, it will be done in the safest way possible with metrics supporting a safe return," Jenkins said.
An MTI survey of teachers supported the decision, with 94% of those who responded saying they backed a continuation of online learning for the third quarter.
"MTI's members want to return to our classrooms, schools and worksites to see and get to know our students," MTI board member Kira Fobbs said in a video message posted to the union's Facebook page ahead of Friday's announcement. "However, we need to ensure this is done with the life, health and safety of our students, families and colleagues at the highest priority."
Madison School and Community Recreation Cares sites will continue to conduct in-person learning with COVID-19 mitigation efforts in place, such as mandatory masks, extra cleaning shifts to sanitize surfaces and maintaining social distancing as much as possible in classrooms, among other measures.
About 400 staff members were working in MSCR Cares programs in the fall, and during that time roughly 120 positive COVID-19 cases were confirmed within the program.
"The majority of those cases were brought in from the outside, not from community spread inside the building," said Sally Zirbel-Donisch, assistant director of district health services.
About 335 students with disabilities also will continue to receive some form of in-person instruction or therapy service from roughly 180 staff members, also with COVID-19 mitigation efforts in place.
School buildings in the state's second-largest district have remained shuttered since March, after Gov. Tony Evers ordered most residents to stay home for all but essential tasks.
In a 4-3 decision in May, the Wisconsin Supreme Court struck down Evers' statewide "safer at home" order but left part of it in place for schools, which remained closed for the remainder of the 2019-20 school year. In the fall, the decision to reopen schools for the 2020-21 school year was left up to local governments as the issue continues to be litigated.
In September, the Supreme Court temporarily suspended restrictions, put in place by Public Health Madison and Dane County, that barred most Dane County students from attending school in person as the court's conservative majority agreed to hear legal challenges against the city-county health department order. A 4-3 ruling by the court left the decision to reopen up to the school districts across the state.
A recent decline in new COVID-19 cases, from an early fall surge that drove the statewide death toll to more than 4,600, caused public debate about returning students to classrooms to escalate.
A handful of districts across the state, including Madison, that have remained fully or mostly online have been under pressure from state lawmakers and parent groups to reopen for in-person learning for the second semester.
The district updated its reopening webpage, www.madison.k12.wi.us/virtual-learning, to reflect its third-quarter online-only announcement Friday. The page gives district students, families and staff access to online learning resources, tech support for distance-learning devices and other community services such as neighborhood food sites, mental health resources and well-being services.
---
Photos: How Midwest schools are navigating COVID-19