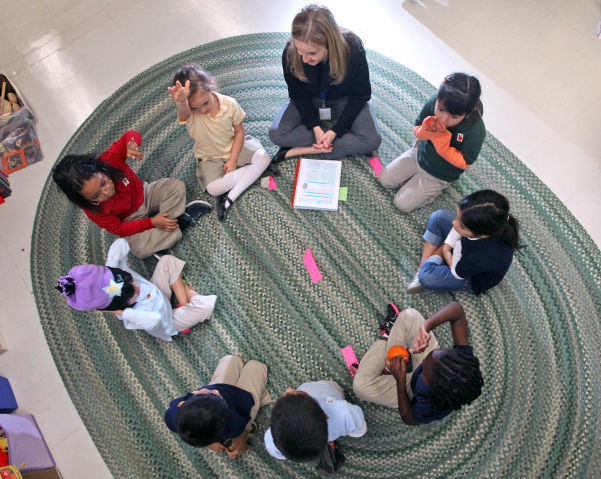 The Madison School District would receive about $4 million less than expected in state aid next school year under Gov. Scott Walker's proposed budget, which eliminates a stream of revenue it and other districts had been counting on, a district spokeswoman said Wednesday.
Walker's 2015-17 spending plan holds general school aid and revenue limits virtually flat over two years. But it also eliminates for next year an additional $150 per-pupil aid that is outside the revenue limits and which many school districts had been expecting. That funding is restored at a higher level in 2016-17.
That would mean a $4.1 million cut for Madison in the 2015-16 school year, district spokeswoman Rachel Strauch-Nelson said Wednesday. The proposal comes at a time when Madison School District administrators and School Board members are working to close a $10.1 million budget gap for next school year.
John Forester, lobbyist for the Wisconsin School Administrators Alliance, said the proposal would be "devastating" for school districts.
"It's a significant cut for schools, no question," he said.
Walker spokeswoman Laurel Patrick said Wednesday the governor's spending proposals "protects current funding levels and actually provides additional funds to public schools."
Walker also proposed a $211 million school levy credit for property tax relief and millions of dollars for rural school funding, including for technology and transportation.
Jon Bales, former DeForest School District superintendent and executive director of the Wisconsin Association of School District Administrators, said the lack of the $150 per-pupil aid next year could neutralize that funding increase for rural schools.
Forester, Bales and other public school advocates were on the offensive after Walker released his K-12 education proposals on Tuesday, which include lifting the 1,000-student cap on the statewide private school voucher program that would fold in Racine's voucher program and shifting its funding source from the state's general fund to aid set aside for schools.
Bales said he doubts the expansion proposal will succeed as proposed as long as it draws money from public school funding.
The amount of taxpayer money sent to private voucher schools in Wisconsin will need to be examined before passage of Walker's proposal to expand the statewide program, two Republican lawmakers also said Wednesday.
Walker said the voucher expansion would provide opportunities to more families who otherwise would not be able to send their children to a better school.
The proposal pays for the expansion by reducing public schools' state aid. It's not known what effect that might have on public schools or on funding for voucher schools given the varying levels of state aid school districts receive now in part based on their communities' wealth.
A school district would see a loss of aid from the state for each student who attends a private voucher school even if that student never attended a district school, under the proposal.
Kit Beyer, spokeswoman for Assembly Speaker Robin Vos, R-Rochester, said Vos supports the expansion but "continues to review the proposed funding structure and looks forward to see the Legislative Fiscal Bureau's analysis on it."
Rep. Jeremy Thiesfeldt, R-Fond du Lac, the chairman of the Assembly's education committee, said he supports and expects the expansion to be approved but said the governor's proposal will likely be changed.
"Basing it on past experiences, this is going to get a lot of attention," he said. "Something this major never goes through without some kind of changes."
Sen. Luther Olsen, R-Ripon, the chairman of the Senate's education committee, said the expansion will probably be approved but big questions remain.
"I'm very curious how much a school is going to get per student, and will it be less than what they are getting now?" he said.
Routing school district aid directly to voucher schools was one of several proposals that signaled a trend toward school privatization, public school advocates said.
"At the end of the day, (budgets) are all about choices — they're about priorities — I think it's pretty clear that the 860,000 children that attend public schools in Wisconsin are not the governor's priority," Forester said.
Walker's budget also lays out goals for school districts to meet by 2017, including raising the state's four-year graduation rate to 92 percent from the current 88 percent level; increasing college and career readiness from 32 percent to 67 percent and closing achievement gaps in those areas by 50 percent.
Bales said those goals are attainable over time, but not under Walker's budget.
"All of those things are attainable but his budgets have done nothing to implement policy that would get that done," he said. "All we have done is put out a report card, reduce funding and then ask for a different result."