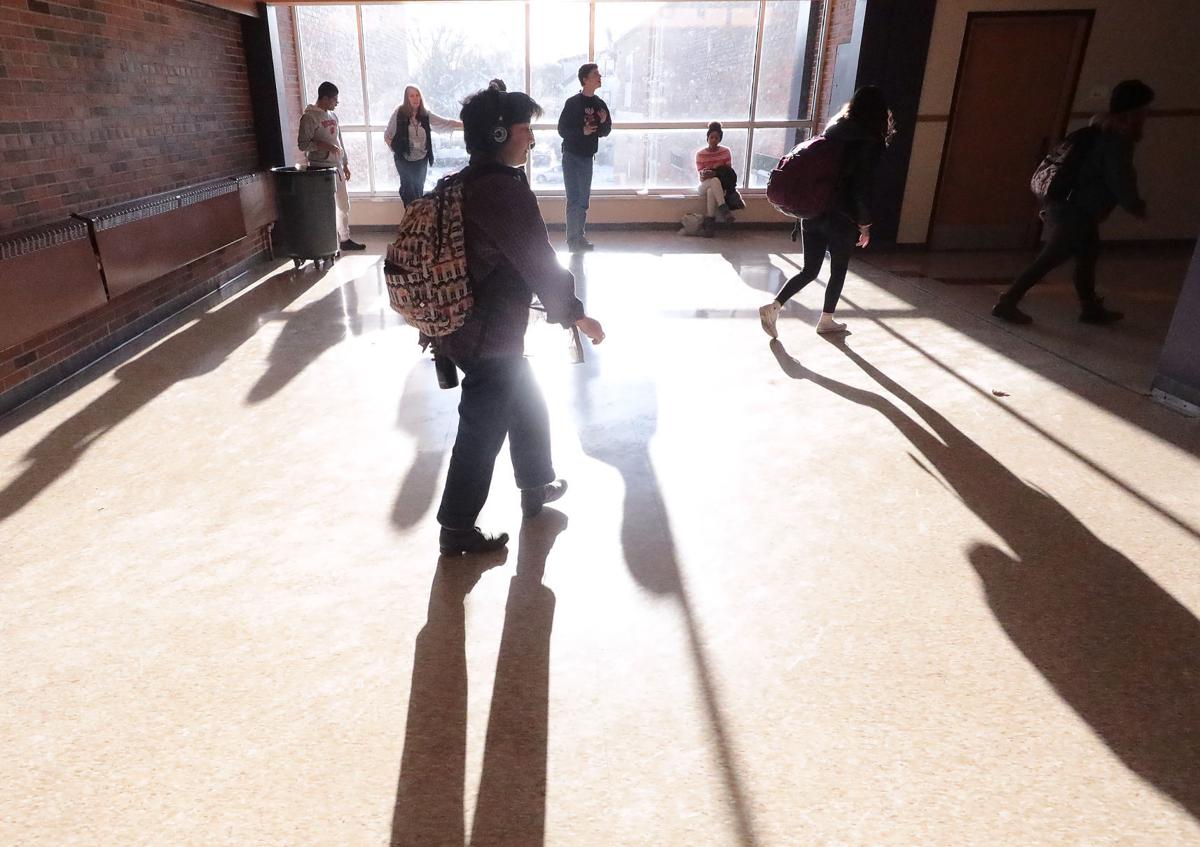 The state Department of Public Instruction released its guidance Monday for reopening schools during the COVID-19 pandemic, suggesting smaller class sizes and some students attending school possibly only two days per week.
Also on Monday, the Madison School District announced it will take a "hybrid" approach to the fall semester, incorporating both in-person and online instruction.
The state's education agency rolled out its voluntary guidelines Monday for reopening schools — dubbed "Education Forward."
The 87-page document encourages districts to explore smaller class sizes, details cleaning and health screening recommendations, and offers examples of weekly schedules that allow for both in-person and remote learning, which is the direction Madison schools are now going.
"The nature of COVID-19 presents many unknowns, and our approach to the fall will be flexible, nimble and with equity and safety at the center," the Madison School District said in a statement.
But DPI is also telling schools to be ready to swiftly adjust plans next school year — switching between in-person, physically distanced and online learning — if coronavirus outbreaks occur.
"A second wave of infections could result in site, district, county-wide, or regional school closures, in which case instructional models must be able to accommodate shifts between in-person and virtual learning," the guidance document says.
Jennifer Kammerud, senior policy advisor at DPI, said any decision to shut down schools after classes resume will come from school administrators, local health agencies or the state Department of Health Services.
And the education agency is warning the need for flexibility could last a year to 18 months until a vaccine is developed and becomes widely available.
"The next school year will likely be different from the learning environment students and teachers have grown accustomed to," State Superintendent Carolyn Stanford Taylor said in a statement.
DPI stressed the document — the state's first comprehensive guidelines on reopening schools — will be ever-evolving.
Considerations before reopening
The guidance covers a range of topics districts should examine when crafting plans for 2020-21, such as how lunch will be served, whether visitors will be allowed in and how library book returns might be handled.
Some examples of DPI's suggestions include:
Teachers' desks turned away from students to reduce transmission of the coronavirus from face-to-face coughing or sneezing and student desks spaced 6 feet apart;
Specialist teachers, such as art and music, brought into classrooms instead of students traveling to their rooms;
No-touch fixtures installed in bathrooms;
Staggering arrival and dismissal times;
Using multiple assigned entries instead of one main door.
DPI is recommending students and staff wear face masks as much as feasible, particularly at times people can't keep 6 feet apart.
Neighborhood centers and community organizations could also host students when in-person learning happens, limiting the number of children in one building, the guidance says.
Districts should also prepare for higher-than-usual staff absenteeism with stricter standards about not coming into work when someone feels unwell, the guidance says, and schools could consider having retired teachers fill temporary lapses in teacher availability.
Teachers and staff who are at high-risk for the respiratory illness due to underlying health conditions or age should be considered for non-classroom work, such as continued online teaching, or have modified job responsibilities to limit their risk.
To proceed with in-person school but maintain physical distancing and smaller class sizes, DPI suggested several examples of schedule changes districts can consider:
Students in buildings four days a week with the fifth used to deep-clean schools;
Going with an A/B weekly schedule, where a group of students attends classes in-person one week and another group the following week;
Using a two-day model, such as a group of students in buildings Monday and Tuesday, cleaning on Wednesday, and a different group attending on Thursday and Friday;
Bringing elementary students back first and spreading out classes among other buildings while middle and high schoolers continue online learning.
Students are recommended to continue remote learning on days when their school is being cleaned or another group is attending.
To prepare for the return of students and teachers, DPI and the State Emergency Operations Center is distributing 1,712,000 cloth masks and 3,581 no-contact, infrared thermometers to school districts this summer.
Madison is slated to get 53,000 cloth masks for its 27,000 students and 4,300 staff and 106 thermometers for more than 50 school buildings.
Madison schools
In its statement, the Madison School District said it is examining DPI's guidelines and "will work to ensure our plan for the fall is in alignment with them."
"Our plan will also incorporate many contingencies, including responding to any resurgence of COVID-19 risk levels, school closures and the district's ability to make a quick and smooth transition into a full virtual learning environment if needed," the district said.
The statement was light on details for Madison's hybrid approach to the 2020-21 school year.
But the district acknowledged the need for specifics — particularly for parents who need to plan out child care, transportation and work schedules on the days students will be at home — and added "accurate and timely information" will be provided as soon as possible.
"There are many complexities this type of planning presents, and as we continue to finalize those details, we want to thank our school community for their patience and understanding," the statement said.
District spokesman Tim LeMonds said more details, including what type of weekly schedule the hybrid approach will use, could be finalized by next week.
Return to classes
As the coronavirus pandemic intensified across the country in mid-March, Gov. Tony Evers ordered all schools closed — a directive that remains in effect until June 30, the official end of the academic year.
Throughout the spring, school administrators focused on transitioning to online learning and meeting the immediate needs of students, such as providing internet access and food. But districts have switched direction this summer to prepare for the 2020-21 school year.
John Ashley, president of the Wisconsin Association of School Boards, said he's been telling districts that implementing the recommendations and guidance will be complex, challenging and costly.
"This is a challenge for all of us, but if you care about kids you have to know that the best place for kids is in school," he said.
Ashley said the feasibility of following the guidance will vary across the state depending on how much money districts have. He said he doesn't know how many schools have already decided to reopen in the fall, but the guidance provides a "first step" to work toward that goal.
"We've got about two months to figure this out," Ashley said. "That's all the time they have."
Kammerud said it's unlikely federal COVID-19 relief money will be enough to cover all the costs of supplies, cleaning and other preparations to reopen.
Kammerud said DPI is not aware of any school districts in Wisconsin that don't plan on reopening.
The education department's guidance is not a mandate but a set of recommendations for the 421 school districts, 26 independent charter schools and 792 private schools in Wisconsin, and it encourages schools to work with local public health departments on region-specific restrictions and regulations.
The guidance was developed with the help of the state Department of Health Services and several education groups.
On Wednesday, DPI and other school organizations will testify before the Assembly Education Committee about reopening schools.
Concerned about COVID-19?
Sign up now to get the most recent coronavirus headlines and other important local and national news sent to your email inbox daily.