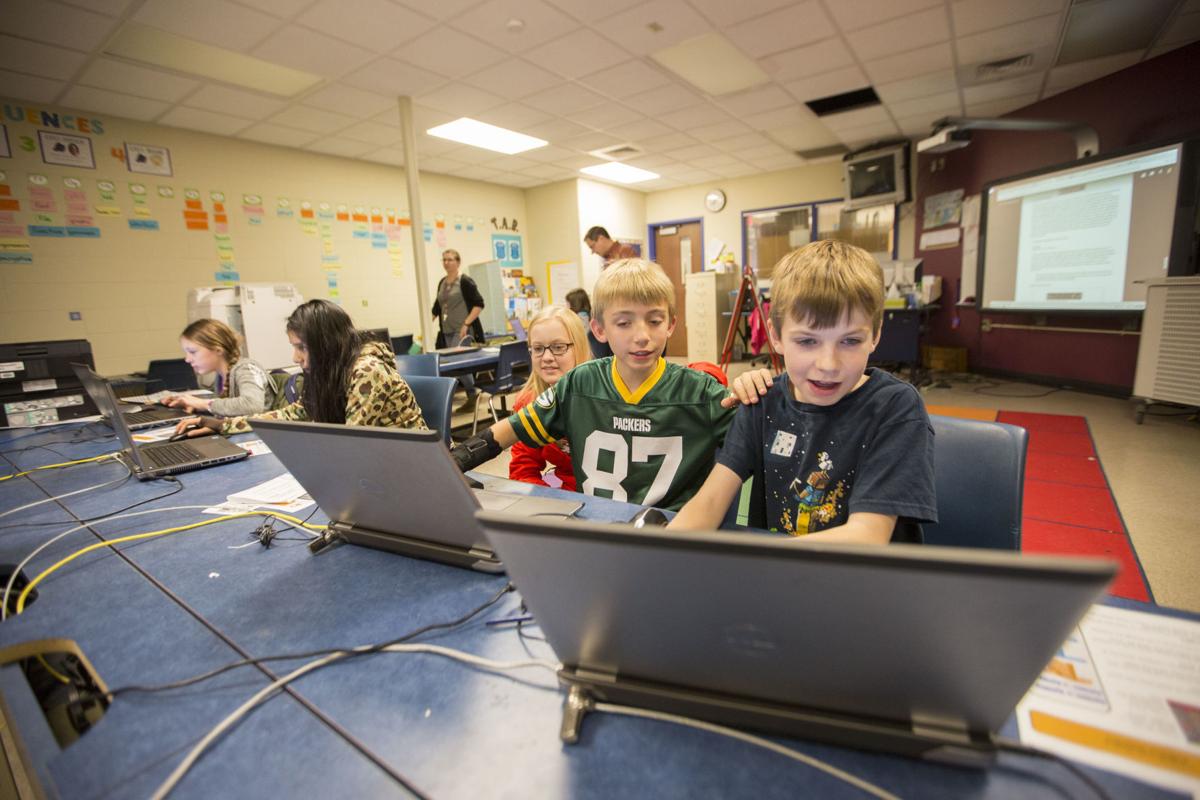 In an attempt to prevent suicide, harm to others and bullying, Madison students will have their district-issued Chromebooks monitored around-the-clock this year by an outside company to flag potentially concerning or dangerous web searches, emails and social media posts.
The Madison School District is expanding its use of software developed by a California-based company that searches for specific keywords or phrases entered on the nearly 23,000 Chromebooks the district provides to students that could indicate an intent to harm themselves or others, bullying, and thoughts of suicide.
The artificial intelligence-driven software was in place district-wide last year, but the district is now entering a two-year agreement for analysts working for the software developer, Securly, to assess flagged searches 24 hours a day and alert school staff if something poses an immediate danger.
But the move to 24-hour monitoring was not without concern.
Last week, the Madison School Board weighed the benefits of potentially preventing bullying and suicide with protecting student privacy and how the collected data could be used.
Ultimately, the board approved on a 5-1 vote spending $114,408 over the next two years to expand the district's use of the software. Board member Nicki Vander Meulen was the sole opponent, but others voiced some misgivings before signing off.
Vander Meulen, who is an attorney, said some of her issues with the product relate to the Fourth Amendment, which protects against unreasonable search and seizure, adding she is concerned information flagged by the software could be used in criminal cases.
"It also worries me on the privacy issue. We want our teens to trust us, we want them to talk to us," said Vander Meulen, who added she thought the money might be better spent on school counselors.
Board president Gloria Reyes said the software would not be monitoring student's personal devices, but rather district-owned devices provided to students.
She said the software is worth it if it could prevent a suicide attempt or flag school safety threats.
Continuous oversight
The 24-hour monitoring has already produced results, said TJ McCray, director of instructional technology and media services for the district, by preventing two suicides during a pilot this past spring.
He said a prevented suicide is determined based on the nature of what the student searched and follow ups with the student and their family.
From April 24 through the end of the last school year, students at Kennedy Elementary School, Sennett Middle School and La Follette High School had the 24-hour monitoring software installed on their Chromebooks, which is a less expensive type of laptop primarily intended for using the internet.
The district evaluated data from April 24 to May 24, finding Securly's software flagged 281 items, requiring phone calls to district staff for three students and emails to a district after-hours crisis response team for two students.
"We've been able to really interfere and intercept a lot of different things so far just from the pilot last year," McCray said.
Last fall, the school district started using a filtering software from Securly that also identifies potentially concerning results on student Chromebooks. When something is flagged by the software, an email alert is sent to a designated contact person at the student's school.
But after school hours or on weekends — when some district employees aren't checking emails — alerts can go unnoticed, McCray said.
With the 24-hour monitoring, analysts with Securly determine the severity of flagged results, which can lead to phone calls for the most serious issues. On its website, Securly said it employs "trained analysts from a variety of backgrounds, including psychology and sociology."
"With this new platform, they don't have to check their emails after hours, and we still have somebody that's going to be monitoring it," McCray said.
For those concerned about privacy, McCray stressed the Securly software is not keeping information on everything students search, post or email, but only the results that match certain phrases or keywords it is designed to pick up.
McCray said parents are made aware of the software in newsletters, and students are sent emails informing them of its presence.
Moving to digital
The Madison School District is nearing the end of a six-year implementation of providing a Chromebook for every student in the district. The schools without one-to-one Chromebooks are Falk, Olson, Thoreau, Van Hise and Stephens elementary schools.
Madison students in grades 5 to 12 are allowed to take the district-issued devices home with them.
Throughout the country, including Dane County, school districts are moving to one-to-one technology plans to equip students with school-owned devices they can use in class and at home. Students in Dane County have also increasingly reported having suicidal thoughts, according to the Dane County Youth Assessment survey.
In 2018, 20.7% of seventh-grade through 12th-grade county students who responded to the survey reported having suicidal thoughts within the past 30 days. The figure rose from previous survey findings of 18.7% in 2015 and 12.3% in 2012.
Also in the 2018 survey, 19.3% of middle school respondents said they had been bullied over text or the internet within the past 30 days. At the high school level, the survey shows a quarter of female respondents and 15% of male respondents reporting cyber-bullying.
Madison is not alone in monitoring what students do on the school-owned laptops and electronic devices in an attempt to prevent self-harm and bullying.
The Sun Prairie School District is going into its second year using Securly software to filter and block what students can search, such as the popular video game "Fortnite," said spokeswoman Patti Lux-Weber, but it also flags more concerning searches for things such as self-harm, gambling and drugs.
In the Monona Grove School District, school-owned devices are equipped with a product similar to Securly to flag results indicating self-harm, grief and bullying so administrators can be alerted, said spokeswoman Katy Byrnes Kaiser.
Be the first to know
Get local news delivered to your inbox!