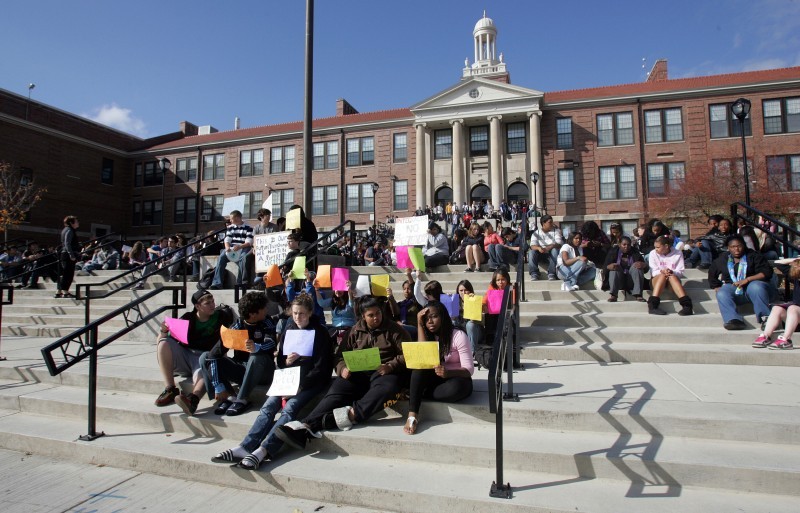 Facing a backlash from teachers, parents and students over a proposal to standardize curriculum among the city's four main high schools, the Madison School District announced Friday it is pushing one of the more controversial components back a year and making the process more "explicit, transparent and responsive."
The proposal prompted a student walkout at West High School earlier this month, and Superintendent Dan Nerad acknowledged that the district had not communicated with West teachers over the summer about the initial proposal as officials had promised.
"We thought we could jump-start the process with a draft proposal," Nerad said Friday. "What we've done now is colored in the dots for what this planning will look like."
On Oct. 12, the district floated a proposal to offer students in each high school the chance to choose from advanced or regular classes in the core subjects of math, science, English and social studies starting next school year. Students in the regular classes could also do additional work for honors credit.
Though the plan to introduce more advanced classes is still on for next year, the changes to regular classes are being pushed back to the 2012-2013 school year in response to teacher concerns about how they will help struggling students.
In addition to standardizing high school curriculum district-wide, the changes are meant to address testing standards, the gap between black and Hispanic students compared with white and Asian students in advanced placement classes and graduation rates, the loss of students through open enrollment and the need for more accelerated courses in grades 9 and 10.
Under the proposal, the advanced classes, known as "accelerated," would include Advanced Placement preparation, while the regular classes, known as "preparatory," would include "embedded honors," where students in the same classroom use different textbooks depending on their aptitude and preference. Additional support would be available for struggling students, though the district hasn't identified what the costs will be yet.
The district released an updated proposal Friday that stated the original plan "did not effectively communicate the rationale, scope, scale and end outcomes as intended."
In the weeks since the district floated its initial proposal — prompting about a quarter of West's 2,086 students to stage a walkout — officials have been on the defensive. For example, the district changed the plan's name to the "High School Career and College Readiness Plan" in order to remove the term "dual pathways."
"We don't want to convey that those are locked pathways," Nerad said this week. "We never intended them to be pathways for students. We intended them to be a pathway of courses ... and you can mix and match in any way you want as a student."
But for West High School teachers and students the "dual pathways" label sounded like the tracking model the school abandoned 15 years ago that created a lot of "low-level, non-rigorous classes with a lot of segregation by socio-economic status, which is pretty much racially," science department chairman Steve Pike said.
"If they had this document beforehand" Pike said of the document unveiled Friday, "it would have at least shown that there's a lot of questions and a lot of work that needed to be done."
West teachers aren't the only ones with concerns.
Peggy Ellerkamp, a librarian at LaFollette High School, said teachers there wonder how students in regular classes will be able to move into advanced classes, especially if regular courses become "more like a one-room schoolhouse" with embedded honors, regular, special education and English language learner students.
"I have a lot of questions about a lot of the details," Ellerkamp said. "I'm very pleased that there's more time for this to be worked through."
Jessica Hotz, a social studies teacher at East High School, is concerned that gearing classes to the Advanced Placement test could result in a "dumbing down of the curriculum." One proposed change in social studies would cram U.S. history into one year instead of the two years that East offers now, Hotz said.
Students at West are concerned that more Advanced Placement classes would draw students away from electives like Advanced Writing Workshop or Film Studies, said senior Jacob Fiksel, an organizer of the sit-in on Oct. 14. Nerad said there is no plan to cancel electives.