All six of the candidates running for the three School Board seats in the April 2 election have made boosting the academic performance of students of color a priority in their pitch to voters, even if, in some cases, they misstated the details of Madison's gap.
Achievement gaps between white students and students of color have long been a hallmark of America's public schools, and it's not easy to find a district that has been able to address the problem consistently.
"There are black-white achievement gaps in virtually every school district in the country, but Madison's gaps have been, historically, among the largest in the country," said UW-Madison professor Geoffrey Borman, whose research includes testing ways to close them. "I can't point you to a particular district that has closed gaps."
But Madison doesn't have the worst public schools in the state for children of color, as Seat 5 candidate Ananda Mirilli contended at a Feb. 19 post-primary campaign event.
That's true in all three school years for which test results are available and for all four subject categories students are tested in: English/language arts and math in grades 3 through 8, science in grades 4 and 8, and social studies in grades 4, 8 and 10.
Compared to the statewide average for all districts, however, Madison black and Latino test performance lags that of their peers.
Madison's white students, meanwhile, outperformed white students from every other of the largest five districts in every subject and in every year the Forward exam has been in place, except on the English/language arts test in the 2015-16 school year, when it was second to Kenosha. Madison whites have also performed better on the Forward test in every year and in every subject than whites statewide.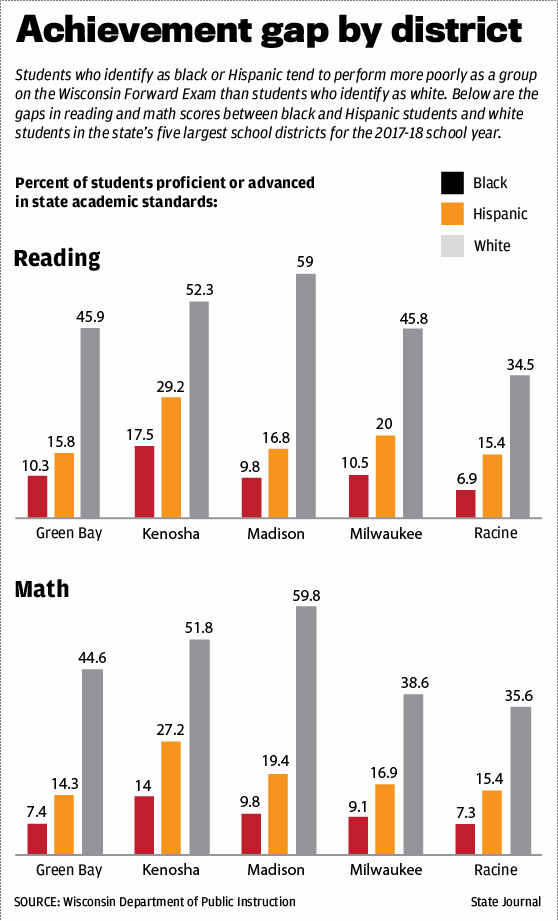 According to the Times/Stanford analysis, Madison's white students were 1.9 grade levels ahead of the average, while its black students and Latino students, respectively, were 2.4 and 1.7 grades behind. As the Times noted, the gaps were similar to those in some of the wealthiest communities in the country, including Evanston, Illinois, and Berkeley, California.
'Stereotype threat'
In an email, Mirilli contended that "the impact(s) of (the) racial gap on students of color are correlated to the extent of that gap. The greater the gap, the more likely students of color are to internalize stereotype threat."
Stereotype threat refers to the stress people feel when confronted with negative stereotypes about their ethnic or gender group — such as that black students don't excel in school, or girls are bad at math — and that such stress leads to fulfilling the stereotype, even in cases in which the group is otherwise capable of performing well.
"The greater the distance that black students lag behind white students, the greater the likelihood that black students will become discouraged and alienated," said Mirilli, who said she thought stereotype threat could be part of the reason for the gap. "The greater the gap, the greater the problem, and if not addressed it will perpetuate itself."
The district is focused on fulfilling the goals of its "strategic framework," including its local testing regimen, the Measures of Academic Progress, or MAP test, more than the state test, according to district spokeswoman Rachel Strauch-Nelson, but also points to the risk that standardized testing can "reinforce negative stereotypes."
"Standardized tests alone don't demonstrate a full picture of what students know and are able to do and may reinforce negative stereotypes," she said. "It is incumbent upon all of us to find more comprehensive and accurate ways of measuring student progress."
Muldrow said throwing up one's hands at the ubiquity and endurance of achievement gaps nationally is a "doomed approach" and a "way of telling ourselves that we're not responsible." She points to places overseas such as Cuba that have diverse populations but she said have seen more equitable student achievement across populations.
Both she and her opponent for Seat 4, David Blaska, the lone conservative running for the board, pointed to the need for more teachers of color in the schools to help close the achievement gap.
'Low expectations'
But while Muldrow also emphasizes the need for a more culturally relevant curriculum focused on the needs of individual students, Blaska's campaign is built around calling for more discipline in the schools, respect for teachers and the need for individual responsibility.
"It's fairly easy to teach professors' kids," he said. "Much more difficult to teach children who have never been read to. Part of it is low expectations — by teachers, to some degree; by parents and the community — to a much greater degree."
Mirilli says the district needs to adopt a variety of strategies to close an achievement gap caused by "the deep and historical institutional oppression experienced by students of color." Both she and her opponent for Seat 5, incumbent TJ Mertz, also emphasize that there is not just one gap, but many among different groups of students from different backgrounds.
"Respecting the professional judgment of our front-line educators, listening to them in district and schoolwide decisions, and giving them more autonomy in their classrooms will help with gaps," Mertz told the Madison teachers union in a candidate questionnaire earlier this year.
'Institutional racism'
In the race for Seat 3, both Kaleem Caire and Cris Carusi see the gap as, in Carusi's words, "rooted in institutional racism."
Caire, who runs an independent Madison charter school, offers few specific proposals for closing the gap but told the teachers union there is "no way to address these concerns if we don't break from the status quo that got us to this place where racial segregation and distrust among people in our country is increasing again."
Carusi criticizes what she sees as the federal government's "narrow focus on standardized test results as a measure of achievement."
"As a school board member, I would continue efforts to address implicit bias in our schools and district, encourage critical examination of how institutional racism and school reform perpetuate gaps, and advocate for a more balanced approach to evaluation and accountability," she told the union.
Interventions touted
Borman pointed to research he conducted in the Madison School District from 2011 through 2017 that showed reductions in the achievement gap and improvements in graduation rates associated with "self-affirmation" interventions — essentially, brief writing exercises conducted before high-stakes tests in which students of color described things that were important to them, such as family or friends, sports or art.
The theory behind the work is that such interventions can head off stereotype threat.
Strauch-Nelson said the intervention is not currently being used, "but we've been exploring use of strategies to combat stereotype threat (as well as strategies to deepen teachers' empathic mindsets) and have recently looked at Borman's work again to inform our thinking."