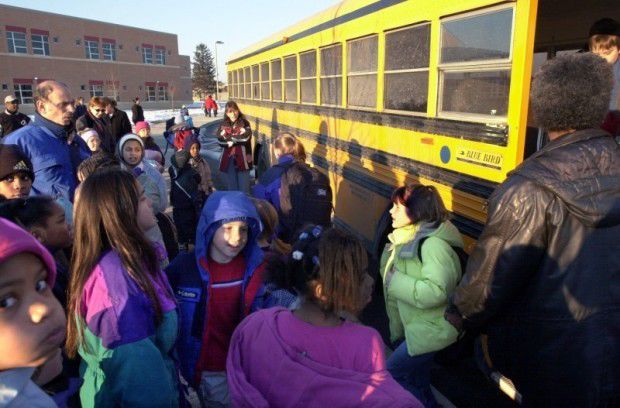 The Madison School District plans to spend the next year or so seriously studying whether to push back school start times for adolescent students, particularly those in middle school.
The topic has gained traction nationally due to research suggesting later middle and high school start times can lead to higher attendance rates, fewer behavior problems, and an increase in state assessment scores and grade-point averages.
Although no vote was taken Monday, Madison School Board members directed administrators to come back with a formal plan for studying the issue, with an eye toward making any changes for the 2017-18 school year. Possible next steps include surveying parents, assembling a study team that includes community members, and holding in-depth consultations with transportation providers.
"I really do think that if we start now and lay out these next steps carefully, by this time next year, we can be talking about our new middle school start times," said board member TJ Mertz, who brought the matter forward.
Current start times for the district's four large high schools range from 8:12 to 8:18 a.m. Shabazz City High School, a smaller alternative school, begins at 8:45. Of the district's 12 middle schools, 10 start at 7:35 a.m. Badger Rock starts at 8:25 and Wright at 8:13. Both are charter schools.
The American Academy of Pediatrics recommends middle and high schools start at 8:30 a.m. or later. Doing so aligns school schedules to the biological sleep rhythms of adolescents, whose natural sleep cycles begin to shift at the start of puberty, making it difficult for them to fall asleep before 11 p.m., according to the academy. A too-early start to the school day is "a critical contributor to chronic sleep deprivation among adolescents," the academy says.
Parent Jennifer Rosen Heinz spoke in favor of later start times Monday, displaying a photo of her 11-year-old son, who will be a middle school student this fall.
She said he's a good student and that their home does not lack discipline. Yet she said it's hard to override biology.
You have free articles remaining.
"He is changing, he is maturing, and his circadian rhythms have changed," she said. "And so we've noticed that it is harder to motivate him in the morning and that it's not just prepubescent sullenness."
She encouraged the board to think of it as a public health issue.
Madison administrators surveyed starting times in 10 other districts. Especially at the middle school level, Madison's start time is among the earliest.
Districts with later middle school starting times include Middleton (8:20 a.m.), Monona Grove (7:45), Mount Horeb (8:00), Oregon (7:55), Sun Prairie (8:00), Verona (8:30) and Waunakee (8:15), according to the district's research.
Barriers often identified in moving to a later start time include increased transportation costs, difficulty scheduling interscholastic events with neighboring districts, and a community lack of understanding of adolescent sleep needs, Madison administrators said.
Board member Dean Loumos spoke enthusiastically of at least pursuing the idea, saying his own experience trying to rouse adolescents for school involved "strategic placement of squirt guns in the house."
On a serious note, he said later start times could be another positive move toward reducing achievement gaps in the district.
"Everything suggests this is the best thing to do," he said. "If it's an issue of money, then we can determine if it's worth the cost."
---
Editor's note: This story has been updated to correct the starting time for Badger Rock Middle School.