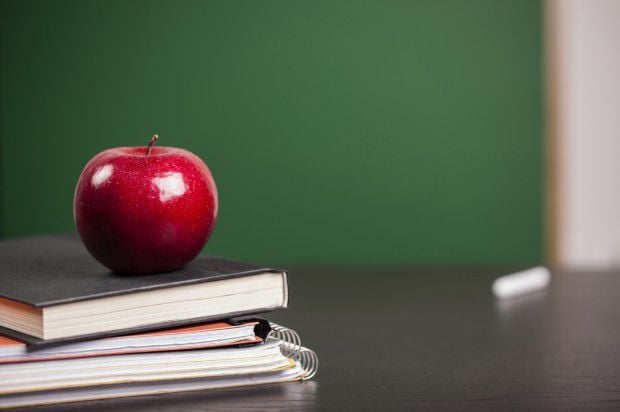 The Madison School District expects to lose 1,100 students during the next five years, a 4% drop, as a recent decline in Madison births starts to affect kindergarten classrooms.
This year, 26,883 students are attending Madison schools in 4-year-old kindergarten through 12th grade. Since a recent high in the 2014-15 school year, enrollment is down by 283 students, or about 1%.
There are 33 fewer students in the school district this year than there were last year.
But by 2024-25, the total number of students is projected to drop to 25,779 students, about 1,400 fewer students, or a 5% reduction, from enrollment 11 years prior, according to the report.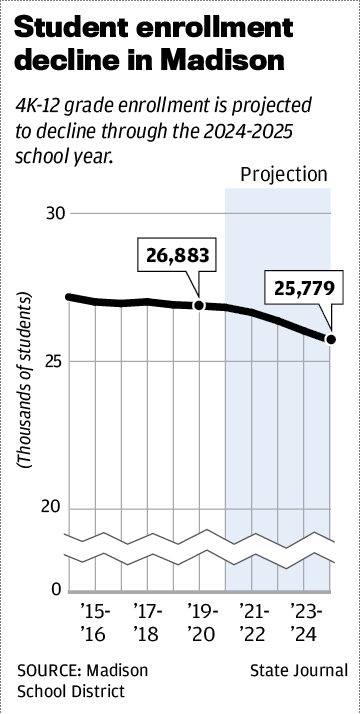 "This is a change from the recent history of relatively steady enrollment," the report said.
The projected decline is driven — in large part — by decreasing birth rates, meaning fewer children will be entering 4K and 5K classes in coming years, according to the report.
In 2016 and 2017, there was a "sharp decline" in the number of births in Madison and Fitchburg — the two biggest municipalities within the district's boundaries — which will likely translate to smaller kindergarten classes, the report said.
When Madison started an optional 4K program in 2011, enrollment climbed by hundreds during the next few years as the new groups of students began to be counted in the total student body.
The enrollment projections are calculated using a variety of factors, such as birth rates, the percentage of students who return to school from grade to grade and trends in open enrollment.
Fluctuation in school enrollment is not rare. In 1969, as the tail end of the post-World War II baby boom generation was graduating from kindergarten, Madison schools were educating 34,000 children. But just more than 20 years later, that figure declined to about 23,000 in 1981.
Open enrollment
While Madison continues to see more students leaving than coming in through the state's open enrollment process, the net loss of students has declined in the past five years.
For the 2019-20 school year, there is a net loss of 726 students through open enrollment.
This year, 1,160 students in the Madison School District are attending public schools outside the district, compared with 434 out-of-district students attending Madison schools.
The net loss through open enrollment, though, has decreased since 2015-16, when 993 more students left the district than those who were coming into it, the report said.
To attract more students to the district, Madison School Board members have previously suggested such ideas as creating an arts school or expanding dual-language immersion programs that might not be available in suburban Dane County schools.
Of the students leaving through open enrollment, nearly three-quarters are white — significantly higher than overall racial demographics of the district, in which 42% of students are white, according to the report.
Black students make up 18% of the Madison student body, but a quarter of the students who are entering the district through open enrollment are African American, the report said.
When students transfer, there a financial impact, as certain state aid that would be paid to the school district where students reside is transferred to the districts they attend.
This year, the Madison School District estimates it will pay other school districts $6.4 million more than it receives.
Be the first to know
Get local news delivered to your inbox!