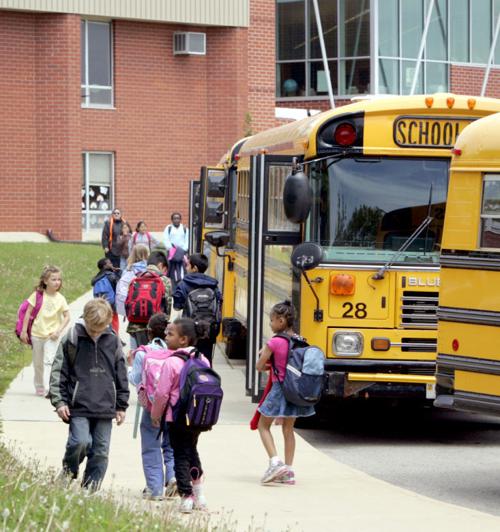 Four Madison schools could soon leave their doors open far beyond the school day to bring services like doctor checkups, extra help with homework, parenting help and meals to students and their families.
A $300,000 grant paid over the next three years from the Madison Community Foundation will begin the process of developing "full-service" community schools in the Madison School District.
"Our goal is to raise student achievement for all and narrow and close achievement gaps but we cannot do it on our own," superintendent Jennifer Cheatham said Thursday. "By better coordinating our efforts (and) creating a quilt of strong neighborhood centers with strong, full-service community schools, we'll be able to make sure that the families that need coordinated services can actually get them."
The community school model is used in school districts across the country in an effort to address more than just academic needs of children, according to the Urban Strategies Council, and is especially used in areas with high poverty with neighborhood residents and families that may have poor access to health care services or meals.
The U.S. Department of Education also offers millions of dollars in grants to nine organizations in six states that operate such schools.
There are about 5,000 such schools nationally and internationally, though the exact number is difficult to pinpoint because of the variety of ways a school can offer the model, according to the Coalition for Community Schools.
Which Madison schools will participate and the kind of services they will offer haven't been determined, Cheatham said. The district will spend the first year of the grant, 2015-16, planning. Two schools are scheduled to open as community schools for the 2016-17 school year, and two more the following school year.
It's unclear how the schools would be funded after the grant expires.
The length of the school day will likely not change, Cheatham said, but the hours the building is open to its neighborhood will expand to later into the evening, earlier in the morning and on weekends.
At Milwaukee's Longfellow school, which serves children in grades kindergarten through eighth through a full-service community school model, principal Wendell Smith describes the school to parents as an "anchor in our neighborhood."
The school partners with nonprofit Journey House, which in 2012 built a $6 million community learning center on the school's campus using funding from both itself and the school district. The center provides families in the city's Clark Square neighborhood with after-school programs and activities, such as tutoring, drug and violence counseling, field trips, recreational activities, help with building a family's literacy levels and a meal for dinner.
Journey House Chief Executive Officer Michele Bria said the key to operating an effective community school is to find "authentic partnerships" and to build services around the needs of each neighborhood instead of applying similar services to every site. She said the school district and her organization have a legally binding partnership for 99 years, with the goal being to move families out of poverty.
"It really is at a level, for lack of a better word, of a marriage," she said. "For better or worse we are in this."
Bria said the center has become the hub of the neighborhood, not only providing youth services and after-school activities but also services for parents who may need help with getting their GED, learning English as a second language or finding a job.
Dane County Executive Joe Parisi said the model is needed to address situations in children's lives that are disconnected from their school day, but can affect their school work — like homelessness.
"The education of our children isn't just about our schools and what goes on in our schools," said Parisi. "It's about the health of our entire community and making sure that all young people arrive at school ready to learn and having the opportunity to succeed within their homes, within their communities and within their neighborhoods."
Cheatham said district officials and community leaders have been hoping to launch such a school in Madison for quite a while but figuring out how to coordinate services delayed it from happening until now.
"Our public school system is the most important asset we have as a community," foundation president Bob Sorge said in a statement. "The grant will help the school district align programs in the neighborhoods where they are needed most, and surround kids and their families with the resources they need to thrive."
Community schools typically have organizations, nonprofits or officials from other local governments helping to coordinate the services they provide. Cheatham pointed to school districts in Chicago, New York City and Oakland, California, as models.
In Oakland, every school operates with elements of a community school though the scope can vary from school to school, according to the Oakland Unified School District. The school district hires a manager at each community school. Some are district employees while others work for community-based organizations that work in the role of overseeing the school, like a county center devoted to healthy families and schools or youth centers.
Traditional school staffing responsibilities could change, too, according to the Oakland model.