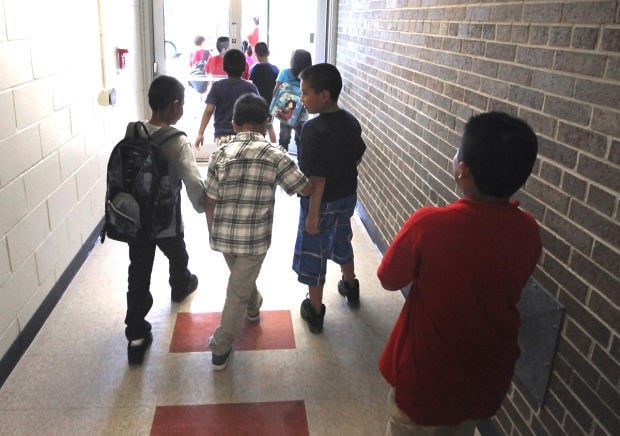 The Madison School District announced Friday it will consider three options for reopening schools in the fall, including online-only instruction, all in-person classes or a "hybrid" of the two.
The addition of online-only and all in-person options follow Monday's announcement from the district, which said Madison schools would follow the hybrid model of both in-person and online learning. The same day, Wisconsin's Department of Public Instruction released an extensive "Education Forward" plan detailing recommendations for safely reopening schools amid the COVID-19 pandemic.
The district's updated plan reflects the recommendations proposed by DPI, particularly for how schools should approach hybrid learning.
In a statement, the Madison School District said the hybrid model for its elementary, middle and high schools may include dividing students into two different cohorts. The groups would alternate between attending classes online and in-person on different days of the week.
Students would receive in-person instruction for two days out of the week — Mondays and Tuesdays, or Thursdays and Fridays — while the other three days would be for online learning, according to the district's statement.
Wednesdays would be used for teacher professional development and planning, as well as for deep cleaning of the schools between cohorts, the district added.
The statement also said district leaders will consider an all-online plan for students who are unable to attend school in-person during the pandemic. Other details on the district's options have yet to be announced, and the plans are just in the beginning stages, according to interim Superintendent Jane Belmore.
"We know there are many details yet to be worked out for the hybrid model, with childcare and transportation among them," she said.
DPI outlines suggestions for school buses in its "Education Forward" document, including closing every other row of seats and increasing the number of buses, as well as assigning a bus monitor to ensure students are wearing face coverings and maintaining physical distance.
Different hybrid options were presented to focus groups of students, staff and parents, and the school community can expect an additional survey to offer more feedback within the coming weeks, the district said.
"With guidance, information and research around COVID-19 evolving very rapidly," Belmore said, "the district's approach to the reopening of schools will need to be flexible, nimble and with a plan that positions the district in an optimal state of readiness."
DPI also instructed state schools to be ready to change their plans if more outbreaks of COVID-19 occur during the upcoming school year. The district said it will include more guidelines for reopening as it waits for further recommendations — expected to be released July 6 — from the Madison and Dane County public health department.
Photos: A look inside Leopold Elementary School
On Friday, the Madison Metropolitan School District announced that Aldo Leopold Elementary School, located on Madison's southwest side, had been chosen to be one of the district's two community schools starting in the fall. Community schools integrate services like food access, mentoring, family support and health care into the school to serve all students, their families and the surrounding community. Upon the news of being picked for the initiative, Leopold Principal Karine Sloan said in a statement: "Becoming a community school will greatly strengthen our efforts to meet the needs of our families, for whom we have the honor to serve." 
Different hybrid options for the Madison School District were presented to focus groups of students, staff and parents.
Concerned about COVID-19?
Sign up now to get the most recent coronavirus headlines and other important local and national news sent to your email inbox daily.