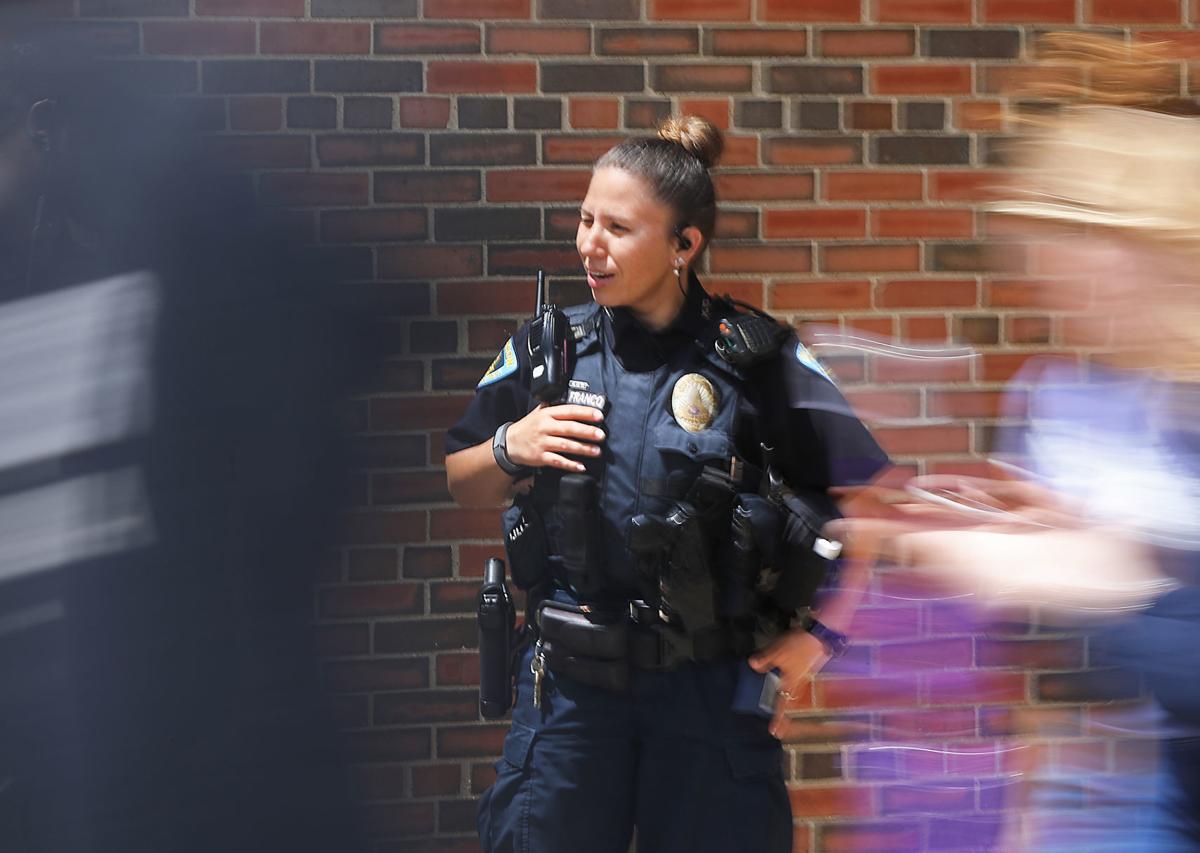 Starting this fall, Madison's four main high schools will no longer have police officers stationed inside them under a measure adopted Monday by the School Board and one set to go before the City Council in the coming weeks.
The School Board on Monday voted unanimously to cancel a contract with the Madison Police Department for the school resource officers, or SROs. School Board President Gloria Reyes said the decision to have officers removed from schools is effective immediately. The city must also agree to terminate the contract if the district is to avoid covering the cost of the officers.
Mayor Satya Rhodes-Conway said during a news conference last week that she and 11 City Council members — a majority of the council — plan to introduce a resolution on July 14 to terminate the contract before the beginning of the school year.
"I am glad the School Board acted today to end the SRO contract earlier than previously planned," Rhodes-Conway said in a statement Monday. "This is an important piece of the conversation about reimagining public safety, and I am confident that the schools will develop smart new models for safety and equity that will serve all children and our community well."
Local activist group Freedom Inc. has been calling to remove police from the high schools for years, often by disrupting or shutting down School Board meetings. Reyes, a former police officer, had supported the program.
But in recent weeks in the wake of local and nationwide protests over the death of George Floyd in Minneapolis police custody, Reyes dropped her opposition to removing the officers as activists amplified their demand that officers be removed from schools, including demonstrating in front of her home and painting "Police free schools" in giant yellow letters on West Dayton Street.
The teachers union, Madison Teachers Inc., also decided to call for the officers' removal, but only if the district increases the number of counselors, social workers, nurses and psychologists in the high schools. The board didn't specify a plan for adding those positions.
Reyes said she originally wanted to phase out the SRO contract over a longer period of time, but the community has demanded faster action.
"There comes a time when a leader, a professional, has to listen — particularly during challenging times — to reassess and change direction depending on the will of the people," Reyes said during Monday's board meeting. "This is one of those times."
Acting Madison Police Chief Vic Wahl said in a statement that the end of the SRO program is disappointing given that "school resource officers have played an instrumental role in maintaining a safe learning environment" at the city's four public high schools.
Wahl said SROs worked "seamlessly" with school staff and developed relationships with students and teachers and other staff that allowed them to better solve problems.
Reyes thanked the officers who were stationed within Madison's schools and said they helped the schools by "compassionately addressing the complex challenges our students face every day."
But board member Ali Muldrow noted that Black students are disproportionately cited and arrested in school. She said the district needs safety solutions that work for all students, not just white students.
"African American students have been exposed to the harshest punishments available in our community over and over and over again," Muldrow said.
Board members plan to form a subcommittee to develop an alternative safety plan that could be implemented by the fall, but no details were discussed Monday.
Board member Christina Gomez Schmidt tried to add an amendment that would have directed district administration to report to the board by Aug. 20 with a safety plan for the upcoming school year that details who will respond to critical incidents, but the amendment could not be added because Monday's decision was only on whether to maintain or cancel the SRO contract itself.
"There comes a time when a leader, a professional, has to listen — particularly during challenging times — to reassess and change direction depending on the will of the people." Gloria Reyes, School Board president
"There comes a time when a leader, a professional, has to listen — particularly during challenging times — to reassess and change direction depending on the will of the people." 

Gloria Reyes, School Board president